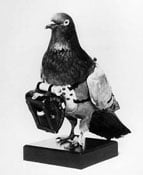 It is with a heavy heart that we inform you that as of 14 January 2013, new aviation transport regulations have gone into effect that will make it *very* difficult for us to ship to the US. You may find that shipping to the States is unavailable intermittently over the next few weeks as we test alternative shipping routes. Boo.
This doesn't mean that we will *NOT* ever again ship to the US, it simply means that right now, it's very difficult to send you any gin, whisky, tequila, rum, cognac, vodka—basically, anything with a high abv. Double boo.
Never fear! Our team of shipping experts are scouring the globe and mustering every carrier pigeon, sled dog, Pony Express pony, monkey courier…just about anyone who can continue to deliver the delicious drinks you've come to know and the Master of Malt service you've come to love right to your door.
Pony Bob knows how badly you need your 250,000 Scovilles Naga Chilli Vodka.
We'll test out this army of deliverym'n over the coming weeks, and we assure you that we'll choose only the fastest ponies, the most aggressive monkeys, the indefatigable-est dogs, and the cleanest pigeons to deliver your parcels.
We're currently looking for import experts who know the US like the back of their hand (shipping between states, importing to the US, rules and regulations within the US, etc.) If you, or someone you know, has any friends, family, associates, well-wishers, contacts, etc. who who fit this description, please drop us a line at justin (at) masterofmalt.com.
Check out our Delivery Page for updates on this news as it arises.