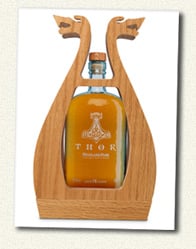 The buzz around Highland Park's latest whisky, Thor, has been sensational. For all intents and purposes it sounds to be a fantastic whisky – a 16 year old, cask-strength Highland Park packaged in a handsome Viking long ship-inspired case. This morning, however, it all became a lot more mysterious…
We received a little box with a bow on top (see below): (nice to have a bow)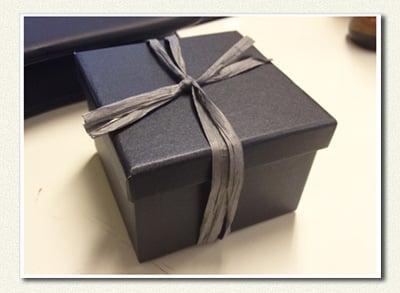 And in it we found a little pouch with a Rune inside, a scroll and a note: (top tip – next time don't use the mauve mesh pouch an 8 year old keeps her pretty jewels in)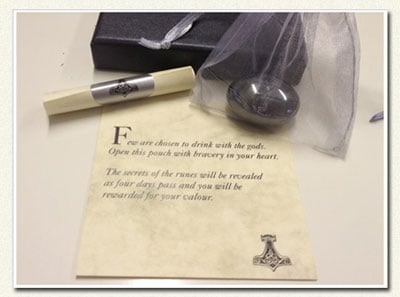 The note reads "Few are chosen to drink with the Gods. Open this pouch with bravery in your heart. The secrets of the runes will be revealed as four days pass and you will be rewarded for your valour."
Considering we just write about booze here, we'd never thought of ourselves as having much valour before, but it's a nice thought.
The scroll reveals further intrigue: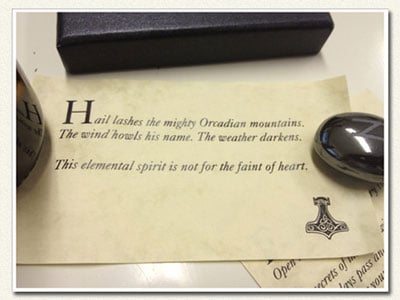 This all comes as part of Highland Park's very exciting – and rather amusing – PR build up to the release of Thor. Thanks to Highland Park, Thor (Thunder God and Lord of War) now has his own Twitter account, in which he remarks on the day-to-day life of being a Norse god (this occasionally includes misplacing his beloved hammer 'Mjolnir'), and he's been busily posting about the build-up to some event (the same one the rune and scroll have hinted at), called "Thorsday". He's even got his own website – Whisky of the Gods, and posted this excellent blog post: "Thank God… It's Thorsday".
We have literally no idea what is in store for us and we can't wait to find out!
The Chaps at Master of Malt.