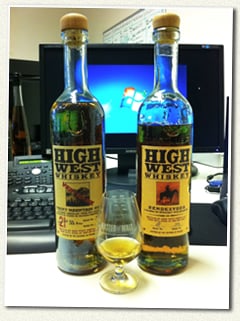 Today I'm tasting a brace of "craft" rye whiskeys from the High West distillery – the first legally licenced distillery in Utah since US Prohibition ended.
I'm starting off with High West Rendezvous – the first commercially available whiskey from the distillery. It was named after the 19th century meetings of mountain men, who gathered together in the summer to trade their various wares (mostly fur). These gatherings were frequented by the kind of men who wore coonskin caps, bushy moustaches and moccasins, and the whiskey they drank at the time was fairly raw and fiery.
Rendezvous recreates this style, though it was actually bought in from distilleries outside of Utah. It was sold as a means of providing a taster of what was to come from High West, as well as to provide much needed income for the distillery.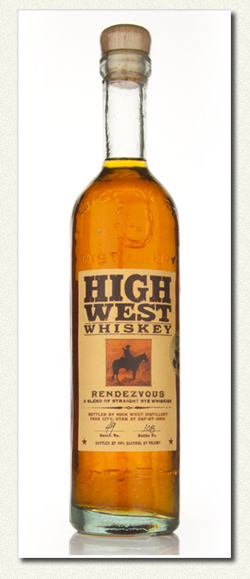 Nose: It's all about the more savoury, herbal aromas you sometimes get from small batch US whiskey. Imagine you've just stripped all the bark from a young chestnut tree, and think about the scent on your hands. It's that. With time in the glass there's a touch of dried banana sweetness, with notes of toffee and, if you really concentrate, a dusting of cocoa.
Palate: Very spicy. It has an almost Jalapeno-like level of heat in the mouth, which subsides and leaves Dandelion and Burdock and an intense note of cardamom. It's very oily, and after a while there's a hint of barley, cold Chamomile tea and soya.
Finish: Herbal finish, trailing off with linseed oil, green oak, turmeric and black pepper.
Overall: Really nowhere near as sweet as I expected it to be. It's delicious, don't get me wrong, but very herbal and savoury indeed.
Next up is the 21 year old rye, distilled in Utah from a mashbill that contains 53% rye, before ageing in refill barrels. Each batch of this stuff is very small indeed, and the bottles are individually numbered and made out of glass with a lovely iridescent sheen!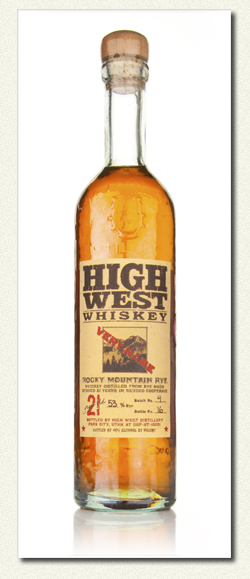 High West Rocky Mountain Rye 21 Year Old 46%
Nose: Sweeter than the Rendezvous, with toffee popcorn, burnt sugar and fig rolls. It's actually quite similar in aroma to Polish poppy seed cake and it develops with hints of rapeseed oil, crème caramel and cola bottle sweets. Maybe just a touch of lemon sherbet.
Palate: Explosively hot and spicy. It's sweet too. A mix of Muscovado sugar, nutmeg, freshly grated cinnamon and green oak. Green figs, pear cider and charred wood and, as it develops, it becomes more and more like slightly sweetened Masala chai.
Finish: Just a hint of green oak and caramel, the spiced tea notes are what really carries it though. Quite a long finish, with just a trace of marjoram on the tail.
Overall: Brilliant stuff. Very rustic and herbal, oodles of character.
Check out all the High West whiskeys here.
Mike.