Fanatical about oak-aged spirits? Fond of elephants? Combine your enthusiasm for these two otherwise completely unrelated interests with limited edition Elephant Aged Gin!
They're a brilliant bunch, those Elephant Gin folks. You might already be familiar with the brand – since 2013 the team has been boosting conservation efforts for Africa's favourite gentle giants with sales of the excellent core expression Elephant London Dry Gin, made using 14 botanicals including buchu, baobab and African wormwood.
Clearly not laurel-resters, the team soon added Elephant Sloe Gin and Elephant Strength to the mix, and has recently been busy tinkering about with different distillates and oak species to craft their latest concoction, Elephant Aged Gin.
Aged gin might not be quite so commonplace now, but in the 18th century people used oak to ship and store the spirit. In those days the cask was merely a handy vessel, purely used for transportation with no consideration given to flavour. But times have well and truly changed. For the new bottling, Elephant Gin co-founder Robin Gerlach set about experimenting with both new and aged wood to optimise the flavour.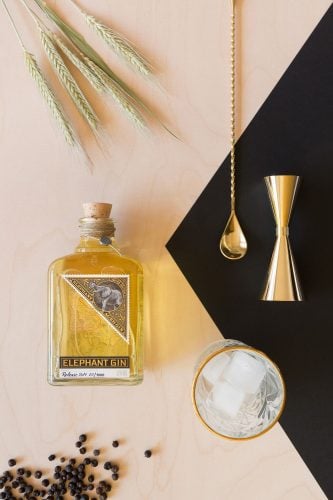 Elephant Aged Gin
For the recipe, a "spicy and fruity" 100% rye pot-distilled base is bolstered with extra helpings of the brand's distinctive botanicals to ensure they remain prominent after the ageing process. Gerlach settled on three different types of oak and a year-long resting period to add body without overpowering the flavours of the gin itself.
Presented in a black and gold bottle, the resulting liquid (which clocks in at 52% abv) is complex and berry-heavy, with notes of fresh juniper and lashings of cinnamon spice. Toasted oak develops on the mid-palate, softened by creamy vanilla and rounded off with a spiced, bitter note.
Every batch of Elephant Gin is named after elephants helped by the three African elephant foundations the brand has partnered with, as a celebration of the great work they're doing. Considering that every year more than 35,000 elephants die because of uncontrolled ivory poaching – equivalent to one every 15 minutes – these organisations really do need all the help they can get.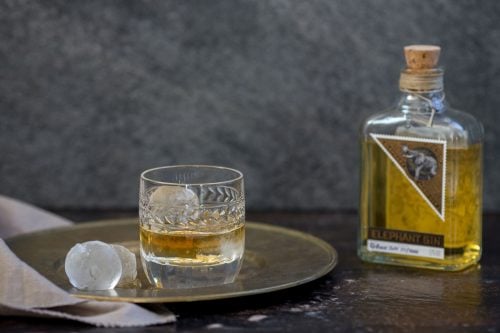 We hear it's delicious served neat over ice…
For each full-size bottle sold, 15% of the profits are donated to anti-poaching organisation Big Life Foundation and migratory corridor protection agency Space for Elephants, and 15% of the profits from each Elephant Gin miniature bottle are sent to The David Sheldrick Wildlife Trust, said to be the most successful orphan elephant rescue and rehabilitation programme in the world.
So now you can kick back with a G&T in the knowledge it represents something worthwhile. We'll drink to that!