24 drams of Christmas comes to an end with a gorgeous sherried Speyside whisky. Let's finish our Advent journey with Glenfarclas 15 Year Old!
All good things must come to an end. Friends, my favourite pair of trainers, the last giant Wotsit in the bag. Oh, and our 24 drams of Christmas series, which ends today because – in case you hadn't heard – it's Christmas Eve! It's pretty cool it's fallen on a Saturday, isn't it? Now we can really chill out do all of that last-minute wrapping without the interruption of a 'normal' working day.
To round things off we're enjoying a truly decadent sherried Speyside single malt, described by experts (AKA us) as Christmas cake, not whisky. It's none other than Glenfarclas 15 Year Old!
The Glenfarclas story
Glenfarclas has always been (and remains to be) one of Scotland's only family-run distilleries. You won't catch Glenfarclas using exotic woods for maturation – its single malt whiskies are matured almost solely in sherry butts.
The distillery was first founded in 1836 by Robert Hay, and following his death in 1865, John and George Grant acquired the distillery for '511 pounds and 19 shillings'. It's currently owned by sixth-generation George Grant, and the 15 Year Old is bottled at 46% ABV simply because this was the strength that George Grant's grandfather preferred it at.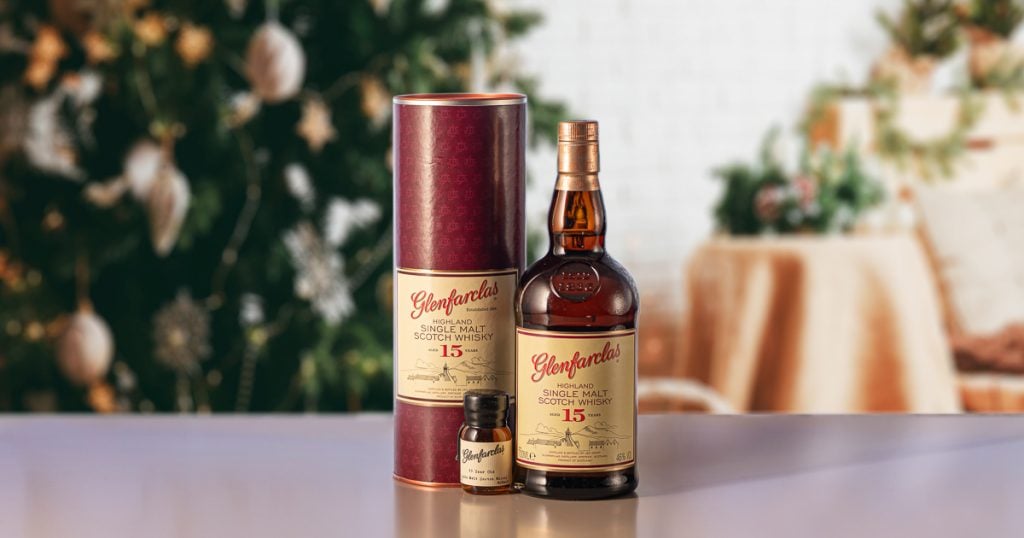 Tasting note for Glenfarclas 15 Year Old
Nose: Intense, powerful sherry. Cream sherry, certainly (Pedro Ximenez?). A touch of peppermint, and an almost rancio quality to this.
Palate: Raisins, more sherry, orange peel, walnuts, dates.
Finish: Incredibly long, complex, more of those walnuts again.
Overall: Water draws out sweetness. This is Christmas cake, not whisky. Simply astonishing.
How to drinks Glenfarclas 15 Year Old
Pour this one over ice, or if you're feeling a little crazy, pour this one over your Christmas cake, because, as we said before, it basically is liquid Christmas cake. 
Thanks for joining us on this Advent journey, it's over and out from Team MoM. Cheers!