While digital is a medium we've all come to depend upon for the latest booze news, there's nothing quite like settling down with a cocktail in hand and thumbing through a magazine. If you're seeking a new read filled to the brim with junipery goodness, you're in luck! Introducing Gin Magazine…
Yesterday evening we donned our finery and flocked to Merchant House, where Paragraph Publishing, creator of the World Drinks Awards, presented its brand-spanking-new global title, which will be available quarterly.
The launch party for the mag (the sister publication to Paragraph's mega-successful Whisky Magazine!) was held at the Bow Lane bar – fitting, as it's home to one of the largest collections of gin in the world.
Headed up by editor, Rebecca Sterritt, and contributing editors, David T Smith, (of Summer Fruit Cup) and Felicity Murray, (founder and editor-in-chief of The Drinks Report); each issue will cover news, product launches, bar recommendations, cocktail recipes, Q&As, guest columns, comment pieces, distiller interviews, and in-depth trend-led features spanning production processes and botanicals history and current gin trends.
"It's really exciting," said Sterritt, as she introduced the inaugural issue. "Gin gives us so many opportunities at the minute to create a magazine and we're so grateful to the industry for all the fantastic product that they're putting out there. I'm really delighted to be able to present the magazine to you."
Gin Magazine will also feature 22 individual gin tastings complete with full flavour notes and delectable serve recommendations, the first set of which were on display (and, pleasingly, served in G&Ts) throughout the evening…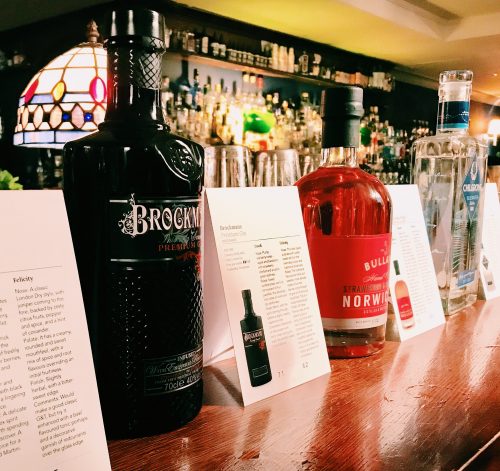 Three of the 22 gins on show
While addressing guests, Nicholas Cook, director general of the Gin Guild, said: "Gin Magazine aims to be the ideal fireside read, hence the first one coming out in November, for those wanting to nurse a juniper-based beverage sitting by the fire and wanting a break from their monitor with some in-depth reading."
At the same time, the publisher announced the launch of the Icons of Gin*, a set of awards designed to celebrate the people and places behind the great gins of the world. Soon, you'll be able to vote for your favourites online – watch this space!
To subscribe to Gin Magazine, click here.
*If you're sitting there thinking, 'Icons of Gin sounds familiar…', it might well be because Whisky Magazine holds a certain Icons of Whisky award series every year. A certain series that has crowned us Global Online Retailer of the Year an incredible five times…