The Giraud family has been tending vines in Grande Champagne since the 1600s; generation after generation has distilled wine, aged eaux-de-vie and supplied fine spirits to merchants across the region. Today, led by renowned farmer, distiller and blender, Paul-Jean Giraud, the domaine exclusively produces Cognac Paul Giraud.
"We've been vinegrowers since 1635, but we know that we sold Cognac in the 1800s," Paul-Jean Giraud tells me. "In the past there was space for corn, vegetables, horses, cows; [the family] made many things to survive. But today, we just exclusively make just Cognac. The entire farm is for the vineyards – we have two hectares for my horse, and that's all."
His 42-hectare farm is based in the village of Bouteville in the Charentes, one of the sunniest parts of France – indeed, it was absolutely glorious when we paid a visit – that happens to lie in one of Cognac's finest crus.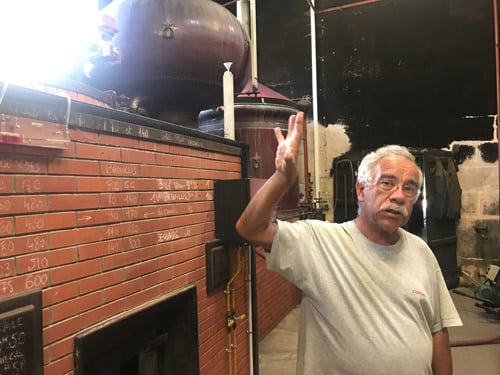 Paul-Jean Giraud!
Giraud founded the brand back in 1974, and his range diverges slightly from the norm. Rather than blending a myriad of eaux-de-vie age statements, he produces vintage Cognac specific to reflect the terroir of the area (though that's not to say they're short of ageing stock, far from it – the oldest cask dates back to 1945).
"In 1973 there was a big economy crisis, and the sales of Cognac decreased a lot – it was very difficult to sell it to the big brands," Giraud explains. "I was young and arrived from school, so I imagined it was easy to sell my own production; to stick a label on a bottle and to sell it. Nobody was waiting for me! And of course, a lot of my friends had the same idea."
It took more than 15 years to build the brand; now Paul Giraud exports to 30 countries, including Japan, Russia, Denmark, Australia, and the Netherlands. Unlike the Martells, Courvoisiers and Remy Martins of the market, which strive for consistency, Giraud doesn't follow a specific flavour profile for his Cognacs. That, after all, is the work of the cellar master.
"I am not a cellar master, I am a farmer," he states. "We are not able to make blends. I don't know how to do that. I make traditional Cognac on traditional terroir. The work begins in the vineyards – the most difficult job is to arrive to the harvest with healthy and ripe grapes."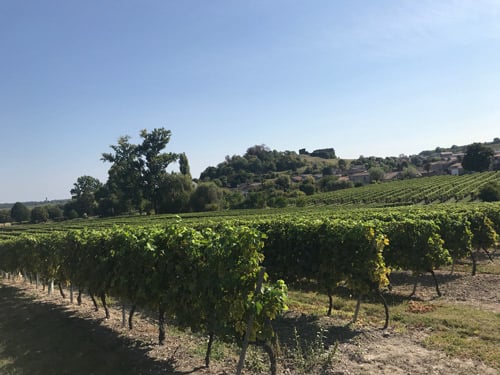 The vineyards of Cognac Paul Giraud
Rain, frost, heat and pests can make the task at hand a tricky one. The weather might be out of Giraud's control, but he has generations of vine-growing knowhow to draw from. His vines benefit from organic fertiliser, and chemical products are used as a solution rather than a preventative measure.
"I take a medicine if I have a headache," Giraud explains. "I don't take medicine each day to [avoid] having a headache. I use chemical products against disease during the year, but we try to use as little as possible. Cognac is like cooking. You take an ingredient, you cook it and you obtain your result. It's the same thing in a big restaurant.
"Say you have two menus for cooking. For the first menu, you choose the best vegetable and the best meat. For the second, you buy bad vegetables and bad meat. Even if you cook it very well, the result is not good. You need good ingredients; you need the quality of the grapes at first."
One harvest produces between 50 and 60 barrels of eaux-de-vie; between 400 and 500 litres in size. The ageing process follows three steps: floral, fruity, then spiced. The longer the spirit is in the barrel, the spicier it eventually becomes, due to oxidation and interaction with the cask. As ever, the angels take their fare share too – around 3% each year.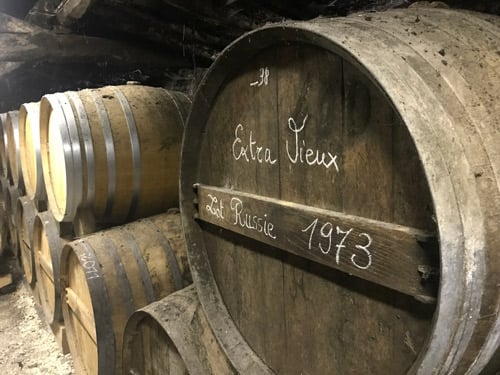 1973 – extra vieux indeed
"We are lucky to have very good cellars here," he explains. "They're very humid. If you have humid cellars, you have smooth Cognac, and if you have dry cellars, you have dry Cognac. "We put 33% of each vintage in new barrels; that's a very big effort because it's expensive – one barrel is around €800. But it's what gives quality to the Cognac, the new barrels give the colour and tannins."
When Giraud blends the eaux-de-vie, he combines between 15 and 20 barrels from the same year, and rests them in a tonneau for between three and five years before bottling. When it comes to Cognac, there are no shortcuts.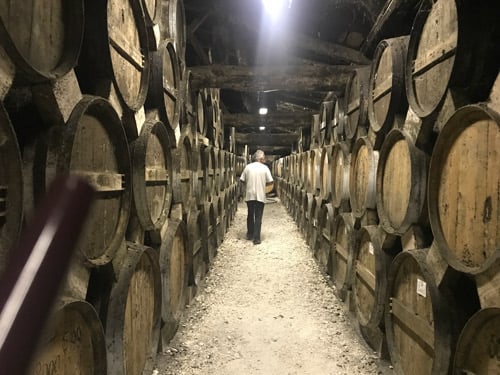 The cellars of Cognac Paul Giraud
Does Giraud feel proud of his talents as a remarkable Cognac producer? "It's not me, it's the terroir," he says matter-of-factly. "Our job is to make the terroir better by a traditional manner of working. There is no secret here."