Earlier this week Four Roses introduced the 2017 edition of its Small Batch line, so we hopped over to Mayfair to meet master distiller Brent Elliott and find out how this year's release was put together.
If you're already familiar with the brand, you'll know that Four Roses takes a rather unique approach to bourbon distilling. Die-hard fans might want to skip ahead, but for the benefit of those who aren't acquainted with its methodology, we'll run you through it.
As you might know, bourbon must be made up of at least 51% corn; the secondary grain that is usually rye or wheat, with some malted barley chucked in there for good measure.
Four Roses has two separate mash bills that vary in ratio between corn and rye: 'E' is 20% rye, 75% corn and 5% barley, while 'B' is 35% rye – "more than any major distillery", Elliott says – 60% corn, and 5% barley. Both are relatively high, he adds, compared to other bourbons.
"With rye you get a lot of spice, a lot of structure, it's a nice robust character," explains Elliott. "We really like that in our bourbons – that's kind of the cornerstone of the character people expect from Four Roses. It's crisp, it's bright, it's kind of spicy."
The distilling team at Four Roses ferments these mash bills with one of five different yeast strains, each of which produces different flavours during fermentation.
"All yeast creates alcohol and CO2 with heat, which is 99.5+% of what is created," Elliot continues. "But there are also other by-products of fermentation that we refer to – things like esters, acids, and fusel oils. The blanket term for these is congeners.
"Each one of these yeasts creates a different profile with these different congeners, whether it's fruity, spicy, floral, herbal, whatever it may be."
The yeast labelled 'V', we're told, has a "delicate fruitiness", while 'K' possesses "slight spicy flavours". 'O' is a "rich, fruity" yeast, while 'Q' creates floral flavours and aromas. 'F' is herbal and slightly minty.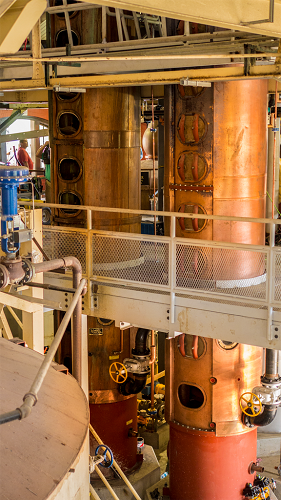 Where the magic happens
By combining these mash bills and yeast strains, Four Roses is able to craft 10 different recipes. The team produces the new-make in batches (a batch is around one day's production, and equates to around 280-290 barrels), decants them into American oak barrels, and leaves them to age in a single-storey warehouse for five years or so.
"We're constantly looking for that peak of maturation and once we hit that, we pull the barrels and mingle them to create a product," says Elliott. "You'll notice we don't have age statements – we have internal age guidelines, but we don't put anything on the bottle because we pull them when they're ready."
How does this process result in Small Batch releases? Well, as the whiskey matures, Elliott makes a note of batches that "seem to be ageing very well" and sets aside "two, three, or four tiers – anywhere from 25 to 75 barrels".
When it comes to the putting together the annual release, "you'll start out with maybe 25 batches," he explains. "I'll go through and pair it down to around eight to 10 different batches and then start working on test blends. In going through all those samples, ideas start coming to you and you start working with them."
The chief criteria, he says, it that is must be "very smooth, very mellow, and 'good'". His secondary goal is to generate something "entirely unique" and different from previous years' releases.
The 2017 release hits both nails on the head. Featuring three and 15 year old bourbons from the distillery's 'OESK' recipe, plus a 12 year old from its 'OESV' recipe, it's the first in the series to contain only its low-rye mash bill.
"This was the third test blend I did," says Elliott. "I earmarked it and was like 'okay, this is a good direction, this is fantastic' and then picked a couple of other directions with some other yeasts.
"From the beginning I knew this one was going to be hard to beat. I started to tweak it, changing the [ABV] percentages and going through them all blind, and this one just kept coming to the top."
Flavour-wise, you can expect allspice, vanilla bean, apricot and stewed fruits on the nose. On the palate there's raspberry, maraschino cherry and light oak, and a long finish filled with brown sugar and cinnamon. It's bottled at cask strength – 53.9% abv – but you'd hardly guess.
"It's rounded, it's chewy, it has a really nice finish and the fruit follows through very well. It's compact up front and sort of unfolds," adds Elliott.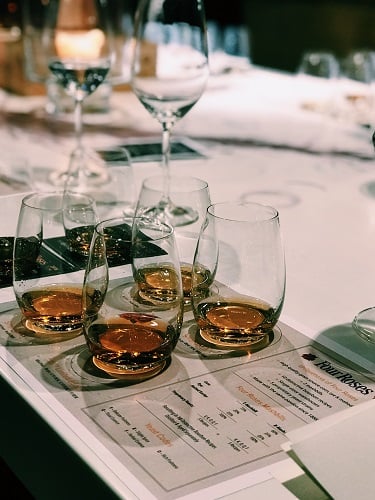 Conducting very important investigative research
As we taste through the range, guided by Elliott, the conversation switches to future releases. With so much scope for experimentation, what's next for Four Roses?
"We might do something, maybe explore some different mash bills or a rye whiskey in the future," he says, "right now we're having trouble keeping up with demand. It's a challenge to keep things operational and keep offering these products."
The distillery is currently undergoing a major expansion project that will see it double in capacity from four million to eight million proof gallons per year (around 9-18 million litres of pure alcohol) – "probably bigger than the biggest Scotch distillery, but as far as the major bourbon distilleries go, still at the small end" – in a bid to meet such demand.
The US$54 million project includes two new buildings and new equipment at its Lawrenceburg distillery, four new warehouses – which, being single-storey, are sized around an acre apiece – at its warehouse and bottling facility in Cox's Creek.
Work is expected to be complete by 2022, which can only mean one thing: loads more lovely whiskey. Which is just as well, since the 2017 edition has sold out on our website already. Fret not though – more is on the way, so keep checking back!