The drinks industry has a tendency to take itself a little too seriously at times. Thankfully, Adrian Smith, Colin Hampden-White and Helena Nicklin – aka, The Three Drinkers – are set to breathe a bit of life into our favourite spirits. We chat with the trio as their Scotch whisky series hits Amazon Prime…
It's high time booze had a TV show, isn't it? Not a stuffy documentary film – or worse, a heavily branded videocast – but a light-hearted series that encompasses the industry we love as it exists today.
After all, things have changed a fair bit in the last 10 years. Spirits, and in particular Scotch, has shaken free of its 'stereotypical drinker' shackles, got a new haircut, and developed – dare we say it? – a bit of a sense of humour.
Luckily for you, wine writers Adrian Smith and Helena Nicklin, and whisky expert Colin Hampden-White spotted that gap in the market, and filled it with booze-soaked brilliance.
Across the four 30-minutes episodes of their inaugural series, you'll see the trio dabble in a spot of coopering, give the Highland Games a decent crack, and set some whisky alight in the name of history.
We caught up with the gang as they kicked off the series with a fabulously swanky launch party at The Dorchester in London. Follow The Three Drinkers as they take you on a spirited journey across Scotland, and soon, the rest of the world…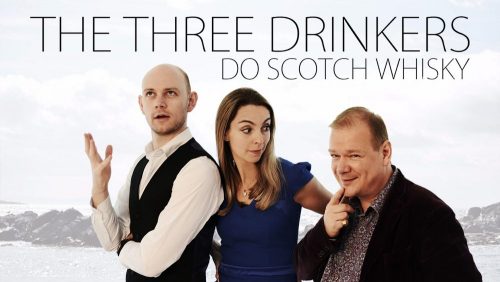 Say hello to Adrian Smith, Helena Nicklin and Colin Hampden-White!
MoM: Congratulations on the launch! How did the idea for The Three Drinkers come about?
Smith: We all originally met through the drinks industry several years ago as we're all journos at heart. After becoming good friends there was a natural chemistry and we always used to joke about how hilarious it would be if we had a TV series. So, on one rather drink-indulgent night at Milroy's (we like to call it market research), we made that idea a reality and The Three Drinkers became a thing!
Could you talk about the concept behind the series? Who will enjoy tuning in?
Nicklin: We wanted to create an accessible way to bring newbies into whisky while being interesting enough to appeal to connoisseurs. With this in mind, we went for a travelogue format to a specific region with a drink-y twist as its USP. As presenters who are all so different, we bring a diverse audience to the programme too so there should be something for everyone from curious millenials up to seasoned drinkers. Curious epicureans from twenty one to ninety one is what we're aiming for!
Without giving any spoilers away, what did you all get up to while you were in Scotland?
Smith: Honestly, I was impressed at how much we were able to pack into our travels. We visited some incredible distilleries from the very old to the brand new, went ghost hunting, searched for the Loch Ness Monster, and yes, even tried our hand at the Highland Games! The road trip in itself was breathtaking with all that scenery and we're all a little bit in love with Islay now. I won't give too much away, but one of our highlights was exploring the 'local delicacies'… I'll leave you to discover that one for yourself!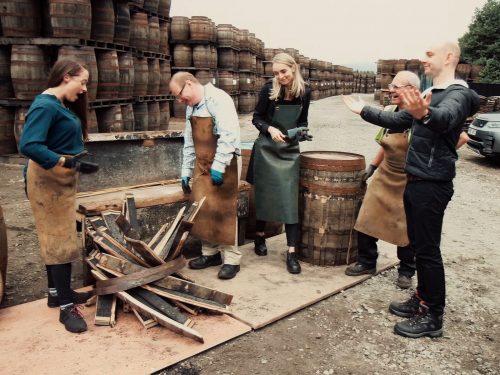 The gang learn the hard way how difficult a cooper's job is!
It looks like you had an absolute blast filming the series. Why do you think it's important to inject a bit of fun into spirits education?
Nicklin: The problem that drinks usually have on screen is that they tend to look the same and this is why they always play second fiddle to the food. We wanted to show whisky in more of a geographical context and to add to that, a way to make the education side more fun. We thought having a serious whisky expert like Colin showing some friends the way would be a good format to do this – and from the feedback we've had, it is working well!
With the Scotch whisky series wrapped up, what's next on the horizon?
Nicklin: Aha! There will be at least one more drinks series this year, maybe two and several potential others lined up for after that. It's just a question of which one comes off first so we can't yet announce! What we can say however is that there will be wine as well as spirits amongst more food and of course, a heavy travel theme. Wine is my world primarily, so I'm particularly excited to help shape that side of things.
Tell us some weird and wonderful adventures on the Three Drinkers' bucket list?
Smith: Well, I'm trying to convince the both of them to go on an adventure exploring snake wine, but they don't seem entirely convinced. I think wherever we end up, there will always be some weird, wonderful and whimsical experiences thrown into the mix. It started with Festy Cock and a deep fried Mars bar, but I think I need to up the game. Watch this space…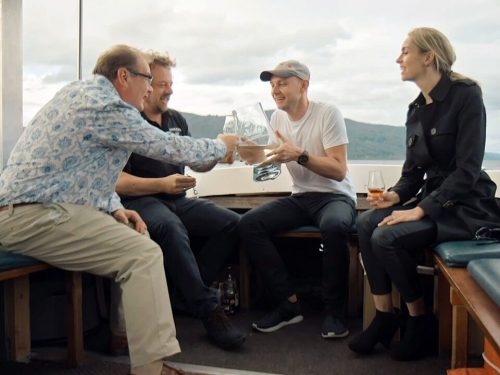 You can check out all their booze-soaked adventures on Amazon Prime.
Which drinks trends are getting you excited about the year ahead – what's on your radar?
Hampden-White: The gin revolution will continue over the next year, but I also feel people will become loyal to brands they have found they like the most, and the levels of experimentation across many different brands will decrease. Having said that, I think the days of the consumer having just one brand of gin on the drinks tray are over. Like whisky before gin, there will be multiple brands and styles on the sideboard. Non-alcoholic drinks will continue to rise and, having had Seedlip pave with way, others are now forging ahead. John Ross from South Africa offers a drink with depth and bitterness giving a mouthfeel not dissimilar from long alcoholic drinks. I think the rise of the top quality RTD (ready to drink), will come. The principles of flavour and quality, for spirits premixed with superior soft drinks, will transcend the importance of price alone. I also hope rum will finally have its day. The rum movement was overtaken by gin, but I hope at last rum will become more popular as drinkers of whisky experiment with other wood-aged spirits.
Which trends, attitudes and ideas should the industry leave in 2018?
Hampden-White: Any remnants of stuffiness surrounding alcohol needs to be left behind. That's not to say we should be returning to the age of the Jägerbomb! People should feel free to experiment with drinks on their own terms, find out what they enjoy and drink their drinks the way they like them. So if someone likes their whisky with ice, ginger ale or even coke, then that's the way they should drink them. Old attitudes around age, gender and knowledge need to be buried in 2018. There has been great progress in getting spirits to be accessible for everyone, especially whisky with campaigns like Our Whisky. This has given a voice to all who want to drink whisky whenever and however they wish. This attitude, which is still being perpetuated in advertising, needs to be abandoned and inclusiveness across the spirit drinking spectrum adopted by everyone. This goes just as much for the brands and their advertisers to the ambassadors and, just as importantly, for fellow drinkers. The industry can lead the way with these attitudes. While it can take the general consumer a little time to catch up with new ideas, it is up to the industry to keep leading the way.