One of Scotland's lesser-known whisky distilleries is about to make a big splash on the single malt scene. Say hello to Fettercairn and meet its new – and first! – core range, comprising a 12 year old, 28 year old, 40 year old and even a 50 year old!
Dalmore is a behemoth of a whisky brand. Jura is pretty well known too. But what about Fettercairn, Whyte & Mackay's 'other' distillery? Located in Aberdeenshire close to the Cairngorm mountains, the comparatively small producer has largely made spirit for blends, with the exception of its Fior and Fasque no-age statement expressions released in 2009. But that's all about to change with the launch of a four-strong core range with some pretty hefty age statements.
Before we dig down into the four expressions, it's worth mentioning the Fettercairn spirit stills, which influence and inform everything from the end flavour of the whisky (obvs) to the shiny new packaging for the range. The cooling ring that wraps around the neck of the stills sees water literally cascade down the outside while the middle cut – or the heart – is distilled. This creates a temperature variance, boosting reflux, and giving Fettercairn its lighter, tropical fruit-led flavour character. The water also gives the copper stills an unusual teal-like patina – a colour accent replicated across the labels and packs for the new collection.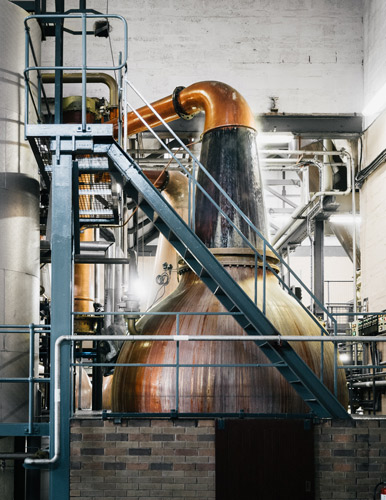 The fantastic Fettercairn stills
New look Fettercairn
Here's now the new range shapes up:
Fettercairn 12 Year Old
Matured in American oak ex-bourbon barrels for the full 12 years, when we tasted it we loved the gently warming sweet spice notes, along with the gentle oakiness, juicy papaya, pear and pineapple notes and honey character. It carries an RSP of £48.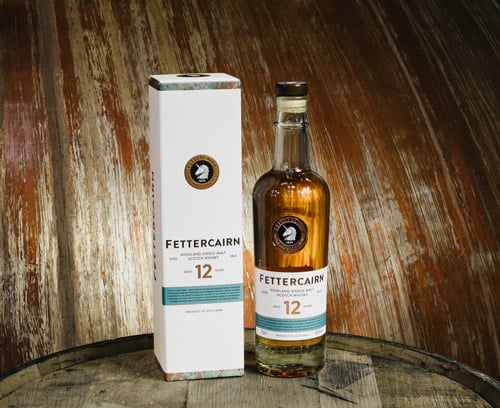 Fettercairn 12 Year Old
Fettercairn 28 Year Old
Also fully matured in American oak ex-bourbon barrels – but this time for 28 years (there's a notable gap in aged stock, but we don't mind. This one is unusual and intriguing). We found a whole haul of funky tropical fruit notes (think: fermented pineapple and mango) along with milk chocolate, bitter orange, cinnamon and coffee. Its RSP is £500.
Fettercairn 40 Year Old
Helloooooo tastiness. This one was matured in those ex-bourbon barrels again before undertaking a five-year finishing period in an Apostoles sherry cask. It's bottled at its natural colour without chill filtration, and we loved the rich nutmeg spice, orange oil, bitter dark chocolate and leathery notes on the nose and palate. Its RSP is £3,000.
Fettercairn 50 Year Old
Yes. FIFTY YEARS. Another natural colour, non-chill-filtered expression matured for a whopping half-century! We loved how surprisingly fresh it was on the palate, the blackcurrant ginger, nutmeg, dried tobacco, dark cherry, roasted pineapple and general unctuousness. After that bourbon cask maturation this one headed to a tawny Port pipe for five years. It's tasty.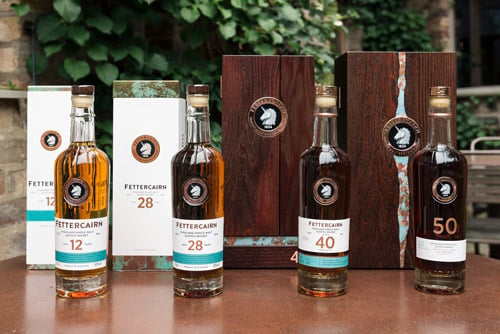 The whole new Fettercairn range!
"There's a great Fettercairn story that we haven't told well enough and we will going forward," Daryl Haldane, head of whisky experience at Whyte & Mackay, told us at the launch event. "This new product range intends to do just that," he added.