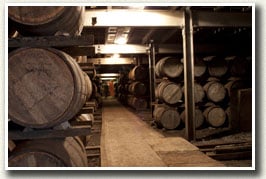 After a hearty breakfast of bacon, eggs, black pudding, white pudding and potato scones, we left the cottage for Bowmore. There were only 100 bottles of Bowmore's official 2011 Feis Ile bottling, so we didn't worry about turning up too early; there was literally no hope of picking one up. In fact, the die-hards had been camped out since the wee hours for a prized bottle. It begs the question why they didn't simply make more. Oh well.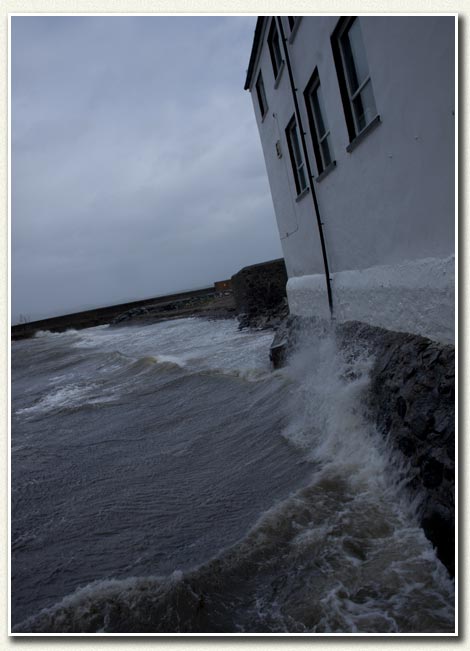 As we arrived the rain was really pouring down, and we had to dash for the door, and when we got inside, it was packed with people. Upstairs, the Bowmore bar was handing out samples of the Feis Ile bottlings, which really are rather good, and considerably sweeter and juicier than the standard Bowmore expressions. There was also a whisky cocktail bar, making some wonderfully peaty concoctions. We put the Bowmore Feis Ile bottlings through their paces:
Bowmore 15 Year Old Laimrig Commemorating Feis Ile 2011 54.4%
A release of 500 bottles.
Nose: Frazzles. Applewood-smoked bacon. A little spicy, with caramelised apple, chocolate and a hint of sulphur. Maybe just a little bit of Marmite too, and heavily smoked candied salmon.
Palate: That bacon upfront on the palate too, which is umami-rich, in fact that same umami intensity in a Karuizawa. Its maturity belies its 15 years.
Finish: Duck fat-fried chips; that lingering, fatty, mouth-coating goodness.
Overall: A huge whisky. Overall the second best Bowmore we've ever tried. It's also well worth noting, the tasting notes on the back of the bottle are quite simply wrong. Just wrong.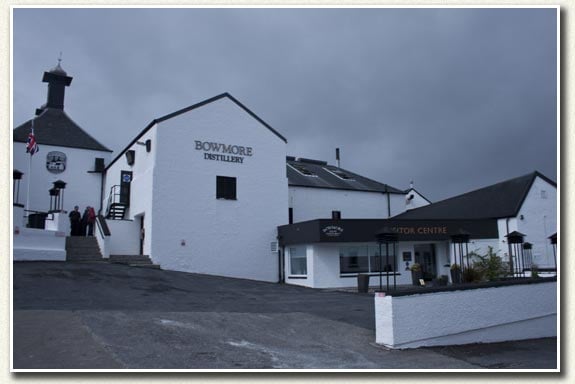 Bowmore Feis Ile 2009 57.1%
Aged for 9 years, part of a release of 900 bottles, aged in sherry, bourbon and wine casks.
Nose: Fish glue. Perhaps just a hint of toast with anchovies rubbed into it. A lot more spicy than the 2011 bottling. Granola too.
Palate: Very, very thin, quite nondescript actually, but then very late palate notes of really good Iberico ham creep in, fleetingly, with a touch of garlic.
Finish: Where did that go? Blink and you'll miss it.
Overall: Would we drink it? Yes. Would we order a second glass? No.
Bowmore Feis Ile 2008 57.4%
8 years old. A release of 800 bottles, aged in Limousin oak.
Nose: Strawberries and Cream Campella, maybe even some trifle too, and anchovies in vinegar at the back (definitely not a negative thing).
Palate: Big spice. More palate-coating than the previous bottling, and quite astringent as well. A little bit of smoke which runs out quite quickly before moving toward bitterness.
Finish: Bittering, reasonable length.
Overall: Again, fine. Certainly worth trying, but not stellar, and not a patch on the first bottling we tasted.
We ventured out to the malting floors: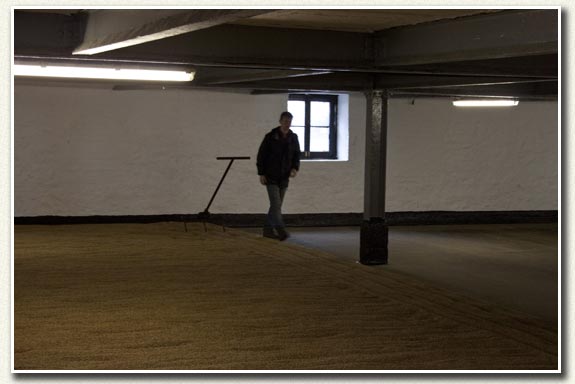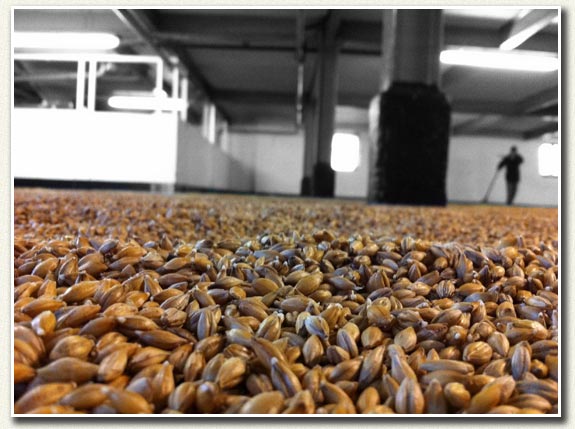 (we've discovered a wonderful app which allows to create patches of colour on otherwise black and white images, it makes us feel very artsy)
And then took in the mash room: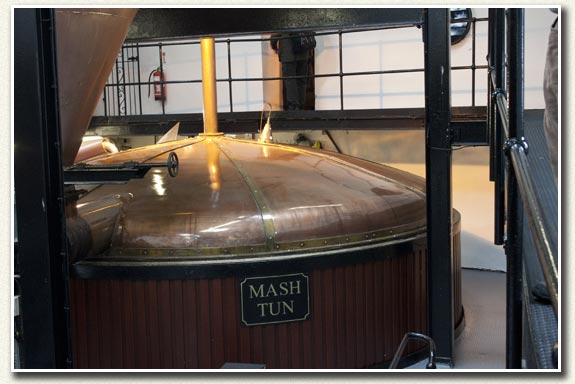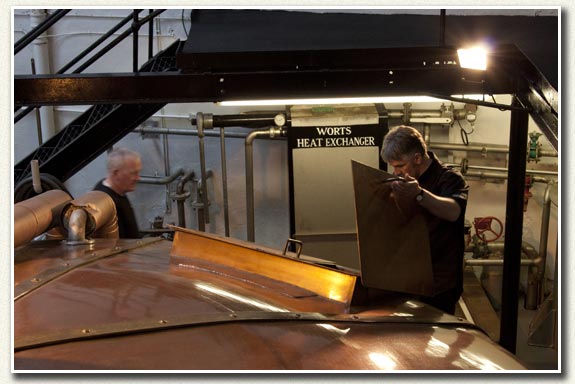 Here's a sign for LPG Gas: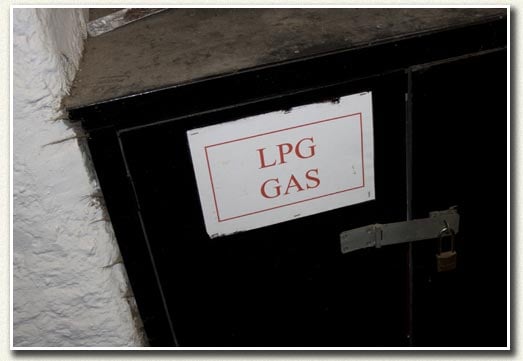 Perhaps it was paid for with money from an ATM machine, retrieved using a card and PIN number. By the time we reached the washbacks, the staff realised we'd gone feral, and they scolded us and explained, in no uncertain terms, that we were not supposed to be there. Boys will be boys (our Islay trip's slogan).
We hopped back in the car and made our way over to Laphroaig for an interview with Simon Brooking, Laphroaig's global brand ambassador, and John Campbell, the distillery manager. Here they are. Look how delighted they are, possibly because they have the world's best jobs?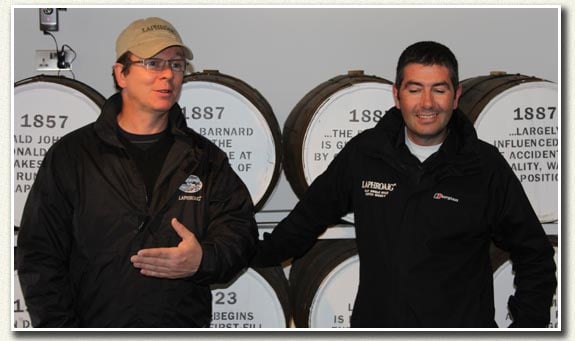 We talked about the social aspects of Laphroaig. They care about their customers, and it shows. For a start, their visitor lounge is the nicest on the island. In fact, the room we were sitting in once held the illicit still owned by the Johnston brothers, the founders of the distillery. On one wall in the room we could see a webcam, and there are a few scattered about the distillery, all of which can be watched live via the internet to give consumers a taste of Islay life. It all comes down to engagement, whether it's asking the Friends of Laphroaig their opinion when it comes to new bottlings, or when it's using online social media such as Facebook and Twitter. They now have a Laphroaig USA Facebook page too, and we've agreed to do something exciting and technical with Laphroaig on our respective Facebook pages. We don't really know what this will be, but we're sure it'll be exciting and technical. As we're stuck on this island though, it won't be us. Whichever of the 'Mainland' Master of Malt staff makes something exciting and technical happen first wins a fish. Yes. That'll do it.
Simon took us for a tour of the distillery…
The kiln in full swing: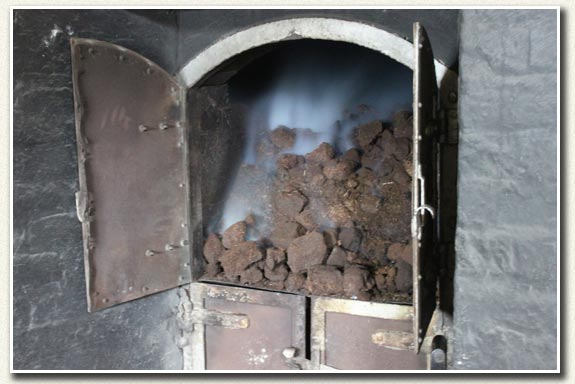 The kilning room: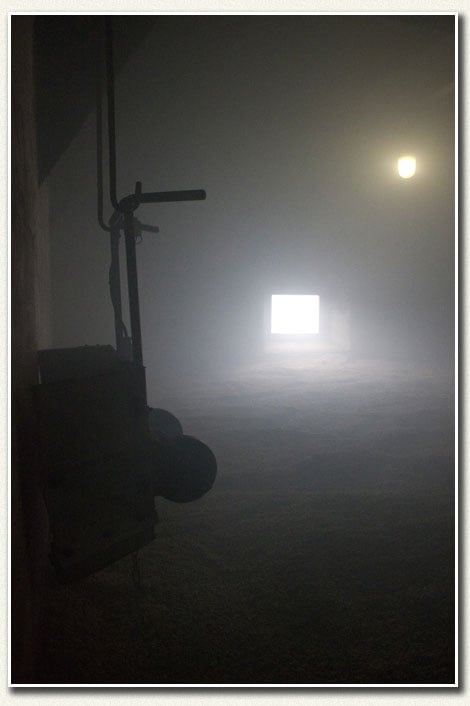 Next up was the filling room, where dozens of Maker's Mark barrels were lined up, being filled, one by one, with new make spirit: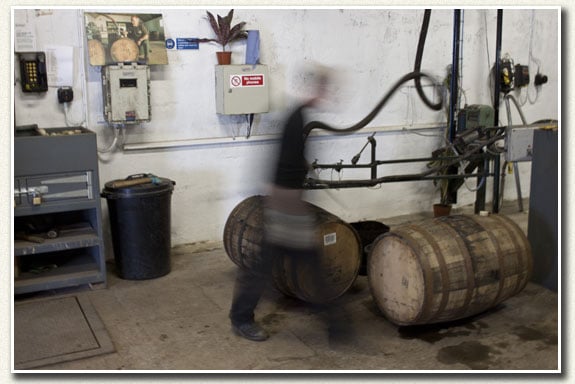 After asking nicely, we were allowed to hammer in the plug to one of the casks, and even sign it for future posterity:
We've been hatching a plan to pinch the barrel, though we're not sure whether or not our VW Passat will take the load, or whether the three of us can even lift a full barrel of whisky up. This is all academic, of course, as we're pretty sure the distillery staff are better at fisticuffs than us.
After a quick chat with John Campbell, we were told to "come back a bit later", and that "it'd be worth it". Intrigued, we went for a baguette and some Cullen skink at Ardbeg's café, returning to Laphroaig at 4pm. After acquiring some "merch" at the distillery shop, we were taken to the large white building right on the shore. We walked along a dark corridor and past a cage door…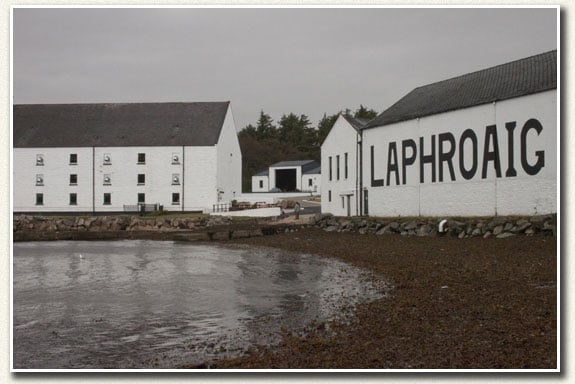 So there we were, in the damp darkness of Laphroaig's warehouses; low ceilings, and an intense musty old oak aroma in the air. John Campbell picked up a valinch and plunged it into one of the 160 specially selected first-fill Maker's Mark bourbon barrels lined up in a special corner of the warehouse. Each held maturing Laphroaig single malt, a select few of which are destined for tomorrow's "Laphroaig Ultimate Tasting" – comprising Laphroaig's spirit at a tender age, and made in the traditional style – from malt solely made at Laphroaig's own floor maltings… In fact, we'd be tasting all of the samples which would comprise this tasting; a handful of single cask whiskies, aged for 7 ¾ years.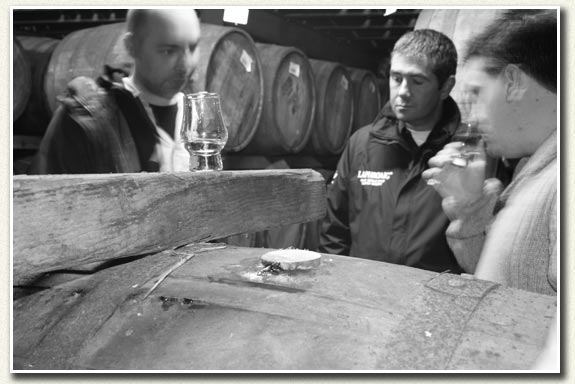 John drew out the valinch, and collected a generous sample in a 50cl bottle, whilst allowing the tail end to dribble into a small nosing glass. We can say right now that nosing and tasting that whisky was one of the most fantastic sensory experiences we've ever been treated to, and of all the places to drink mind-blowingly good single malt, where better than Laphroaig's warehouses, just feet from the sea.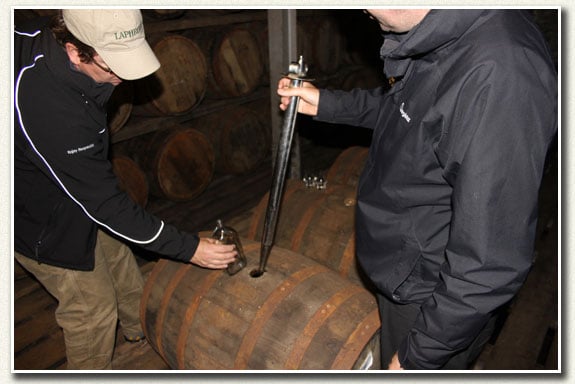 We nosed and tasted the whiskies: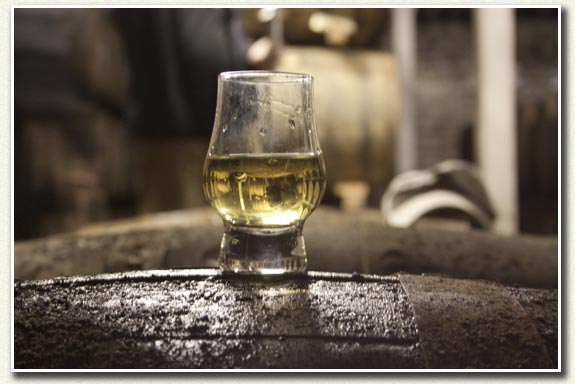 Laphroaig 7 ¾ Years Old – Straight out of a barrel at the warehouse Cask 5417
Nose: Green bananas, Spearmint toothpaste, Maraschino cherry, slightly medicinal. Maybe also hints of tarte tatin. Or frangipane perhaps, with an almond-like savouriness.
Palate: hugely peaty. Mint, bitumen, very fruity, really nice chip (fish n chip shop) crispiness. Apple strudel, and a massive charcoal flavour that comes through late palate.
Finish: Massive. Long, menthol rich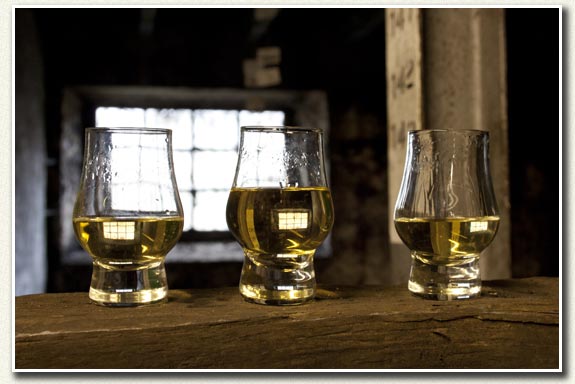 Laphroaig 7 ¾ Years Old – Straight out of a barrel at the warehouse Cask 5421
Nose: Unbelievable. Minty again, but less than before. Much sweeter, and almost something starchy. Green bananas/plantains. Really sweet, slightly nutty too. Very good indeed.
Palate: Buttery sweet, with the menthol element coming through.
Finish: A green banana note, with intense bourbon sweetness.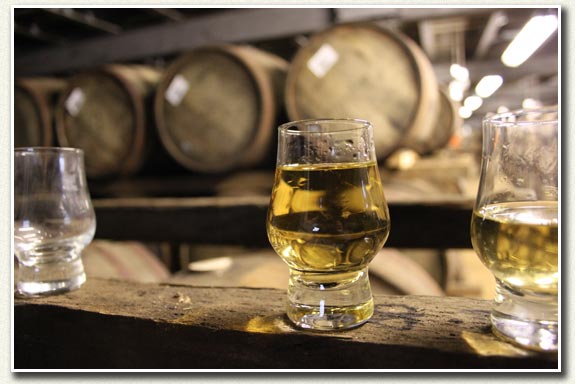 Laphroaig 7 ¾ Years Old – Straight out of a barrel at the warehouse Cask 5424
Nose: Even sweeter still. Much more subdued than the previous pair. Butterscotch.
Palate: Very sweet again, very bourbon heavy. A hint of vanilla icecream, and just a slight astringency.
Finish: Tannins bring a great deal of texture, and notes of nuttiness and char prevail.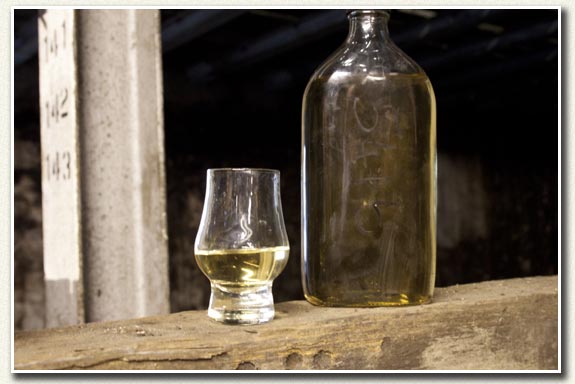 Laphroaig 7 ¾ Years Old – Straight out of a barrel at the warehouse Cask 5416
Nose: Really sweet nose, custard-like almost. Orangey.
Palate: Mmm mmm mmm. Really perfumed, but it quickly becomes charcoal like, with those orange notes reminding us slightly of Grand Marnier. Rich and oily, without the astringency of the first few.
Finish: Big finish, masses of fruit and spice.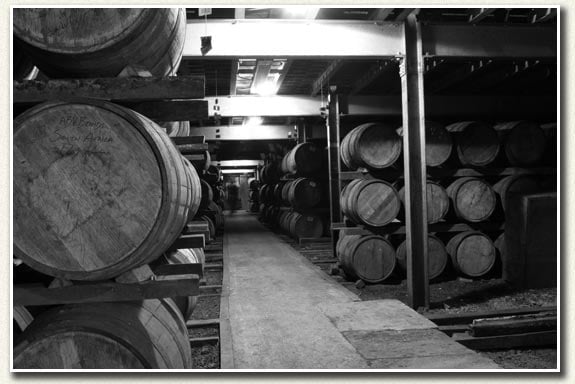 After the tasting we headed home.
After our ejection from Bowmore, we'd visited the local fishmonger, and we'd been looking forward to our dinner all day. We'd amassed a massive quantity of shellfish, all of which was local, including some utterly fantastic Islay scallops, langoustines, and mussels. To accompany the scallops we chose a dram of our own Caol Ila 30 year old, and we washed down the rest of the shellfish with some gorgeous Manzanilla sherry. We're now finishing off this post, before reclining on the chesterfields and considering our situation.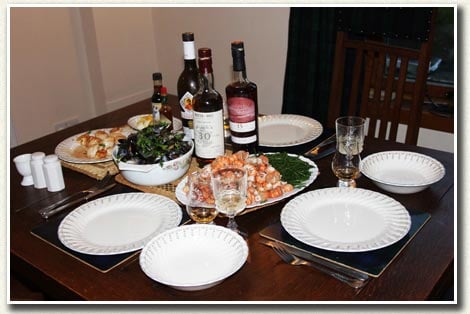 Check back tomorrow to read all about Kilchoman's open day…
– The Chaps at Master of Malt –