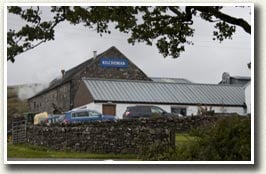 We drove over to Kilchoman early in the morning, knowing the Feis Ile bottling would be in high demand. We were right too, as the queue of excited whisky lovers took up the entirety of the visitor shop and all of one of the distillery buildings. It was obvious by the sheer volume of people that Kilchoman is in very high demand and we ended up queuing for almost 2 hours to pick up our bottles, it was all worth it in the end though…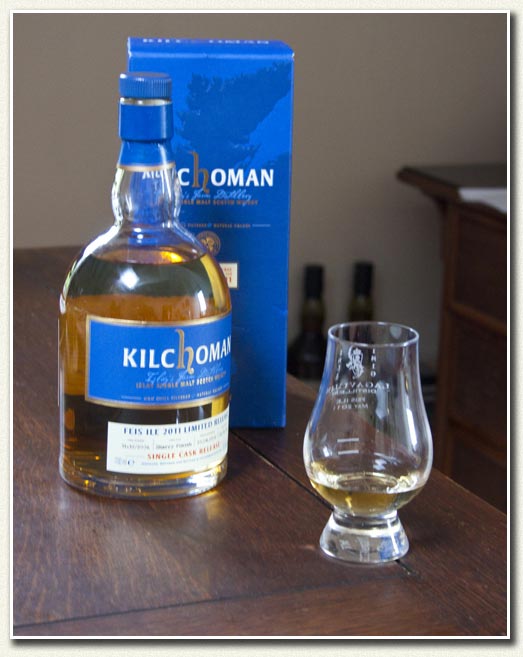 Kilchoman Feis Ile 2011 Limited Release
From casks 31&32/2006, distilled on the 20th April 2006 and bottled on the 5th May 2011.
Nose: Oily and sooty, with hints of hot kippers doused in butter. Anchovy too, with a touch of vanilla and sweet pipe tobacco.
Palate: Very spicy and oily. This is mouth-coating stuff, with smoked chilli heat, and a good dollop of malt. It's all about the peat intensity and, even at just 5 years of age, it has a decent amount of complexity. It becomes biscuity late palate, with gingernut and hints of feta cheese.
Finish: It ends on huge spices, and a wonderful cucumber note. The bourbon flavours from the initial cask come through at the end, with char and butterscotch.
Overall: Great stuff, and whilst £70 was a lot to pay for a 5 year old whisky, this oozes complexity, and punches well above its weight. Trying it at the distillery was fantastic, and it was made all the better by the little bits of barrel char floating around in the bottle. We love whisky that's rustic, unfiltered, and straight up. It can't be beat…
We sat down with Kilchoman's master distiller, John MacLellan…
MoM: First question. What's the feeling around the other distilleries on Islay? Obviously you guys are newcomers and are churning out incredibly good whisky. Does anyone feel threatened?
JM: I don't think we're of a size to be a threat; it's a niche product and will remain so. This year we plan to make 115,000 litres of alcohol, and that's us absolutely flat out. We won't be increasing in size – we can't!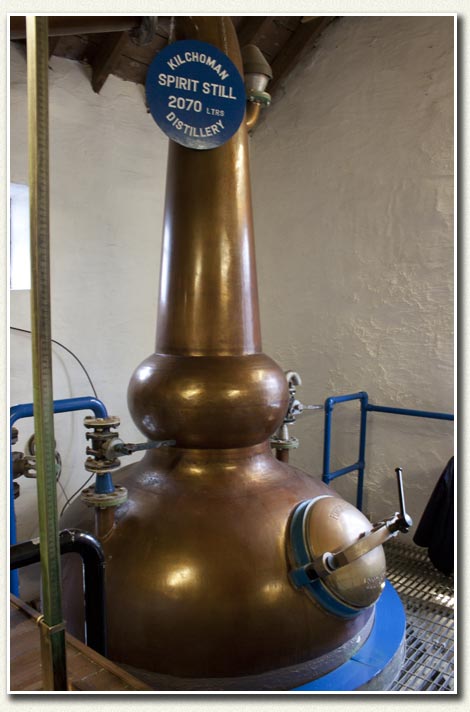 MoM: So how did you get into whisky, and what was your path leading to Kilchoman?
JM: Well, considering how much I've enjoyed this business, I should have got into it sooner. You have to understand that going to work at a distillery on Islay was like going down the mines; nobody wanted to do it. It was dirty work, hot work, and poorly paid. I went to school for a couple of years on the mainland and when I came back I intended to have a year at home and then go to university, but it was the old story: you get used to working, you get a bit of money in your hands… I never went back.
I got married, and when my daughter was born I was working as a fisherman, making a lot of money, but not spending much time at home. A job came up at Bunnahabhain and I had an interview with the distillery manager, who came to meet me at the boats where I was working. That week I'd broken my thumb and he said: "You are just the guy we need. If you can work the fishing boats with a broken thumb you can do most things…"
I worked at Bunnahabhain for about three years when a brewer job came up. Three years later, the owners had a bit of a shake up and the distillery became part of the Edrington group. The policy for management at the sites changed and I found myself becoming a distillery manager. The company didn't tell us that we weren't going to get any assistance, so I wound up running Bunnahabhain on my own, which was a very interesting job. We had periods of good production and periods of poor production, and it's been up and down for Bunnahabhain for a very long time. I stayed for seven more years before deciding to come to Kilchoman, which I found extremely exciting. It's a tiny distillery, but it seems to be busier than ever, and I've lost over a stone, but hey!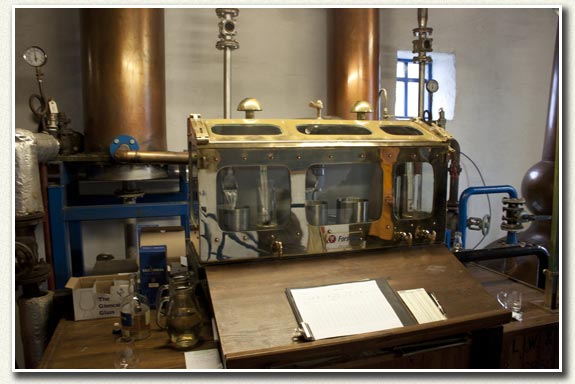 MoM: And what are the main differences between the new business and the old?
JM: Well, here we're 100% focussed on getting Kilchoman going. We could take the easy route and fill 100,000 bottles and I'm sure we'd sell them, get the money back and breathe a sigh of relief. Or we could manage it very carefully and let out as little as possible whilst keeping stock back for the future.
MoM: Which is exactly what you've done. You could set yourselves up for problems otherwise, ending up in a situation where you literally have no stock, and nothing to sell in the future.
JM: Oh absolutely. It's a very difficult balancing act. Fortunately for us, the people who are involved with Kilchoman are here to build the business and build a brand, albeit a small one. We're not here to take the money and run and that's what encourages me most. We want Kilchoman to be here in a hundred years' time. I want people to talk about the eight great distilleries of Islay. At the moment they talk about the seven great distilleries, and Kilchoman, which pisses us off a wee bit. But to be honest, the people who matter are taking notice of us and are taking us seriously.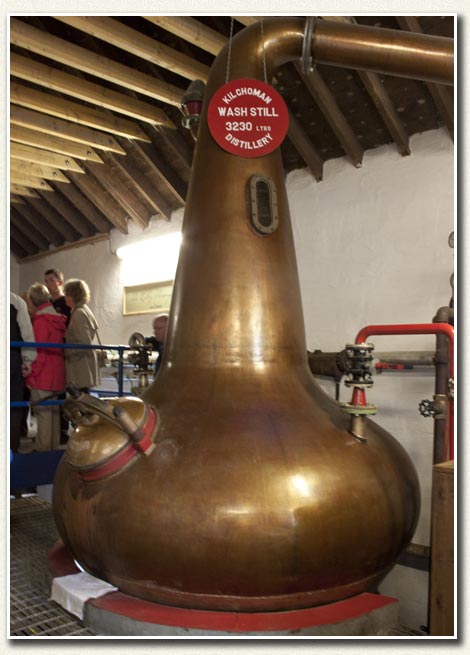 This year we'll be launching our first 100% Islay whisky, made using our own barley. We'll also be launching a bespoke bottle, and we'll be doing a sherry bottling. We'll also bottle our first mainstream 5 year old.
MoM: Having worked at Bunnahabhain for such a long time, have you found that you're learning new things since you've been at Kilchoman?
JM: The main reason I'm here is to bring the experience I got at Bunnahabhain. I had a lot of good tuition in the early days with Highland Distillers, which I still maintain was one of the very best production companies. I'm not saying I know the job inside out by any means; there's always something to learn.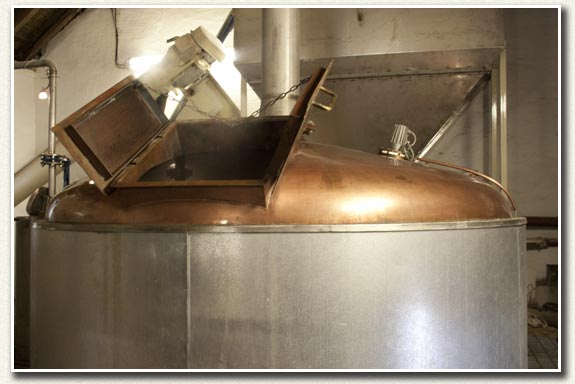 MoM: Another obvious question. With the relaxation of the laws in the UK surrounding what you can and can't do with regards distilling spirit, is there the potential for someone else to open another, even smaller distillery on Islay?
JM: Why not! We're not hung up about being the smallest, or the most Westerly, or anything like that! We really don't mind! We're Kilchoman! There's a distillery opening up in Sweden called Box, and they spent quite a lot of time working with our guys to learn how to run a distillery. People have been coming to Kilchoman since the early days, and we've become a model for small distilleries. People can identify with us too, as the big distilleries are 150, 200 years old. We're making history by the day!
MoM: Lots of your customers are people who've been with you since the start, and have watched you lay that first stone…
JM: And because of that, a lot of people have been collecting all the expressions of Kilchoman, and now our earlier whiskies are changing hands for a lot of money. Whether we're making whisky to become a commodity, I don't know. I'd like to think we're making whisky for people to sit around in groups and enjoy, and tell their friends about.
MoM: We've even got some of the new make spirit at home!
JM: Well, you need two things to make good whisky. Apart from a lot of goodwill from your staff, you need good new spirit and a very good wood policy, and you must adhere to it. If you don't have money for anything else, you should spend it on wood.
MoM: Have you found that you've changed the wood-buying in any way since you started?
JM: No. The wood policy when I came here was absolutely excellent. A lot of it was done by Dr Jim Swan, who Anthony engaged with at a very early stage.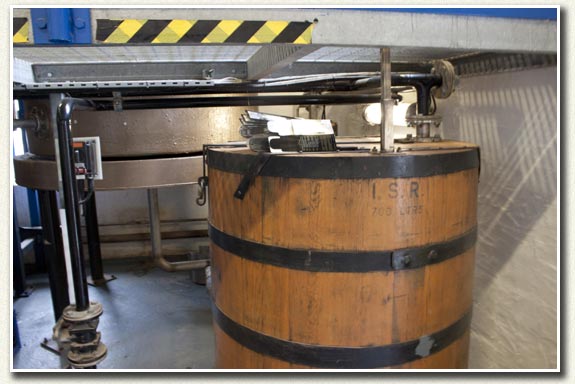 MoM: Of course we're here for the festival. Tell us about this year's bottling…
JM: It's made from two fresh bourbon barrels which we chose at Christmas. When we came back in the New Year we put them into a sherry cask. We've got 531 bottles and we'll be selling them for £69 pounds a bottle and, at 59.5%, it's a good buy.
MoM: You look at Lagavulin and Caol Ila where they've got distillery-only bottlings. Will you ever do anything like that?
JM: Oh I don't know. There are a lot of things that could happen in the future. Who knows! There are great distilleries on Islay…
MoM: They're all great in their own way. They're unique.
JM: And I tell a lot of people, as a local person on an island of 2,500 people, I just can't believe there are eight of the best known distilleries in the world, consistently producing bloody good whisky.
MoM: At the current filling rate, are you going to have to get warehousing outside of the distillery?
JM: Yes. We're planning that at the moment. Right now we have stocks stored at Bruichladdich and Bowmore, and we're looking at putting stuff into the warehouses at Port Ellen, which could be a very interesting bottle in a few years' time! Kilchoman aged at Port Ellen – though maybe without the Port Ellen price tag! It's also good policy at any distillery to keep your stock spread, and not put all of a year's supply into one warehouse in case something goes amiss. We're looking at building on Islay, though there's not much industrial land…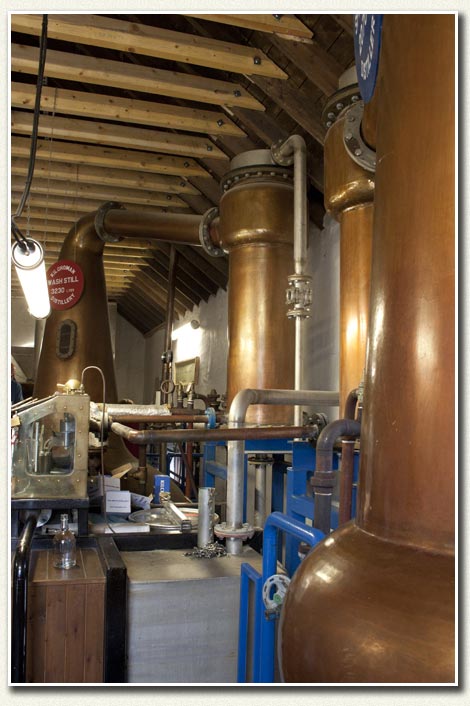 MoM: Will having warehousing on the mainland be a possibility?
JM: That will be the last resort. We don't want to store our whisky on the mainland. Some distilleries do, but we want to keep it on Islay for practical reasons. We can't be nipping back and forth between every time we want to sample a cask.
MoM: Well that was fantastic, and a great insight into Kilchoman. John, thank you so much!
After chatting with John, we wandered around the distillery, which is tiny. It's a little hamlet of stone buildings, surrounded by trees, and adjacent to a working farm. It's a lovely setting, and a great one to enjoy some Islay oysters: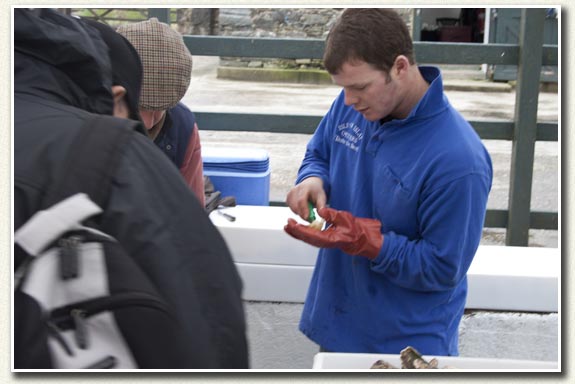 They were so good that we needed more, so we drove to an isolated clump of farm buildings. After banging on the door for some time, a chap came out and took us over to a rickety old warehouse which contained large tanks filled with oysters.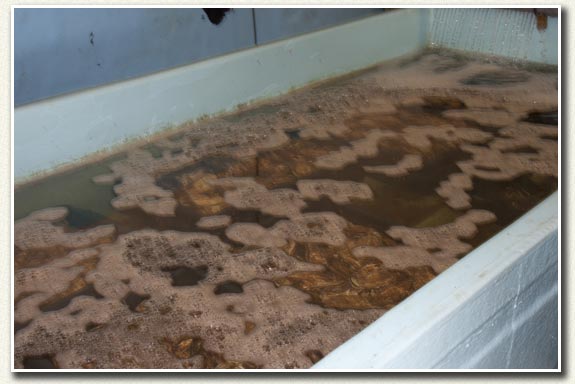 We bought three dozen and headed back to the ranch, passing through a series peat cutting sites: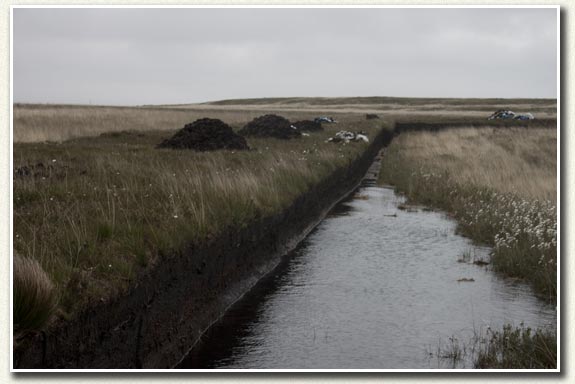 When we got back to our cottage, we started making our final preparations for the night's dinner, which would be a veritable feast of meats done on the BBQ. Neil and Joel from CaskStrength.net came over with some Islay Ale and a few wonderful bottlings from Bruichladdich. The Golder Still is simply amazing! We had Ben's special recipe Pork Ribs, which are quite literally the greatest thing that there's ever been. We reckon one day they'll talk about them in the annals of culinary history. Here's how he does it:
First off you need your ribs, we should be left as a rack if possible. Take a small cold smoker and fill it with sawdust. The smoker is basically a little winding corridor of sawdust, with a mesh on top. We filled it with whiskey barrel chips, and left it to smoke in a sealed tin foil tent for a good six hours. Once that's done, it's time for the dry rub. Take a handful of Demerara sugar; a tablespoon of smoked paprika; two teaspoons of chilli powder; two of garlic powder; two of salt; and two of pepper. Then you need to add a healthy slug of Worcester sauce and of Soy Sauce.
Pat the dry rub onto the ribs and stack them, wrap them in clingfilm and leave them overnight. The next day take the ribs and seal them in tin foil before placing them in the oven with any juices that have collected. Leave them on 100 degrees for around six hours, making sure they are properly sealed with the foil. Then, (reserving the cooking liquor for the sauce), place them in the fridge until you need them. At this point, get them on the BBQ to heat them through, but watch out because the sugar can burn very quickly.
To serve you'll of course need the finest BBQ sauce known to man. For this, take the juices that were left in the oven pan from cooking the ribs, and add 100ml Ketchup; 100ml of bourbon (we used Blanton's Single Barrel – it really is very good stuff); and 100ml Red Wine Vinegar. Gently boil it down until it reaches a thick, rich consistency.
Separate the ribs, douse them in BBQ sauce and you'll be in gastronomic nirvana.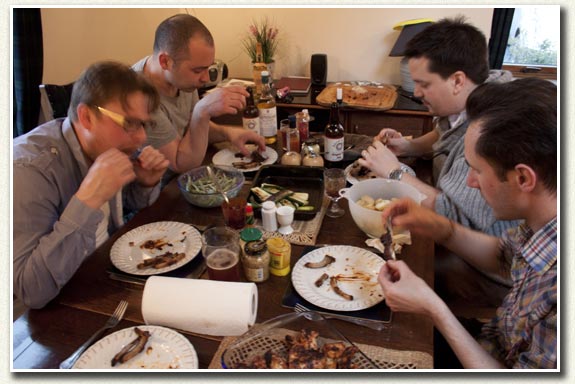 "Blanton's bourbon, it's really good stuff. It's made in tin clad warehouses don't ya know…"
After our bodies could hold no more meat, it was time to recline in front of a movie. Naturally, we chose Bad Santa. If you haven't seen it, you must. If you have seen it, watch it again. He is a very bad Santa, and he gets up to all kinds of mischief, as well as drinking copious amounts of Old Granddad. He should have had Blanton's though, as it's the finest. We briefly imprisoned our guests in the upstairs library: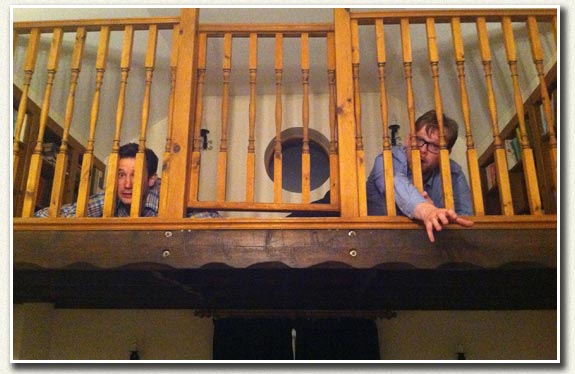 It was all fine though, as they discovered a new pastime: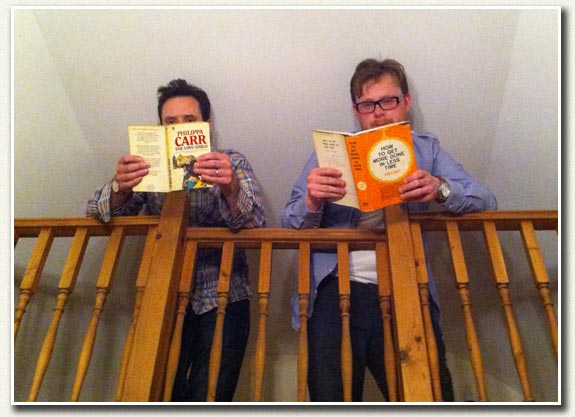 We've also made plans for an Alan Partridge marathon. It will happen.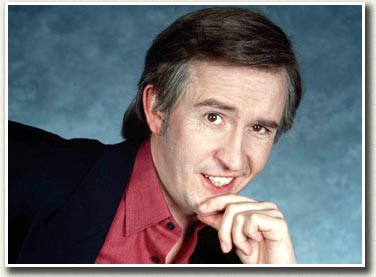 This morning we left for Bunnahabhain for more festival fun… You'll be able to read about it all tomorrow…
– The Chaps at Master of Malt –