We're keeping it in the family today as Millie Milliken takes a look at some of the father and daughter/ son distillers around the world – they're braver than we would be
One of my earliest memories is of my grandad (papa) showing me how to make beer in his garage, probably at a much younger age than I should have been. Luckily, there are some families who actually know what they're doing when it comes to making drinks. Well-known brands from whisky like Teeling, Glenfarclas and Kilchoman trade on their family name, and there are plenty more out there from bourbon to brandy.
In celebration of this year's Father's Day, I've unearthed some of the father and daughter/ son distillers from around the wide world of drinks. From Florida to Manchester – and including a touching tribute to a recently lost father – they're an eclectic bunch, and testament to the benefits of keeping their distilling and blending secrets in the family. Maybe it's true: blood is thicker than whisky.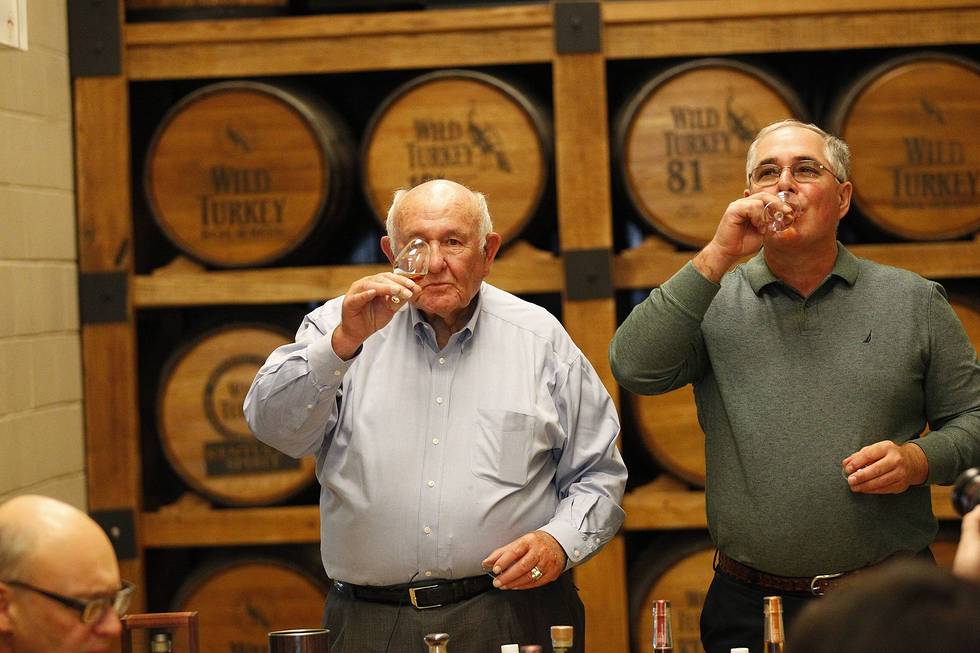 Jimmy and Eddie Russell, Wild Turkey
First up is one of America's most famous bourbons, Wild Turkey. Master distiller Eddie Russell and his father, the legendary Jimmy are a team with around 100 years of whisky making experience between them. And it was all down to Eddie's mother, Joretta.
"I really wanted to move away as a young man, when I got the chance," says Eddie. "I played football on scholarship at Western Kentucky University, but when I came home for my first summer break, my job options were the distillery or… the distillery. The mandate wasn't Jimmy's, but at my mother, Joretta Russell's insistence."
Eddie started at the bottom, rolling barrels, mowing lawns, painting houses before Jimmy moved him into the distillery to learn about yeast and mashing. Now Eddie sits alongside his father on the illustrious Bourbon Hall of Fame. Jimmy isn't hanging his whisky making boots up any time soon either. "I've never thought of it as work. I've always said 'the day it becomes work, I'll retire."
Where Eddie gets his father's strong work ethic, Jimmy benefits from Eddie's honesty: "When Eddie tells you something, it's true. If he doesn't like it, he will tell you!" Between the two of them, they've grown an empire that now Eddie's son is getting in on, and there are now four generations working at Wild Turkey.
Until that day that working at Wild Turkey feels like work, though, Jimmy Russell will (for Eddie at least) always be the reigning patriarch: "For my dad, it took about 17 years before he became a master distiller. It was 34 years for me because my dad is still working – you should really only have one master."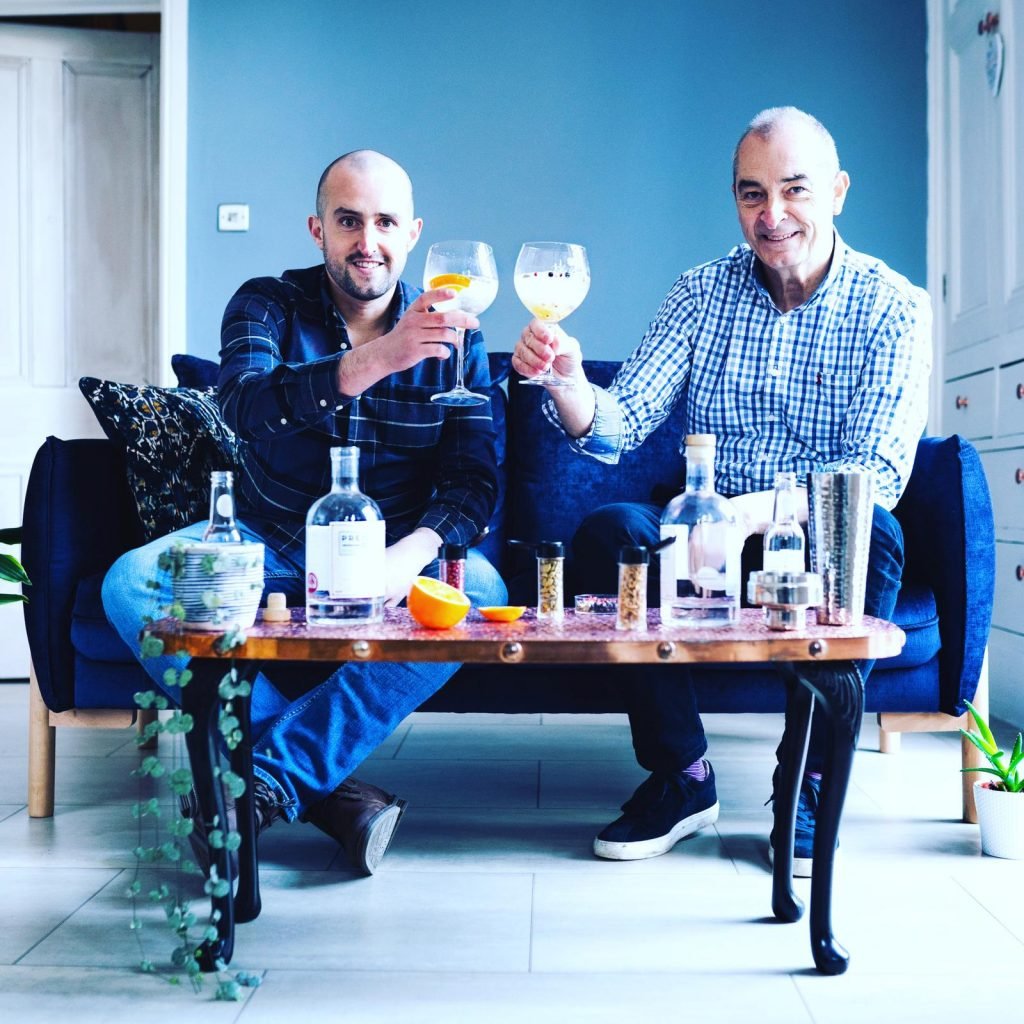 Michael and Jack Scargill, Prestwich Gin
This Manchester born and bred gin was the result of a family dinner. "With my Dad approaching retirement, we were talking over dinner about what he was going to do with his spare time and the idea of starting our own gin cropped up," explains Jack. "I didn't think much of it but the next time I went round, Dad had bought a few books and a small still and started working on a few recipes and it went from there."
With a background in chemistry, Michael takes on playing around with recipes and tweaking them as he sees fit, while Jack prefers tasting – as well as sales and marketing, which he has a professional background in.
The father/son duo's love for gin came long before the gin boom, with birthday and Christmas presents often coming in the form of a bottle of the botanical spirit. Now, they can enjoy the fact that other people are giving theirs as gifts on special occasions – maybe a few fathers will receive one this Father's Day.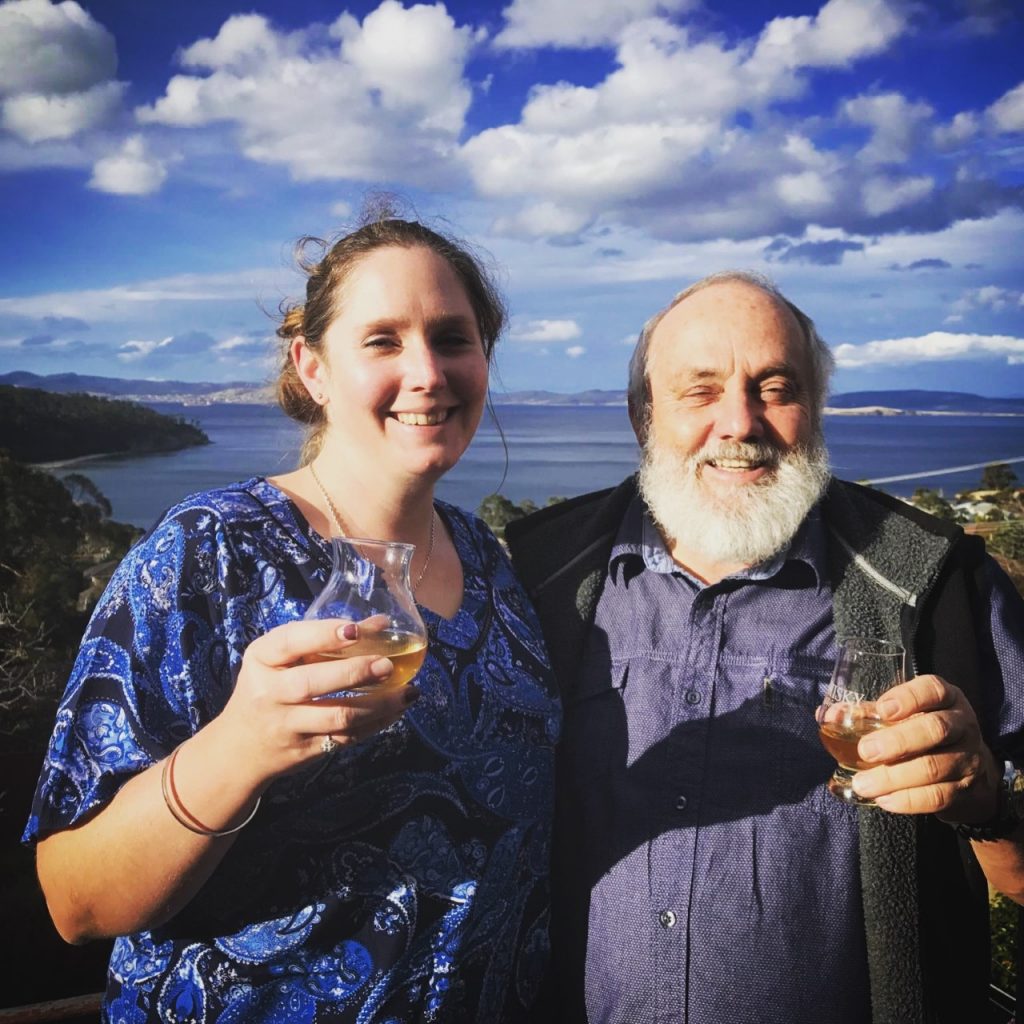 Bill Lark and Kristy Lark-Booth, Killara Distillery
"Working with my Dad can be super amazing and at times very exasperating!" So says Kristy Lark-Booth, founder of Killara Distillery in Tasmania. Having spent years working at the family whisky business, Lark Distillery, with her father Bill, she branched out on her own in 2016 to set up her own venture.
Despite not working together as regularly day-to-day, Bill's tutelage of Kristy on all this whisky distillation is testament to their working relationship: "I have learnt so much from him, not only how to distil amazing whisky but also a great work and personal ethic. Things like how to relate to people and to see the best in others, to follow your dreams and never give up. Working with him has given me the opportunity to explore and develop my own distilling style and certainly develop my palette." 
Kristy's integration into the family business wasn't always a given. She had her eyes on a career in Air Traffic Control – and while she got a coveted place at the ATC school, having spent some time working at the distillery, she changed her mind: "They were, of course very supportive of that so I began learning whisky making from my Dad, and gin/liqueur making from my Mum. We worked closely together right up until Lark was taken over by investors."
Looking to the future, Kristy and Bill will be working on a few projects that will see them come together again in a father/daughter – or daughter/father – capacity, including bringing back the old distillery school. Anything about distilling you don't learn in there, ain't worth knowing.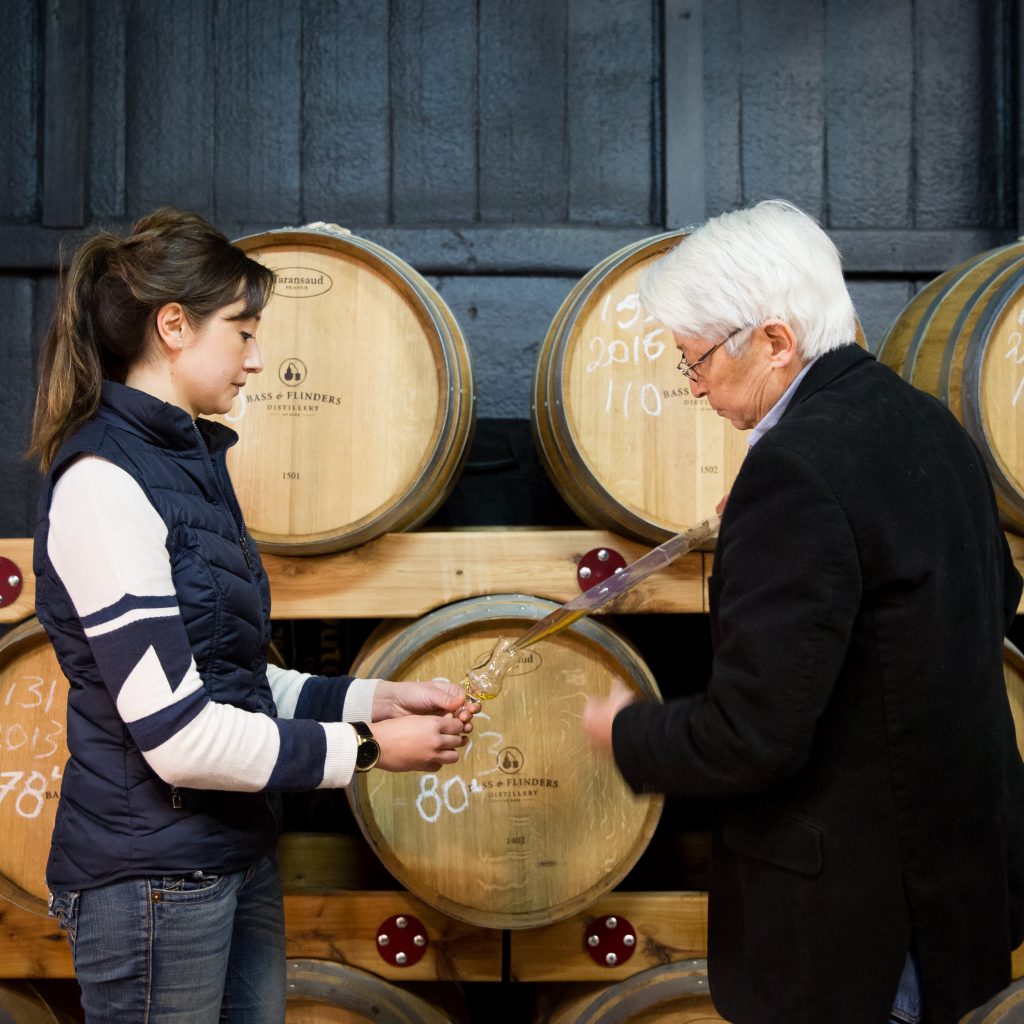 From the Bass & Flinders Distillery in Mornington Peninsula, Australia, head distiller Holly Klintworth produces gin, liqueurs and brandies, including a recent Maritime Gin with locally-foraged samphire, salt bush and kelp, as well as  Heartbreak Gin infused with Pinot Noir. The distillery started its life in 2009, but it wasn't until a few years later that Holly decided to join her dad.
"Over the years dad would ask my opinion on a product or packaging, and here and there I would help out on weekends with bottling, or peeling oranges for our gins. I got a good feel for the passion my dad had for the craft spirits industry and I suppose it was pretty infectious." Having previously spent time working in marketing in the wine industry, Holly joined her father's distillery in 2016.
It didn't come easy: Holly found getting up to speed so quickly a challenge without having a science background and not being initially too familiar with the production process. She was also one of few women working in the Australian distilling industry, although her father was keen to not let that deter her: "He would say to me, 'Don't let anyone tell you you aren't as capable as a man in production'… He really empowered me to take ownership of the still, of the spirit and of the product from start to finish."
Sadly, Wayne Klintworth passed away in early 2020, but his mentorship and inspiration have fuelled his daughter's love and passion for producing fine spirits. "My dad was a real mentor and inspiration for me as I stepped into the distilling world. Having him mentoring me and him also being my dad, meant I learned the ropes extremely quickly as I had access to his knowledge and expertise at all hours of the day or night and he was always ready for a chat about the business."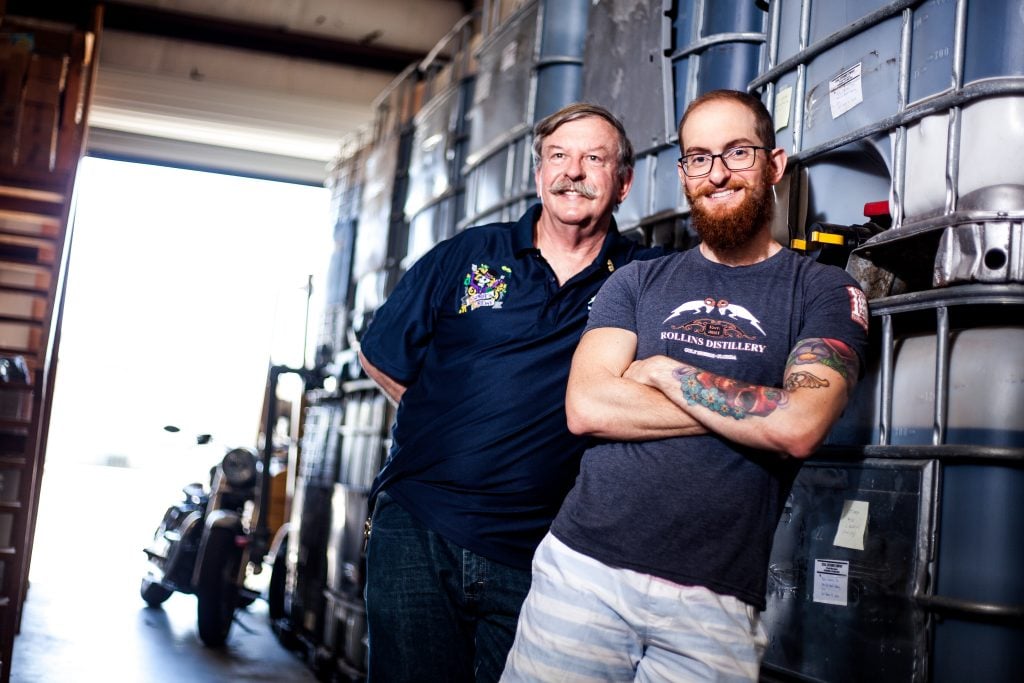 If you look closely at the Rollins Distillery logo, you'll notice it's two rams butting heads. Florida isn't known for its rams, so it's probably more likely that those rams represent Patrick and Paul Rollins, the son and father who distil their 100% Floridian molasses rum.
It all started with father, Paul, whose time at the Naval Academy saw him studying chemistry and growing an interest in distillation. Several years later, the family was stationed in Scotland, where Paul spent some time studying operations at the Old Fettercairn Distillery. Back in Florida, with grown up kids, Paul decided to take the plunge, being sure to utilise Florida's agriculture in the process.
Patrick was more interested in beer when his father approached him with the idea of setting up a distillery. Dreams of a brewpub slowly faded when he started learning more about distilling and rum – attending lectures and seminars – and he fell in love with the craft.
For Paul and Patrick, two heads are better than one: "Dad is a very inside-the-box technical thinker. He sees the trees. I am a very outside-the-box creative thinker. I see the forest. Together we are able to create so much more than we could separately."
Paul agrees, with a slight caveat: "Let me be frank, I would have tried to make the distillery happen with or without Patrick, but I cannot say it would be as successful as it is today without him."