Did you know that bartender schools are a thing? We visited one of the many European Bartender Schools across the world when we popped into the Mallorca school to join its yearly convention, and chatted to head of education Gavin Wrigley to find out what it takes to become a bartender!
Chances are, you've been served by someone who went to one of the European Bartender Schools (EBS). That's because they're not just limited to Europe anymore. First founded in 1999, there are now 28 schools in 22 countries, training around 8,000 students a year, with close to 70,000 EBS graduates working out in the wild. We joined the yearly EBS convention, which this year was held in Palma, Mallorca, which is a chance to review the syllabus, see the graduate bartenders on their way, and, of course, have a party network responsibly.
What is the European Bartending School?
We were hosted by EBS' head of education Gavin Wrigley, who got into the drinks industry around 20 years ago, working in bars, nightclubs, and cocktail bars across the world, and has now been imparting his knowledge to EBS students for over six years. 
Obviously the last couple of years have been tough, mainly because "people literally just couldn't come to our schools," Wrigley tells me. He estimates that around just 20% of people train in their home country. "From my perspective, the people who stayed in the industry are the people who are really in love with what we do. It was a bit of a filtration – and I don't mean that in a negative way whatsoever. As educators, it's put more focus back on education, and people are so much more appreciative of what we do."
It seems that, while most people have been to a cocktail bar, most people don't think that these schools exist. "When I tell people I'm head of education for the largest bartending school in the world, they're always shocked," says Wrigley. "They don't understand that people have to learn these skills." When you consider how readily staff in a cocktail bar can make on menu and off menu drinks with ease and expertise, you have to ask how did we not think of it before? 
Wrigley trained on the job, as many bartenders do. "It was a slow process. After 10 years in the industry, I didn't know more than 50 cocktails." Contrastingly, EBS graduates know 72 by the end of a four-week course. "It's not to say there's no learning curve after they leave us, but it provides a safe zone for them to train." The problem with learning on the job is that you need to earn your money's worth. When you're practising making cocktails, a paying customer is drinking them – as Wrigley puts it, "during your practising time, people are getting shit drinks!" 
How do they learn?
It's easy to imagine that this is just a month-long party. I start to think that I wouldn't mind shipping myself off to the sunny shores of Palma for four weeks, making friends and a few cocktails along the way. "Some people turn up with that mindset, and they're absolutely blown away on day one," Wrigley corrects me. Not only do they have to learn 72 cocktails, but at the end they could be tested on any 12 of them, in any order. 
There's bucketloads of theory, from spirits knowledge to the bartender's role. Wrigley puts it like this: "You come to school from 9-3, then you go home to learn six cocktails, and full theory for the next day, when you have a test on both of those things, and they have to be perfect." That's every day for the entire course. "But don't get me wrong, they party," he adds. They work hard, but the school also knows when to give them a break, organising day trips to the beach, or climbing, when morale is low or people are getting burnt out. "People learn better when they're excited," says Wrigley. 
How is it marked?
Cocktails transcend cultures, but also imbue them. Just the Zombie cocktail has over 30 variations out in the world, and EBS has to decide on one to teach – that's just the nature of education. You can't do a recipe test if you don't have a recipe. But the rule of thumb is generally they try to use original recipes, while sticking to current trends. Ratios are just the beginning of a long list of variables. 
We have to try and be generic but also flexible, finding some kind of middle ground," says Wrigley. The live bar stage is where the trainees get to experiment with the base recipe they've learnt, and springboard off that to put their own twist on it. Rum, lime, and sugar is always going to be a Daiquiri – the ratios are just personal preference. If every cocktail bar made every serve the same, what would be the point?
They make 12 drinks on exam day (six rounds of two drinks) which are graded on free pour, bar, and flare. Wrigley explains flare to me: they're marked on a routine, and if they're meant to catch a bottle at a certain point behind their head, only if they catch it there will they get the full five points available. Every move in the routine is marked the same. 
It's not just bartenders that are graduating, but instructors, too. Somebody has to teach (and mark) those 72 cocktails. You can imagine the kind of high-energy teaching that's required – it's certainly not for everyone, but those who can do it make a massive impact. 
After graduation
"When they leave the course, people are crying – they form such strong bonds because they're living and training together," Wrigley tells me. The bonds are clear even from my brief time with them all, so I'm not completely surprised to learn that there have even been EBS marriages that met on the course.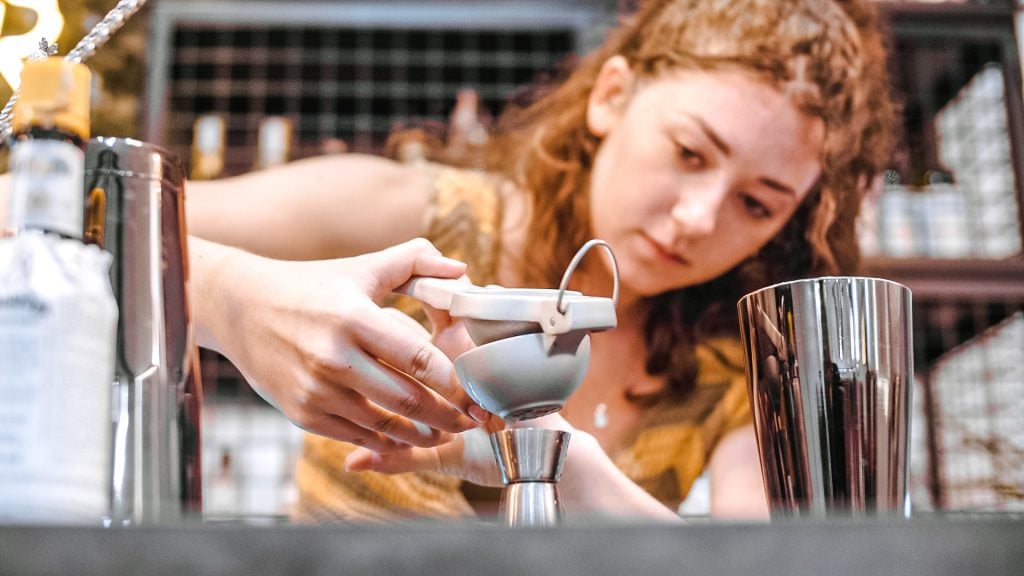 I ask about the range of people that come to the schools. "A lot of the people that come to us didn't do well in traditional schools. School might have failed them in a way," Wrigley explains. "Our teachers are young and cool, you're not getting told that you're wrong, and they hang out with our students. I think it makes a lot of them realise that they can learn." 
"Having a formalised education happens in every other industry. I think in bartending there's certainly a reluctance from some bartenders to treat bartender school graduates the same as someone who came through the industry." If anything, that's because they feel they've got it too easy, and want new bartenders to go through the same slog that they did. "I get that feeling, but you can't fault someone for wanting it to be quicker – it's not necessarily easier."
The graduates go on to learn more, as does EBS. "The industry is constantly changing, not just in the last couple of years but in the last 10 or 20 years," Wrigley tells me. "Good cocktail bars used to be in London and New York, and now they're in every small town around the world. At EBS we follow that by constantly updating our education, which is why we have the convention – the industry moves so fast."
And so we come to the question we came to ask. What does it take to be a bartender? "Good work ethic – it's not an easy job," Wrigley admits. "You have to be able to multitask and keep a smile on your face. I always talk about empathy – you have to be able to read the room."