Following a fine Friday evening at Dramboree (see Part 1 of my Executive report), an entire day of whisky fun still lay ahead! I give you… Part Deux.
After a hearty breakfast we set off for Aberfeldy distillery, our first port of call with tastings from Springbank's Melanie Stranger and the guys from Whisky Lounge to look forward to later on (not to mention that Whisky Table!) all organised by our fantastic hosts Jonny McMillan and Jason B. Standing. There would also be a barbecue courtesy of Master of Malt (that's us!).
Plenty to look forward to then as we set off on a short stroll down to the home of Dewar's blend and Aberfeldy single malt Scotch whisky.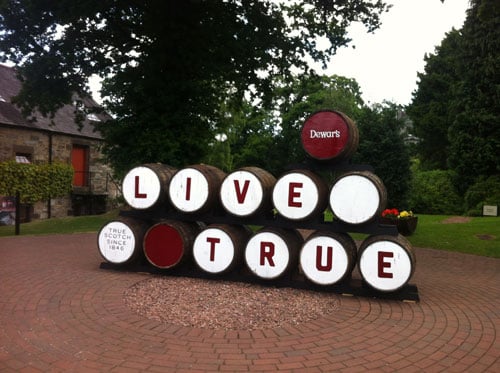 Livetrue. For when Livestrong has fallen out of fashion.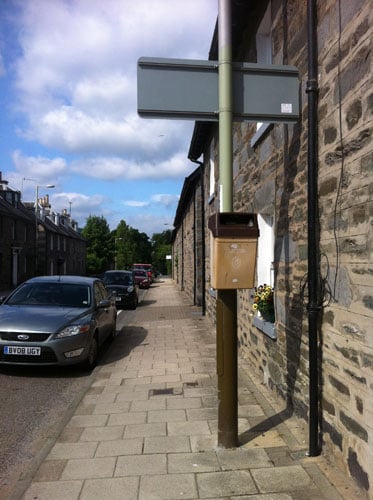 Apparently there are no short people or children in Aberfeldy.
Dewar's Marketing Manager and former Global Brand Ambassador Stephen Marshall led us on an enjoyable 'behind the scenes' tour of the distillery, some of the details of which I sadly am not at liberty to divulge, what I can say is that it was a beautiful day at a lovely distillery and that we did still see the train.
Stephen Marshall shows us around on a sunny day in Aberfeldy.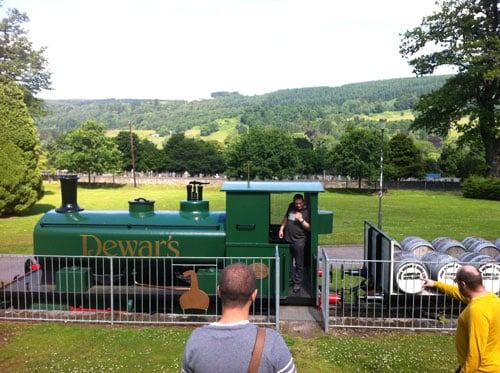 We're not sure what this pose is all about but Rocky seems to love a good train.
(Just don't refer to a railway station as a 'train station' when he's within earshot!)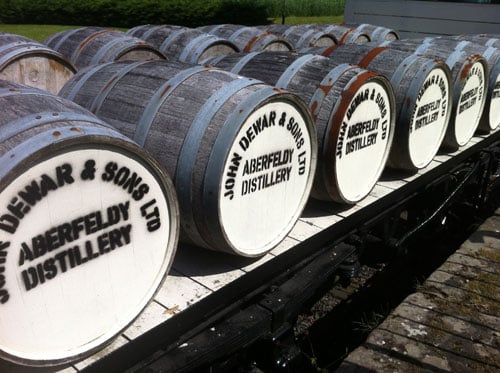 The railway was of course once extremely important for transporting whisky and raw materials to and from the distillery.
One thing Stephen discussed as we walked around was his thoughts on whether John Dewar was blending before Andrew Usher was, totally unbiased thoughts based around undeniable assertions such as "Well, Dewar was a bit older".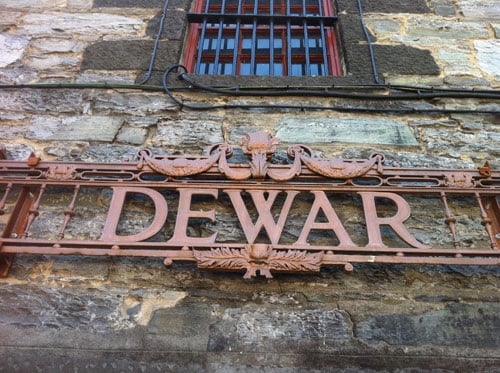 Well, Usher makes better music. Actually, that's probably up for debate as well!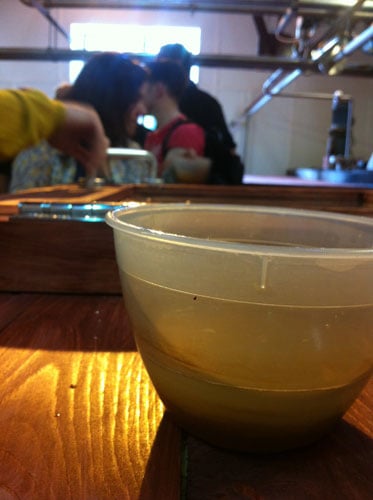 Sampling straight from the washback. Sweeet.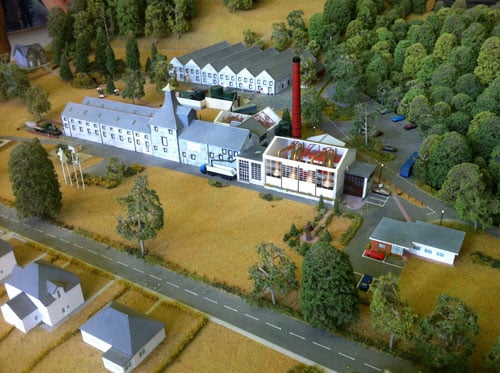 A model of the distillery, which reminded me of Goldfinger's model of Fort Knox. That may be because I'd just watched this though…
Some age, others mature.
No tour would be complete of course without a quick tasting session! This was certainly no exception as we were invited to sample 5 whiskies straight from the cask. Two Aberfeldys distilled in the 1980s, a superb Macduff, a fine Craigellachie and a slightly bubblegummy Aultmore!
Eddie Ludlow (right) looking confused as to why he's in sepia alongside a smiley Sam Simmons.
Dramboree 2013!!!
The Dramboree gang.
Next up was a (d)ramble up the stunning Birks of Aberfeldy, through the woodland and past the waterfalls that inspired the Robert Burns poem back in 1787. A few people gave this a miss however, in order to recharge the ol' batteries whilst we headed back to start preparing the evening's feast!
At 5pm, with the dramblers having safely made their way back down from the Birks, we sat down for a special tasting of cask samples with Springbank's Melanie Stanger.
Apparently Alan didn't find that joke funny #savewater
Dramboree! 1, 2, 3!
The lineup included a 2002 Hazelburn (Bourbon cask), a 2004 Kilkerran (Port cask), a 16 year old Springbank (Madeira cask), a Springbank from a Gaja Barolo cask previously used for Longrow and finally a Longrow from a Shiraz cask.
The amount of 'wining' did lead to a fair amount of whining here, with the Port matured Kilkerran from Glengyle distillery (that reminded me of those dip selection packs with soured cream and chive alongside thousand island) and the Shiraz matured Longrow (chicken crisps, not in a good way) receiving a mixed reception*. Jason enjoyed the Kilkerran however, which just goes to show that a lot of it comes down to personal preference. The other three meanwhile were actually very nice indeed, but were much less discussed!
The lineup.
As the barbecue continued to slow cook away, it was now the turn of Eddie Ludlow and Joe Clark from The Whisky Lounge to entertain us with their Dramboree Whisky Extravaganza 2013 Tasting +!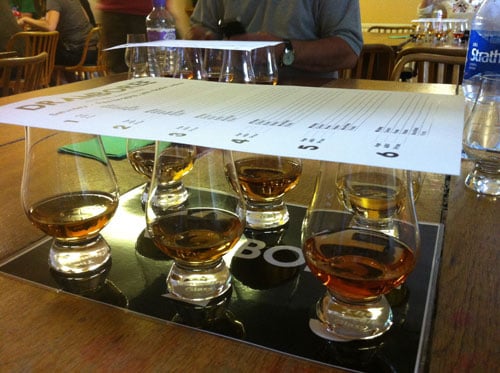 A familiar blind tasting – I should probably do quite well here.
Once split up into teams, the first round (in what really was an extravanganza) involved identifying 6 bottlings from Fèis Ìle 2013, the Islay whisky festival. Sadly, my team got a couple of them mixed up, which I put down to the amount of drams already enjoyed that day having affected my… palate.** Cat's team meanwhile received full marks. (Grrr.)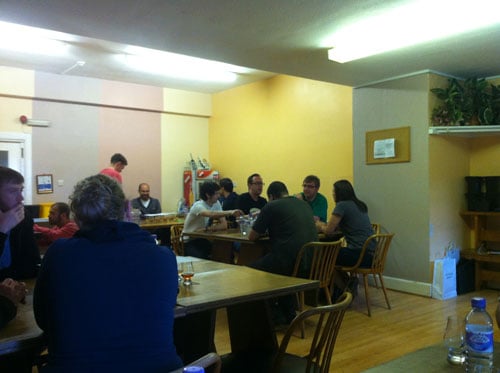 The 'mighty' Team 2…
…what we lacked in managing to buzz in first or having 'answers' we more than made up for by being able to pick things up with our teeth and generally being quite 'shouty'.
At least we knew which whisky features in Blade Runner. Good trivia.
Johnnie Walker Black Label in the distant future… 2019.
It was then finally time for all to chow down on the spread of large and small racks of ribs and pulled pork prepared by Benedict and cooked by Cat (I had a veggie burger, God only knows how I ever got a job here!), alongside roasted tomatoes and peppers, salad and all the coleslaw in the world!
Due to the enthusiasm with which this was wolfed down, this is the only picture in existence! (We checked.)
A busy day! You'd be forgiven for thinking that it must have been winding down by this point, but I haven't even mentioned the Whisky Table yet!
Wowsers.
As mentioned yesterday, everybody who came to Dramboree brought a couple of bottles with them for sharing with the group! In the end, this apparently totalled 78 bottles!***
The rest of the evening, as far as I am aware, involved some disco lights, a little dancing, escaping to the drawing room, an odd conversation about dancing, me getting annoyed by Muse shortly followed by me singing along to The Doors (textbook) and a healthy amount of cask strength Laphroaig.
Another thing it involved, which I forgot to mention yesterday as well, was Dr Sam's Secret Drams! Balvenie's Global Ambassador Sam Simmons had brought some mystery treats for everyone, for example one turned out to be a marvellous blend of three different Balvenies and a Glenfiddich (I think).
Dr Sam's Secret Dram
The next day it was sadly time to head home. Dramboree 2013 had been a rip-roaring success and we're already looking forward to next year. Thanks again to Jason and Jonny! What unspeakable deeds they must have performed to guarantee that weather I'm sure we can't even begin to imagine but if you guys can do something about the midges for next year, it really will be a true whisky utopia!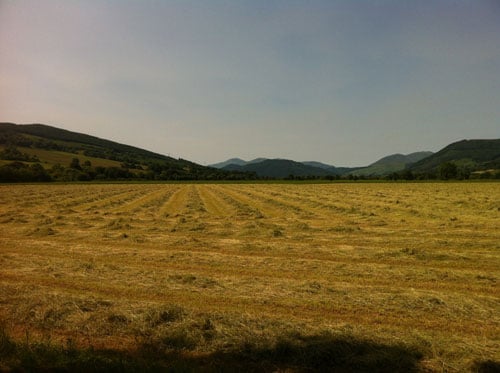 Aberfeldy on a sunny Sunday, not a bad place to spend a couple of leisurely hours before heading home!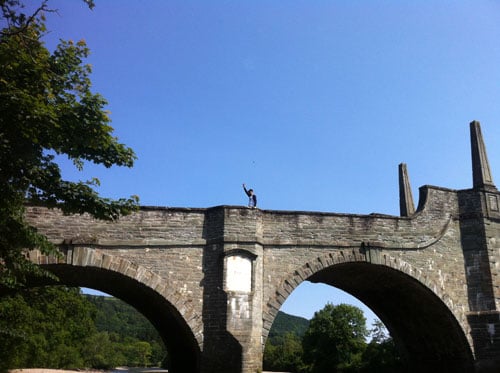 Boom.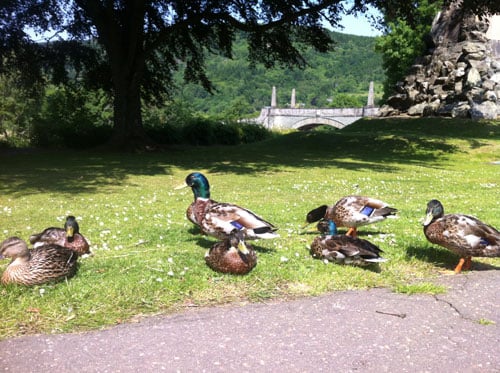 Farewell over-friendly duckies.
Jake
*That might be a euphemism I'm afraid.
** Yes, we did in fact get the Laphroaig correct.
*** Not 72, which it certainly was at some point and which I said in the quiz. Definitely wasn't annoyed by that. Nope, not me, nuh-uh, not my style… Not. At. All.