Diageo has announced plans to create a state-of-the-art Johnnie Walker visitor experience in Scotland's capital, as well as upgrading its existing 12 distillery visitor centres – a project that encompasses an investment of £150 million in Scotland's whisky tourism sector.
Distillery visitor centres and whisky experiences have become essential pilgrimages for many whisky enthusiasts around the world, and Diageo has announced plans for a £150,000,000 investment over three years in Scotland's whisky tourism sector. You'd best get preparing your suitcases, travel kits and holiday shorts.
The centrepiece of Diageo's plans is an immersive Johnnie Walker visitor experience in Edinburgh, which will aim to bring the expertise of whisky distillers and blenders to life right before your very eyes. There'll be interactive multi-sensorial rooms, digital projections of cask charring, bird's-eye views of the whole distilling process, areas to learn about the history of Johnnie Walker, a signature bar and more. Seems very much like a whole-day sort of thing, rather than a stop-off on your way to Edinburgh Zoo. Prepare accordingly.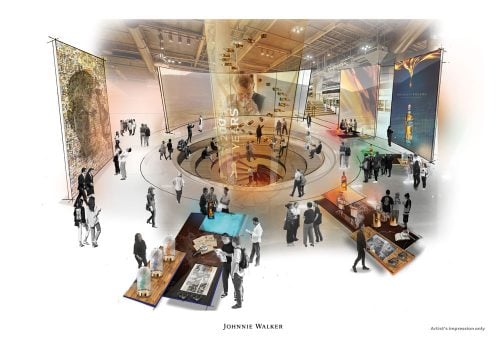 A glimpse into the potential future of glimpsing into Johnnie Walker's past
Not only will it be a tourist attraction, it'll serve as a hub for Diageo to create opportunities and train people as part of their Learning for Life programme – which is also receiving further investment. Check out the video below to find out a little more.
Diageo's twelve distilleries with visitor centres will be getting upgrades within this project, with four of them directly linked to the Edinburgh-based Johnnie Walker visitor experience. Glenkichie, Cardhu, Caol Ila and Clynelish will be representing the "four corners of Scotland", and each distillery will be getting its own Johnnie Walker-based visitor attraction. Not only that, with Port Ellen and Brora due to be reopened by 2020, there will be a total of fourteen Diageo distilleries with places for visitors to learn about the wonders of Scotch whisky.
Start planning your holidays now, folks. There's going to be a lot to see in Scotland, and it all sounds very exciting indeed.