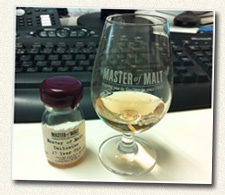 It must be said, we've been on a bit of a bottling frenzy recently; in the last few of months alone we've put our name to four new casks, including an incredibly bourbon-rich North British, a big, complex Cragganmore, a rich and spicy Dalmore, and an impressively malty Inchgower!
Today we have another new addition to the Master of Malt range, in the form of an utterly delicious number from Dailuaine (pronounced Dall-YEWan).
This is a distillery known for its malty, fruity whiskies, especially when sherry-matured, and with age, Dailuaine can produce some real gems. Our latest was aged in a single refill sherry hogshead for 27 years. We bottled it "straight from the cask", and there are just 231 bottles at natural cask strength.
I put it through its paces…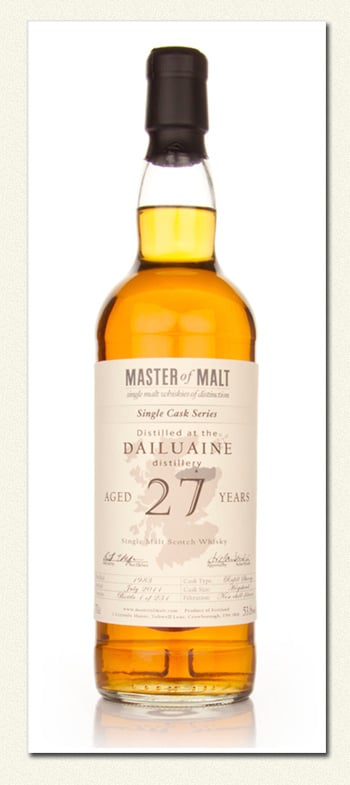 Dailuaine 27 Year Old 1983 – Single Cask (Master of Malt)
Nose: Lots of musty ginger spice and a hint of motor oil, which meld beautifully with classic old Speyside malt and honey on buttered burnt toast.
Palate: Oily and very spicy. This oozes complexity and sweetness, with a big hit of honeycomb, gingerbread and Golden Syrup. Also, stunning notes of barley and a hint of something vaguely dessert wine-like. There is a gorgeous development of oak that appears with hints of vanilla, and rum and raisin.
Finish: More ginger and syrup, something akin to cookie dough with a hint of ice wine on the tail.
Overall: So decadent; one of the sweetest sherry-casked Speyside malts of this age that we've ever tried. Glorious!
You can buy a bottle for just £64.95. Yup, you read that correctly, just £64.95 for a 27 year old, single cask whisky!
Mike.