The always in-demand Daftmill lands at our door, and our door only! This is an exclusive just for us, which we're releasing through a lottery, charity auction, and 30ml dram sale to make sure as many of you get your hands on it as possible.
There are few distilleries as intriguing as Daftmill. The family-owned distillery in the Kingdom of Fife is operated seasonally, making whisky since 2005 in the farm's quiet periods of mid-summer and winter. It can produce as little as 100 casks per year. When not distilling, Francis Cuthbert can be found on the estate, growing the malted barley used to make this cult Lowland whisky.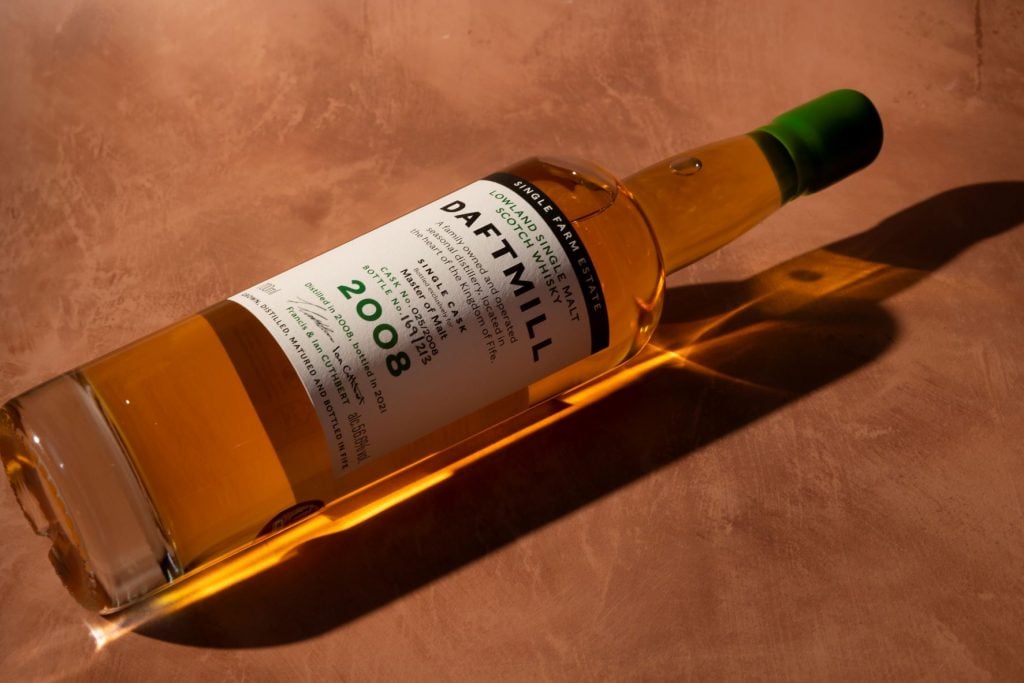 The first whisky was launched in 2018 to huge demand and every release since has similarly flown off the shelves. There's really no distillery comparable to Daftmill, with its farm-first approach that means it waited so long before launching, heightening the desperation for people to buy incredibly rare and limited bottles and see if it's worth the fuss. Despite the plaudits and desire for more, Daftmill has stuck to its guns and only releases more when it deems the product is worthy, like the Frank Ocean of whisky. That's why we're incredibly excited to showcase its spirit, particularly when we get a cask all to ourselves.
Before we show you how to get your hands on Daftmill Master of Malt Single Cask, let's break down exactly what you're getting. This single cask was made with a barley variety called Optic, which Daftmill tells us was grown in the south field in August 2006 before being stored on the farm to be malted in the town of Alloa during the summer of 2007. It was distilled in the winter of 2007 and filled into an ex-bourbon barrel on 28 April 2008. It was bottled in 2021 at 56.6% ABV, after we selected the cask we liked best, with one third being filled into our signature drams in order to let as many people as possible taste this whisky. Here's what we thought of it.
Daftmill Master of Malt Single Cask Tasting Note
Nose: Ripe Granny Smith Apples, salted porridge, and fizzy lemon sherbets, followed by perfumed floral aromas as well as vanilla, nectarines, seedless raisins, some flinty minerality, and light parcels of puff pastry dusted with icing sugar.
Palate: Viscous and slightly oily with some more minerality and that blend of creamy vanilla and vibrant fruit. Red grapes, coconut shavings, pineapple, and some bittersweet pink grapefruit mostly, as well as white chocolate, milk bottle sweets, and a hint of peppery spice. 
Finish: Sweet and layered, with floral honey, cooked apple, and a little oak spice.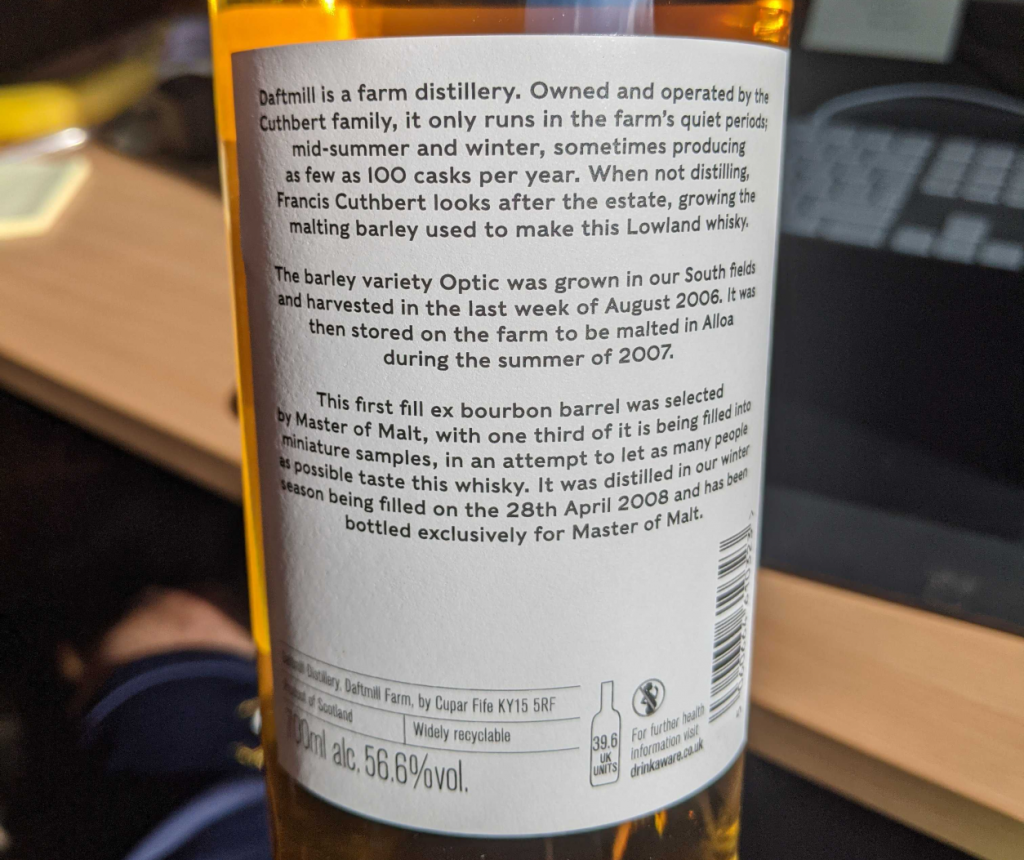 Lottery, dram sale, and bottle charity auction
We were lucky enough to split the whole cask, which produced 198 bottles, evenly between lottery/charity auction/drams. 
Bottle Lottery (chance to buy at RRP)
Mon 5 Sep 10:00 – Tue 6 Sep 23:59
If you're successful in the draw, you'll get the chance to purchase one of just 66 lottery bottles of Daftmill Master of Malt Single Cask at the RRP of £150. Please note: we'll be writing the winner's name and order number on the back of these bottles.
Bottle Charity Silent Auction
Wed 7 Sep 10:00 – Mon 12 Sep 09:00
Place your bid for a bottle, and we'll take the 66 highest, with everything over RRP [net of any applicable VAT] going to our chosen charity: Malaria No More UK*.
Dram sale
Mon 12 Sep 10:00
A total of 1,515x 30ml drams will then be made available for general sale following the closure of the auction (maximum of two per customer) so that as many people as possible who missed out on a bottle still get to taste this whisky!
* Despite progress fighting the disease, a child still dies from malaria every minute. Malaria No More UK campaigns to unlock vital funds and leverage government policy to help end this preventable and treatable disease.