It's fair to say that I've been a fan of the guys from Fluid Movement (the team behind The Worship Street Whistling Shop, Purl, and the new Dach and Sons) for a while now. In fact, I reviewed Purl almost 18 months ago here should you care to read about it.
It was a somewhat off-the-cuff suggestion that we 'do something together' made whilst at the Whistling Shop about this time last year which has ultimately led to the situation of us jointly launching the first retail product from this team of really very clever chaps.
So, without further ado – I give you 'Cream Gin'. The main ingredient in the Whistling Shop's signature cocktail – The Black Cat's Martini.
This really quite marvellous concoction is the brain-child of The Whistling Shop's erstwhile head barman, and all-round mixological genius, Ryan Chetiyawardana.
In the name of journalistic plausibility, and to make for a better read, I briefly forgot all about the extensive NPD conducted for the product, and the fact that I now know more about vanillin content and fat globule homogenisation than any man has the right to, and caught up with Ryan for a brief Q&A: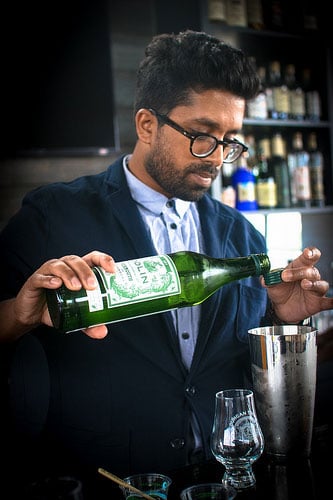 Ryan Chetiyawardana
Me: So – Cream Gin – what's that all about then?
Ryan: When looking through drawings of Gin Palace scenes from the 18th Century, there were often depictions of two (usually barrelled) products in the bars. One was Old Tom Gin, and the other was Cream Gin. Upon quizzing several people as to what this may mean, as it is with Old Tom, different answers were given. I eventually got an answer with which I was satisfied, which alluded to the fact that it was probably gin mixed with cream and sugar and left in barrel to soften the harshness of the gin.
Me: Really? Just a straight-up mixture of Sugar, Cream and Liquor? Doesn't sound great…
Ryan: Agreed. Cream and gin with some sugar in, left to turn in a barrel probably wouldn't fly today. Given the on-trade's disposition towards modernizing history (one just has to look at the success of Heston's 'Dinner' restaurant at the Mandarin Oriental for a mainstream crossover), the idea was to make a modern version of this product. One that retained the historical aspect, but also used the wonders of modern science to make it work today.
Me: So how does the recipe for the new Cream Gin differ from the historical version?
Ryan: Instead of infusing the gin with cream post-distillation, we've used the cream as a botanical – pre-distillation. Fresh cream is macerated into a nice citrussy gin base we selected specially for the product, and then cold-distilled under vacuum. This means the cream isn't cooked at all giving none of the burnt/off cream notes, but that all of the lactic thickness and mouthfeel is retained. No doubt some of the oils distill across to give some of the mouthfeel, but also the psychosomatic effect of smelling the vanillin-rich cream and experiencing thickness in the mouth.
Me: So how does this differ from other gins available on the market?
Ryan: The end result is a Crystal Clear London Dry Gin, but one that has a difference in body, flavour and balance. It isn't yet another gin with a wacky botanical lumped in, it is a new approach to the category. It also explores the idea of texture in a way no other spirit does.
Me: So how would you sum up Cream Gin overall?
Ryan: Overall this creates a product that gives a new dimension to cocktails and gin drinks. In other cocktails, it provides a unique weight with a botanical element. In gin drinks, it brings a whole new dimension in texture and also interplay of botanicals as they flow differently across your tongue.
So there we have it – the genesis for the fantastic product we have before us today.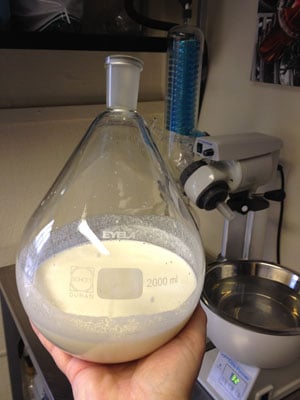 Pre-Distillation
Now – whilst the recipe is obviously a closely guarded secret, we can tell you that each and every bottle of Cream Gin is unspeakably labour-intensive. Each and every bottle contains the equivalent of 100ml of Distilled Cream – and uses a range of other botanicals including Orange and Lemon Peels, as well as the more usual Juniper, Coriander, and Orris.
The cold distillation process renders the gin completely clear, and also removes all of the larger and more complex molecules which would be responsible for any aspect of the cream 'going off' over time, so Cream Gin will have the same shelf life once opened as any other gin, and doesn't need to be stored in the refrigerator.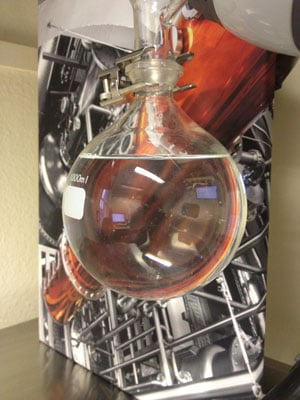 The finished distillate. Crystal Clear
As if this creation wasn't exciting enough in its own right – we asked the team from Fluid Movement to knock up a video presentation of suggested serves and cocktail recipes:
Black Cat's Martini
One radish to garnish
Fill a mixing beaker or pint glass with ice and pour in the Dry Vermouth. Next add the Cream Gin and stir for 45-50 seconds to chill and dilute the martini. Strain the mixture into a chilled martini glass and garnish with a radish.
Cream Gin & Coke
Coca Cola
Vanilla Salt (a quarter cup of sea salt and the seeds of one vanilla pod ground together)
Wipe the rim of a highball glass with a segment of fresh orange and dip the glass in the vanilla salt. Fill the glass with ice and pour in the Cream Gin. Top up with Coca Cola and garnish with a slice of lemon.
Cream Gin Fizz
35ml Freshly Squeezed Lemon Juice
5ml Olive Oil
15ml Sugar Syrup
1 Egg White (Optional)
Vanilla Salt
Soda Water
Vanilla Bitters
Put a pinch of Vanilla Salt into a shaker with the Olive Oil, Lemon Juice, Cream Gin, Sugar Syrup and the Egg White. Next, shake the mixture to aerate it and the egg white starts to foam. Add ice to the shaker and shake vigorously until condensation appears on the outside of the shaker. Strain into a glass and top up with the Soda Water. Snap and twist the rind of a lemon and place on top. Finally a pipette of Vanilla Bitters can be added to release more flavour.
Now – you will definitely want to watch this space, as there will be many more fantastic products coming from the team at Fluid Movement over the next few months, and maaaaaaybe even some other world-famous bars too.
Ben.