As Cognac sales hit record highs, we take a look at the the shape of the historic spirits category today, and explore its tastiness in cocktail form…
Dust off those old bottles – Cognac is officially cool again. Those in the know never doubted the allure of this fancy French brandy, produced around the town of the same name in Western France. But following a tentative revival after a tough few years, it's emphatic: Cognac shipments have hit record highs, and we're drinking more of the revered spirit than ever.
According to the Bureau National Interprofessionnel du Cognac (the BNIC, or the official people who monitor the product. Kind of like the Scotch Whisky Association – or SWA), 190 million bottles were shipped in the 2016/17 year*. That record count is up by 10% – the equivalent of 520,000 bottles sent out every single day.

That Cognac is worth a pretty penny, too. All those shipments were valued at €3 billion. And that figure is up by 15.2%. Not only are we all drinking more Cognac, we're willing to pay more for it – and that's providing the key boost.
Cognac, Cognac, everywhere…
Who's drinking it all, then? The US remains the most important market, with more than 78 million bottles heading over the pond last year. Demand is also coming from East Asia, with China alone importing 22.6 million bottles.  Europe's fuelling growth too, with British drinkers lapping up 3.6% more bottles, while Germany's upped its collective order by 22.2%.
Russia and Eastern Europe also want to get back in the Cognac game, with an astonishing 73% more bottles imported in 2016/17 than the year before. And Africa and the Caribbean might be relatively new Cognac markets, but they now account for 6.5% of total exports – or 12.3 million bottles. Everyone, it seems, has got a taste for the spirit.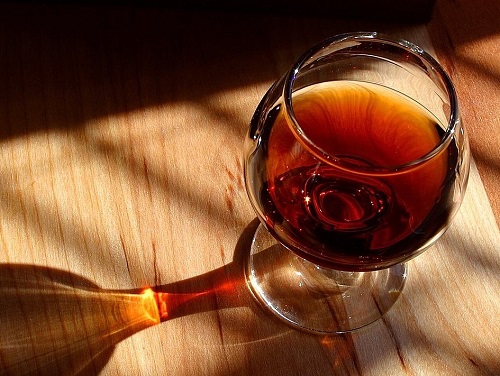 Cognac is back by very popular demand
What to drink now
Cognac is generally classified into four age statements – and drinking trends tend to fall broadly along these lines.
VS – aged for at least two years – is massively  popular in the US right now. So much so that the BNIC says thirst for VS coming from The States has pushed up its popularity so much that is now accounts for half of all Cognac exports.
VS tends to be lively and fruity – so perfect for cocktails. Try a classic Sidecar (shake 30ml VS with 15ml triple sec and 15ml fresh lemon juice with ice, strain into a chilled Martini glass – voila!) or a French Apple (stir 15ml VS with 15ml classic vodka, 30ml apple cider and a dash of bitters. Serve with a cinnamon stick and apple slice. So autumnal).
VSOP – aged for a minimum of four years – is also popular, but more universally. Unsurprisingly due to the extended maturation period you get more oak influence here (think vanilla and tropical fruits, along with the vibrancy of a VS), so sipping works. But a good VSOP also makes a cracking Sazerac (50ml VSOP, 20ml absinthe to rinse the glass, 3 dashes bitters and a sugar cube. Rinse the glass with the absinthe, pop the sugar cube in a separate glass with the bitters and crush, then add the Cognac and some ice, stir lots and strain into the first absinthe-influenced receptacle, garnish with a lemon twist and enjoy).
Then we get to the business (ahem – usually pretty pricey) end of the proceedings with XO and prestige Cognacs. But good Cognacs are well worth the price tag. There's all the complexity of a cracking single malt with an exquisitely velvety mouthfeel. There's a reason why Cognac has been revered for centuries, and XO Cognac (aged for at least six years, the rules will soon change to 10 years, but many houses age for far longer) exemplifies this. This plays out in the BNIC stats too – XO-and-above bottle sales soared by 24.2% last year, with a good chunk shipped out to Asian markets, traditionally associated with the more upmarket end of things.
If you want to join the party and are on the look-out for some tip top examples to sit and savour, try Ragnaud-Sabourin Grande Champagne No.25 XO, A.E. Dor XO Fine Champagne Cognac, or Maxime Trijol XO Grande Champagne. For mixing check out Frapin VS or François Voyer VSOP. Our Cognac Tasting Set also has all bases covered. Go on, give Cognac a go – you won't be disappointed.
*1 August 2016 to 31 July 2017, if you want to be precise.