Is there any better antidote to a chilly winter's day than a steaming hot cocktail? Rather than digging ice out of the freezer, this week we're firing up the stove to create the Spiced Apple Warmer, which brings the flavours of two quintessential winter warmers – the Hot Gin Toddy and Mulled Cider – together in one toasty recipe…
For about as long as humans have been drinking alcohol, we've been heating it too. Mulled Wine came first, supposedly invented by the Greek father of medicine, Hippocrates, who is said to have enjoyed it as a tonic. The very first recipe in the first-century Roman cookbook Apicius – one of the oldest in the world – is for conditum paradoxum, a warm spiced wine. Throughout the second century the Romans continued to heat wine with honey, herbs, spices and citrus to fend off the winter chill as they conquered Europe. As viticulture spread through the Empire, so too did this toasty drink; adopted as Glühwein in Germany; Gløgg in Sweden. It became widely known as 'Mulled Wine' in 17th century England. 
Before Mulled Wine found its name, Wassail had risen to prominence in medieval England. Initially a warmed mead into which roasted crab apples were dropped, the drink transformed into a hot mulled cider topped with slices of toast – called sops – and then later spiked with brandy, sherry, and often beaten eggs. It was drunk traditionally (from the communal wassail bowl, of course) as an integral part of wassailing, a yuletide drinking ritual intended to ensure a good cider apple harvest the following year. Eventually, the tipple evolved into the Mulled Cider popular at Christmas markets around the world today.
The term 'Punch' came next, with the first written reference of the word penned by a British East India Employee stationed in India in 1632, who wrote "I hop you will keep good house together and drincke Punch by no allowance," in a letter to a coworker, according to an excerpt from Punch by cocktail historian David Wondrich. The first recorded Punch recipe – again, in India – came six years later, "consisting of aqua vitae, rose-water, juice of citrons and sugar", and made its way to London's ports as the token tipple of British sailors, where it soon found favour among the country's aristocrats.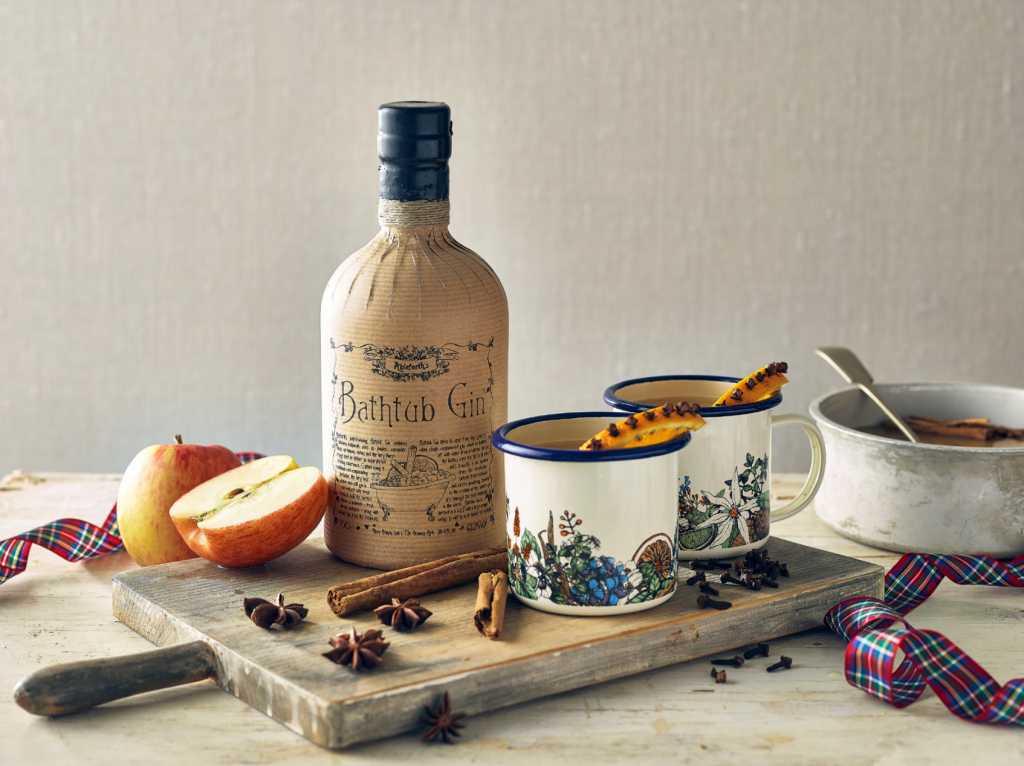 The Hot Toddy too is said to come from the era of British-controlled India, when plantation workers would ferment the sap of tropical palm trees to create a 'Toddy' (named for tari, the Hindi word for tree sap) to create "a beverage made of alcoholic liquor with hot water, sugar, and spices", as recorded in 1786 – though this theory is widely contested. Some believe it was named for the toddy stick, an early version of the muddler that was used to crush sugar for the drink; others believe it originated in Scotland, to mask the flavour of poor quality Scotch; and some say it was the creation of Irish doctor Dr. Robert Todd, who prescribed his patients a mix of brandy, canella, sugar syrup and hot water as a cure for the common cold. Today, the modern definition of the Toddy points to practically any alcoholic drink served hot, though purists will insist on a base spirit (usually whisky), citrus, honey and spices. 
However you prefer to serve and title these quintessential winter warmers, there's no escaping their Dickensian connotations: a nip in the air, a crackling fire, a warm blanket, howling winds, a snug parlour. A drinks connoisseur himself, Dickens wove spirits into his works repeatedly, from "a bowl of Smoking Bishop" in A Christmas Carol – a popular Victorian tipple made with port, red wine, lemons or Seville oranges, sugar and spices – to the "whiskey toddy" in The Pickwick Papers. Rather fittingly, given this week's choice of cocktail, Dickens' all-time favourite tipple is said to have been Hot Gin Punch – a drink most highly favoured by his Mr. Micawber character in David Copperfield: ''I never saw a man so thoroughly enjoy himself amid the fragrance of lemon-peel and sugar, the odour of burning spirit, and the steam of boiling water, as Mr. Micawber did that afternoon," he wrote. 
We wonder what Dickens might've made of our Spiced Apple Warmer recipe, which involves gently warming the uniquely characterful Bathtub Gin with apple juice, oranges, cinnamon, cloves, star anise and honey. The spirit starts out as a copper pot-distilled gin made with juniper, coriander and other fragrant botanicals. Then, a portion of the batch is infused with six fresh botanicals over the course of the week, before the two distillates are blended together. This lengthy infusion process captures flavours that are too delicate to survive the distillation process, resulting in an intensely flavourful gin that allows the botanicals to really sing. Where loud flavours often clash in certain mulled recipes, each ingredient in the Spiced Apple Warmer has been carefully selected to enhance the gin's key botanicals, resulting in a delightfully wintery tipple that won't overwhelm the palate after half a cup.
"We use orange, cinnamon and cloves in our double infusion, so bringing those flavours out more is a good place to start," explains Hannah Burden-Teh, Bathtub Gin's brand manager. "Then we add a touch of extra Christmas spice with the star anise – it looks like a Christmas decoration in your mug! Apple is the perfect base for any Hot Toddy, and we jazz our usual Bathtub garnish up by bedecking the orange slice with little clove jewels. It's super easy to make, a great winter warmer if you need a cosy boost or, as quite likely this year, you find yourself outside and it makes your house smell like Christmas!"
And let's face it, who doesn't want that? Right, let's make a Spiced Apple Warmer…
50ml Bathtub Gin
200ml apple juice (cloudy is best)
2 cinnamon sticks
1 star anise
3 orange slices (plus spare to garnish)
3 cloves (plus more to garnish)
Honey to taste
Add apple juice and all spices to a saucepan. Simmer gently for 15 minutes then strain into a mug. Add Bathtub Gin and honey to taste before garnishing with a clove-studded orange slice. The recipe is per person – simply multiply the ingredients as required to make a batch.