This week's drink has a glamorous history. Born in Peru in the 1920s (or maybe Chile, there is some debate), it was drunk by film stars, writers and presidents alike. Our new contributor Lauren Eads takes a closer look at the Pisco Sour!
Did you know that Ernest Hemingway holds the record for the most Pisco Sours drunk in one sitting at the Gran Hotel Bolivar in Lima? Or that John Wayne once had to carry Hollywood starlet Ava Gardner out of a bar after one Pisco Sour too many? I'll take both accounts with a good pinch of salt. But don't they paint a glamorous picture of Peru's beloved cocktail?
If you've never tried a Pisco Sour you're missing out. It's a cocktail that sings of summer with its sweet sour tang and foamy-egg texture, shot through with a bolt of Pisco and a balancing dash of Angostura bitters.
So, how did this gloriously sweet and sour concoction come to be?
An American bartender in Peru
American bartender Victor Vaughen Morris is widely credited with its invention. Born in Utah, Morris moved to Peru in the early 1900s and opened a bar in Lima in 1916, shortly before Prohibition came into force in the US. At that time, Lima was undergoing a cultural renaissance, with the Jiron de la Union, a pedestrianised boulevard, at its heart. It was here that Morris' bar became a thriving hub for English-speaking travellers and the purported birthplace of the Pisco Sour. It was created by Morris as an alternative to the Whisky Sour, but it was a bartender by the name of Mario Bruiget, who worked at Morris' Bar, who really put the cherry on the top. He added the all important dash of Angostura bitters and egg white to the recipe sometime towards the end of the 1920s – the Pisco Sour, as we know it, had arrived!
Newspaper and magazine adverts for Morris' Bar dating to 1924 implored 'English-speaking' travellers to stop by and enjoy its notable 'Pisco Sours'. Famous clientele listed on the bar's registry include Emiliano Figueroa, ex-president of the Republic of Chile and its ambassador in Peru, Alfred Louis Kroeber, an archaeologist from the University of California Berkeley and Juan Ramón Montero, the first aviator to fly from Lima to (coincidentally) Pisco – a port city on Peru's southern coast where pisco is said to have originated. It's not hard to see how the Pisco Sour travelled far and wide. It blazed a trail to California in the 1930s reaching bars as far north as San Francisco, and by the late 1960s could be found in New York.
Proto-Pisco Sours
Morris popularised the Pisco Sour, but it's worth noting that there were mentions of similar serves prior to his. The most concrete is in a cookbook published in Lima in 1903, Nuevo Manual de Cocina a la Criolla. In it is a 'cocktail' which calls for "an egg white, a glass of pisco, a teaspoon of fine sugar and a few drops of lemon" – a striking resemblance to the Pisco Sour if only for the absence of bitters. It's not exactly the classic we now know, but the beginnings of a beverage waiting to be cut from the rough and refined for international stardom.
Today, the Pisco Sour is so embedded in Peruvian culture that it has its own national holiday, with 'Dia Nacional del Pisco Sour' (National Pisco Sour Day) taking place on the first Saturday in February.
The Chilean claim
But the Peruvian tale is only half of the story. Chile has fiercely refuted claims that pisco originated in Peru, claiming equal rights to the name 'pisco' in a rivalry that stretches for centuries. Indeed, Peru and Chile were once united under the Viceroyalty of Peru (1542-1824) under Spanish rule, during which time pisco was first produced, muddying the waters further over which country should retain ownership. Furthermore, Chile claims the Pisco Sour was in fact invented by English steward Elliot Stubb in 1872 on Chilean soil, throwing shade on Peru's well-publicised account of its creation. The dispute runs so deep that Peruvian Pisco cannot legally be sold in Chile, and is instead sold under the name Aguardiente de Uva. It's also illegal to bring Chilean Pisco into Peru with travellers warned any such bottles will be confiscated.
If you really want to get down to the nitty gritty, Peruvian Pisco producers are prohibited from ageing their spirit in wood whereas Chilean producers can and do use wood, sometimes ageing their spirit for as long as a year. The grapes permitted to distill the spirit in each country also vary, though use aromatic grapes from the Muscat family, alongside non-aromatic varieties such as Quebranta, Molla and Uvina. As for the cocktail itself, Peru's version requires lime juice, while Chile's omits the egg white and bitters and specifies the use of Pica lime only. Simple, right?
All that really matters is how you make it (easily) and how it tastes – utterly delicious.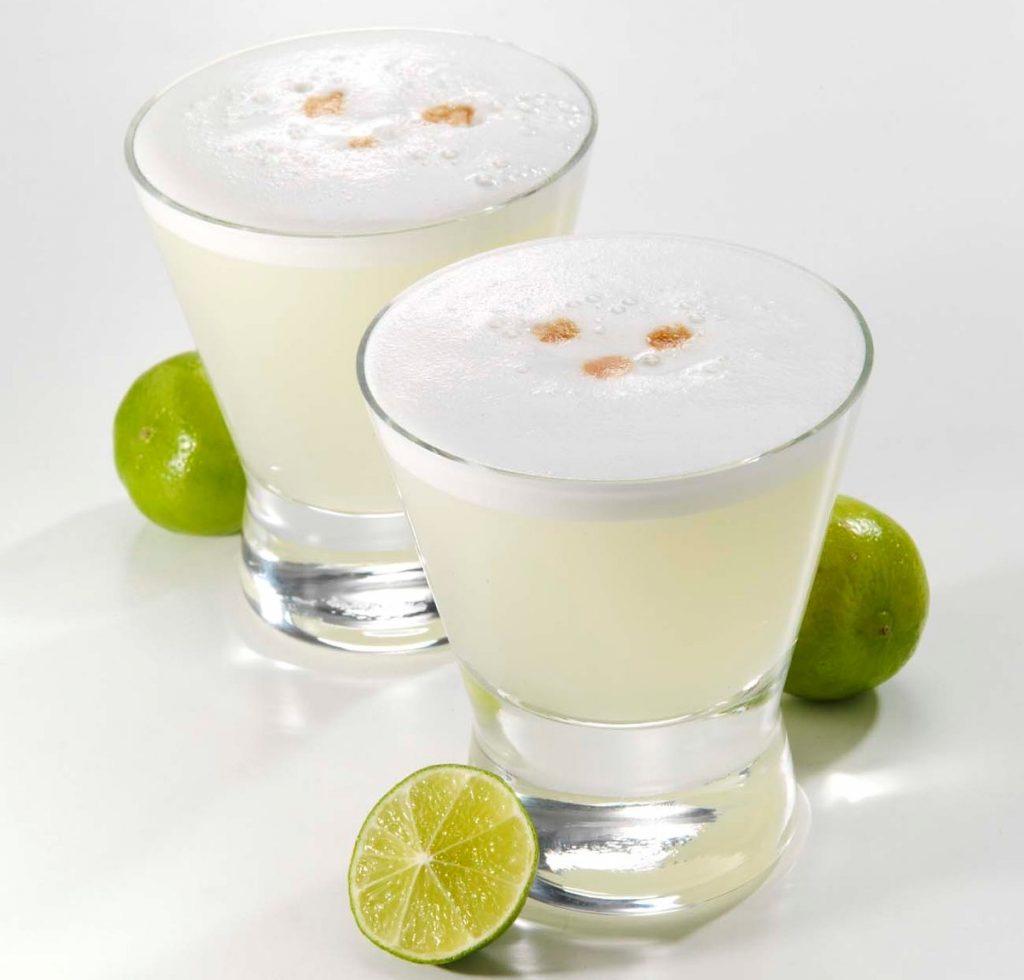 How to make a Pisco Sour
This recipe is taken from Martin Morales, chef, restaurateur and founder of the Michelin-Guide listed Peruvian restaurants Ceviche Soho, Andina, Ceviche Old St and Casita Andina in Soho.
50ml Barsol Primero Quebranta
50ml lime juice
5ml sugar syrup
1 egg white
Angostura bitters
Mix the pisco, lime juice and sugar syrup in a cocktail shaker with the egg white. Add a handful of ice and shake vigorously. Strain into two coupe glasses or tumblers, and add a few drops of Angostura bitters to the top of each cocktail. Garnish with a lime slice.
Author biog
Lauren Eads is an NCE/NCTJ trained journalist who started out as a trainee reporter at the Epsom Guardian in Surrey. In 2014, she moved to the Drinks Business where she became managing editor. During this time she completed her WSET Level 2, 3 and Diploma in wines and spirits, judged in a number of wine competitions, and was shortlisted as 'emerging wine writer of the year' at the 2016 Louis Roederer Wine Writer Awards. She now works as a freelance journalist and copywriter.