Today, we're celebrating Pride, Crystal Head vodka, and a banger of a tune with our Cocktail of the Week. It's the Lady Marmalade!
We're always reporting on new celebrity booze collaborations, Kylie's new rosé, Breaking Bad mezcal, or Michael Portillo's new range on alcopops, but there's one that predates them all, Crystal Head vodka. 
It was created by top Canadian actor Dan Aykroyd, who you might remember from films such as Ghostbusters, Grosse Pointe Blank, and Trading Places, and artist John Alexander, who you probably don't know, but we've just Googled him and he looks like he knows his way around an easel. This was way back in 2008, which is ancient history in terms of celeb drink collaborations.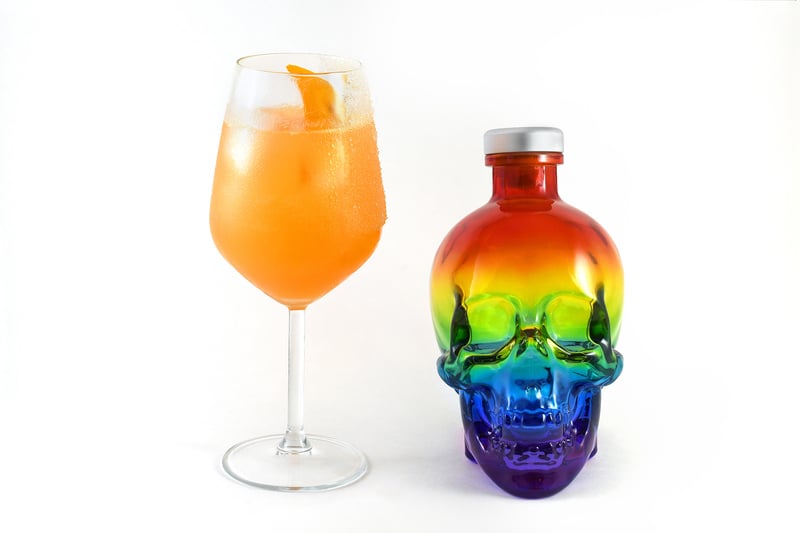 Made with natural ingredients
Aykroyd was looking for a vodka that was made only with natural ingredients and free of post-distillation additives. It's made from corn (maize) grown in Chatham-Kent which is in Ontario Canada and not to be confused with Chatham, Kent which is in England. It's distilled at the extremely no-nonsense sounding Newfoundland and Labrador Liquor Corporation distillery to 95% ABV before diluting to 40%. It's then filtered seven times through Herkimer diamonds, for some reason.
Which is all very cool, but not as cool as the bottle which was designed by John Alexander. It's inspired by the mysterious crystal skulls, one of which is in the British Museum, which were thought to be of pre-Columbian American origin though are now thought to be more recent.
Since launching, the brand has become something of an icon with various limited edition skulls including a rainbow flag version for Pride. According to the press bumf: "Colour plays a vital role in the world we live in, often used as a powerful communication tool and form of creative expression". Can't argue with that! Especially as profits from this special version go to Kaleidoscope Trust, an organisation that campaigns for the human rights of LGBT people.
Furthermore, for this year's Pride, Crystal Skull has come up with a series of special cocktails (see the full list here) including the Loud and Proud, Born this Way, and Feelin' Fruity. Oh my!
What a tune
But we've gone with one that not only tastes delicious it sounds great too cos it's inspired by a banger of a tune, Lady Marmalade. Written by Bob Crewe and Kenny Nolan, the most memorable version was by Patti LaBelle which has become something of a gay anthem. It has also been covered by All Saints, Christina Aguilera, Lil' Kim, Mýa, and Pink which was recorded for the Moulin Rouge soundtrack.
Whichever version is your favourite, you know the refrain: "Voulez-vous coucher avec moi ce soir?" which the French find really funny as it's a very formal way of saying: "Do you want to sleep with me tonight?" Unless of course, Lady Marmalade is prepositioning a count, or more than one person. Oh my!
Anyway, back to the cocktail, it's a refreshing blend of Crystal Head, Aperol, orange juice, Prosecco, and, naturally, marmalade. A riff on the classic Aperol Spritz, it's the perfect drink for when you're all dressed up, feeling fabulous, and ready to party the night away.
How to make a Lady Marmalade 
45ml Crystal Head Vodka 
15ml Aperol 
45ml fresh orange juice
1 teaspoon orange marmalade
Top with Prosecco
Shake all ingredients except Prosecco vigorously with ice. Fine strain into a Highball or large wine glass with new ice, top up with Proesecco, stir gently, and garnish with an orange twist.