It's getting cold and you may well have a cold, so this week we're mixing up a winter classic, the Hot Toddy, and it couldn't be simpler as we're using Beeble Original Honey Whisky.
We don't know about you but now that the enforced distancing from other people is, largely, over, we've seen the return of the dread snuffles. And how! There might be no cure for the common cold, but there is one palliative that seems to work better than all the others, the Hot Toddy.
When the Toddy was king
Back in the 19th century, a mixture of whisky, hot water, sugar, and various spices was the most common way that Scotch whisky was consumed, especially in Scotland. Early drinks writer Charles Tovey wrote in 1864 on the popularity of the 'Toddy':
"You may find it at the after-dinner table of the aristocracy, mingling its fumes with the odours of Lafitte or Romanee Conti [sic], and many noblemen will leave the choicest wine to indulge his glass of toddy. The middle classes and tradesmen most prefer it to any other spirit or wine."
That's taken from Nick Morgan's history of Johnnie Walker, A Long Stride. He goes on to say how a Toddy would be prepared at the table to each drinker's particular taste "in a ritual that, like tea, was surrounded with a degree of domestic paraphernalia such as toddy kettles, jugs, ladles, and spoons…"
Unseated by the Highball
Blenders produced gutsy full-flavoured whiskies that were specifically designed to be drunk in this way. These would contain a high percentage of malts from Islay and Campbeltown. But as the popularity of Toddies waned in the late 19th century, to be replaced by the Whisky and Soda aka the Highball, so blenders produced lighter whiskies. Brands like J&B and Cutty Sark were blended specifically to be drunk with soda water.
Meanwhile, the mighty Toddy went out of fashion. It really is a drink suited to the cold damp climate of Scotland in the pre-central heating and double glazing age. But with soaring energy prices and some cold weather is the offing, suddenly a little internal heating seems like a good idea. it's time for a Toddy revival.
Hot Toddies can be elaborate, involving all kinds of spices, lemon, honey, and of course whisky (though you can use rum or brandy). You could seek out a stout smoky blend like Green Isle but there's one brand that has made making a Toddy a doddle, Beeble Honey Whisky. A mixture of quality English honey with Scotch whisky, it's the Act of Union in a bottle. There's a proper Hot Toddy recipe below but when my wife and I had a cold last month, we simply added two measures to a mug, topped it up with boiling water, and added a good squeeze of lemon juice. After a couple of those, suddenly your cold won't seem so bad.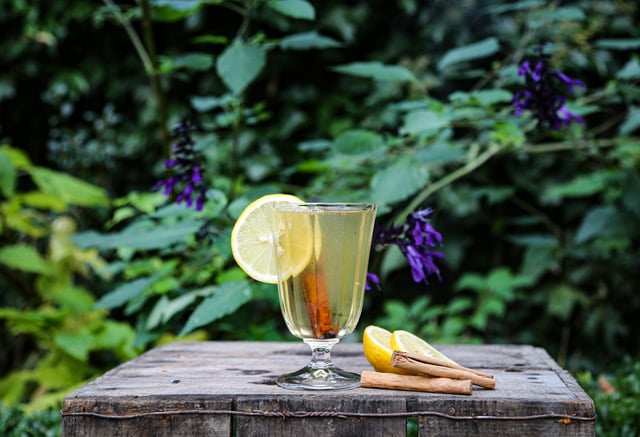 How to make a Hot Toddy
50ml Beeble Original Honey Whisky
150ml boiling water
Juice of half a lemon
¼ tsp ground cinnamon
¼ tsp ground nutmeg
1 cinnamon stick
2 cloves (slightly ground using pestle and mortar)
Fill heat-proof glass with boiling water and let it stand for 1-2 mins to warm. Empty mug and half-fill with 150ml of boiling water. Add all other ingredients to the glass and stir. Garnish with a slice of lemon and a cinnamon stick