The Bloody Mary is a cocktail for the ages. Here, Dennis Tamse, brand ambassador for Schiedam-based Nolet Distillery – home to Ketel One Vodka – talks us through the recipe format no brunch menu worth its (celery) salt would be seen without…
Brunch may seem like a relatively new phenomenon, but it was first invented by English writer Guy Beringer, who coined the phrase back in 1895. In his essay, 'Brunch: A Plea', Beringer sought a Sunday mid-morning meal occasion to sate Saturday night revellers with sore heads, a "cheerful, sociable and inciting" affair where friends discuss tales of debauchery from the previous evening.
While the spirit of brunch is very much alive today, these days more and more of us are focusing on 'the morning after' and doing away with the Beringer's booze-soaked 'night before'. "Everywhere – definitely in the Netherlands but it's a global phenomenon – there are more and more daytime brunch and early dinner places," says Tamse. "We used to go out until really late at night, but now the world is changing a little bit and we're losing that nightlife situation. The numbers in late-night [service] are going down."
Sad news for the Jägerbomb, perhaps; great news for the Bloody Mary. But where did it all begin? Truth be told, there are more fables about the origin of the drink then there are recipe variations (and for a drink as versatile as the 'Mary, that's saying something), with various people claiming to be the true creator of this savoury serve.
Like most classic cocktails, the original name and official recipe has been disputed along the way, but it's generally accepted that the drink as we know it today was honed at Harry's New York Bar in Paris in the 1920s by a bartender named Ferdinand "Pete" Petiot. He combined American canned tomato juice, with vodka and seasonings, first naming his creation Bucket of Blood in honour of the blood-red water pails bar owners would empty into the street after a particularly nasty brawl, before settling on Bloody Mary*.
Historically, the Bloody Mary was a terrible cocktail, Tamse admits. "Tomato juice, thick liquid, they would throw in some spice, maybe if you're lucky herbs, and then some vodka – that was it," he says. "But we have a different way of thinking about the Bloody Mary." When building the drink, you should follow four pillars.
"Pillar number one is Ketel One Vodka," Tamse says, "The second pillar is lemon, or actually citrus – lime, lemon, orange, grapefruit, any citrus that you can think of, but there is always some in your drink." Number three is juice, "but it's not just tomato juice", he clarifies, "it's any freshly-squeezed juice". And the fourth? Seasoning, specifically Worcestershire sauce, Tabasco, salt and pepper.
These may be foundations of a great Bloody Mary, but the deliciousness is in the detail. Experiment with your spice mix – try nutmeg, turmeric, coriander or even tandoori masala – and swap your favourite condiment in: think sriracha, soy sauce, or even (dare we say it) Marmite. When it comes to garnishing, feel at liberty to stray from the cracked salt and pepper rim and fresh celery stick combination. Bacon, lobster, cheese burgers and even Brussels sprouts have made been spotted on the 'grams of seasoned brunch lovers.
Still struggling for creative inspiration? No matter whether you prefer to kick it old school and sip a classic Mary or drink outside the box with a vegetal twist, we've got you covered. Here are five recipes to whet your whistle…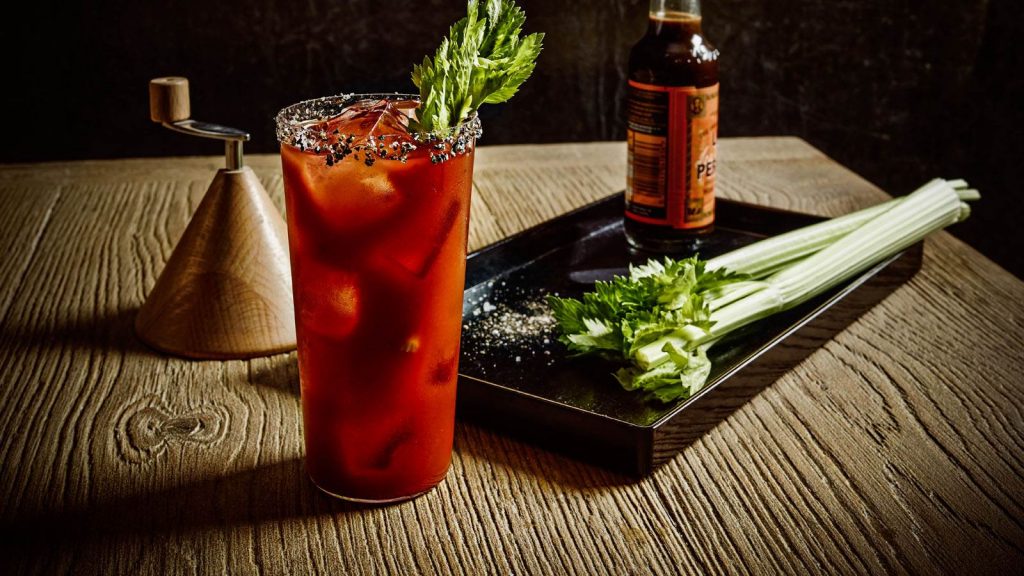 Classic Bloody Mary
Ingredients: 35ml Ketel One Vodka, 100ml tomato juice, 20ml lemon juice, 1 teaspoon horseradish, 1 teaspoon Worcestershire sauce, 1 pinch black pepper, 1 pinch rock salt
Method: Add all ingredients to a tall glass, stir well, and add ice. Garnish with a celery stick, cherry tomato and lemon wedge with cracked black pepper.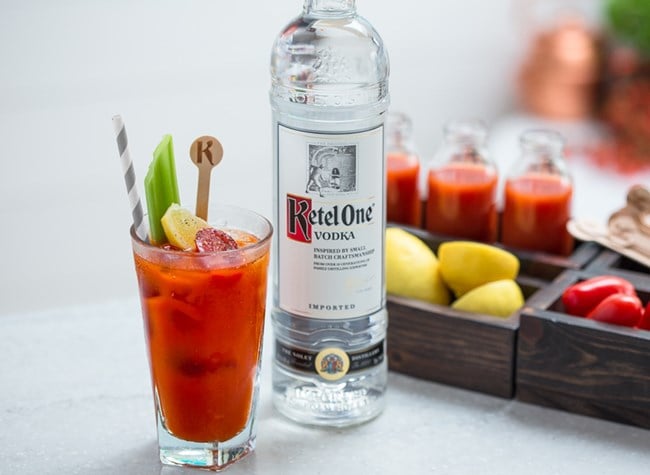 Ketel One Bloody Mary
Ingredients: 50ml Ketel One Vodka, 90ml tomato juice, 20ml Harveys Bristol Cream, 8 drops of Tabasco, 4 dashes of Worcestershire Sauce, 2 pinches of celery salt, 2 grinds black pepper, 2 rings chopped yellow bell pepper
Method: Muddle pepper in base of shaker. Add other ingredients, rock rather than shake with ice and fine strain into ice-filled highball glass. Garnish with a stick of celery.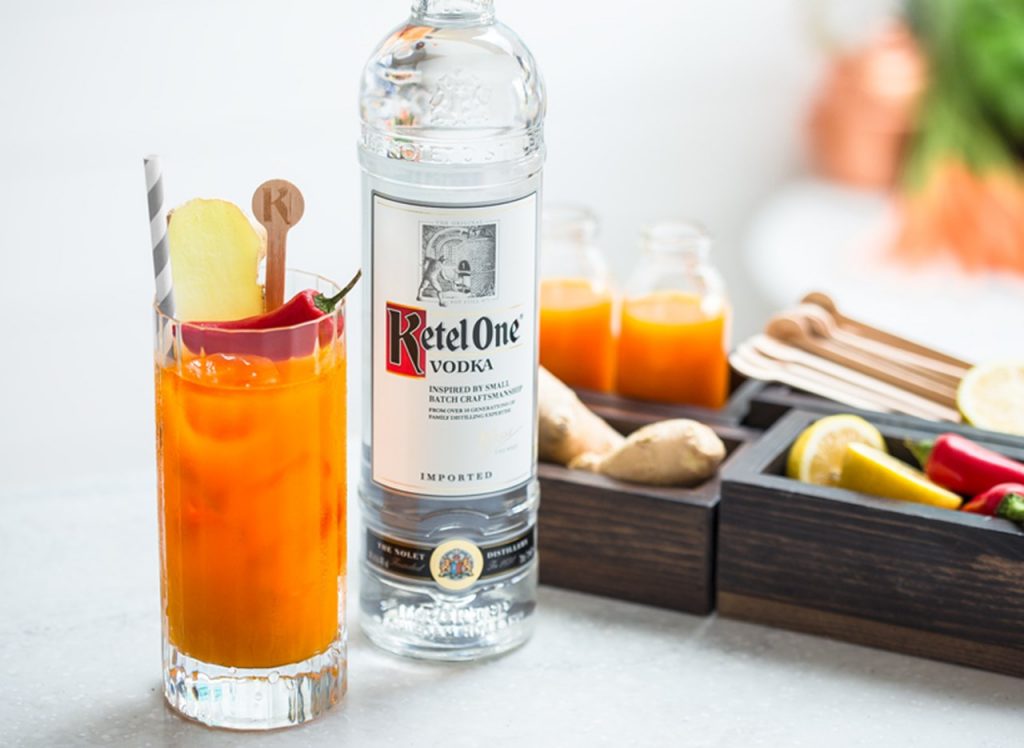 Carrot Mary
Ingredients: 35ml Ketel One Vodka, 100ml equals parts carrot juice, apple juice, and pear juice, 30ml freshly squeezed orange, 1 pinch of rock salt, pepper, cayenne pepper and dried chilli flakes, 1/2 teaspoon tamarind, 1/2 teaspoon ginger paste
Method: Add all ingredients to the glass, stir well, add ice. Garnish with long flat slice of ginger and fresh red chilli.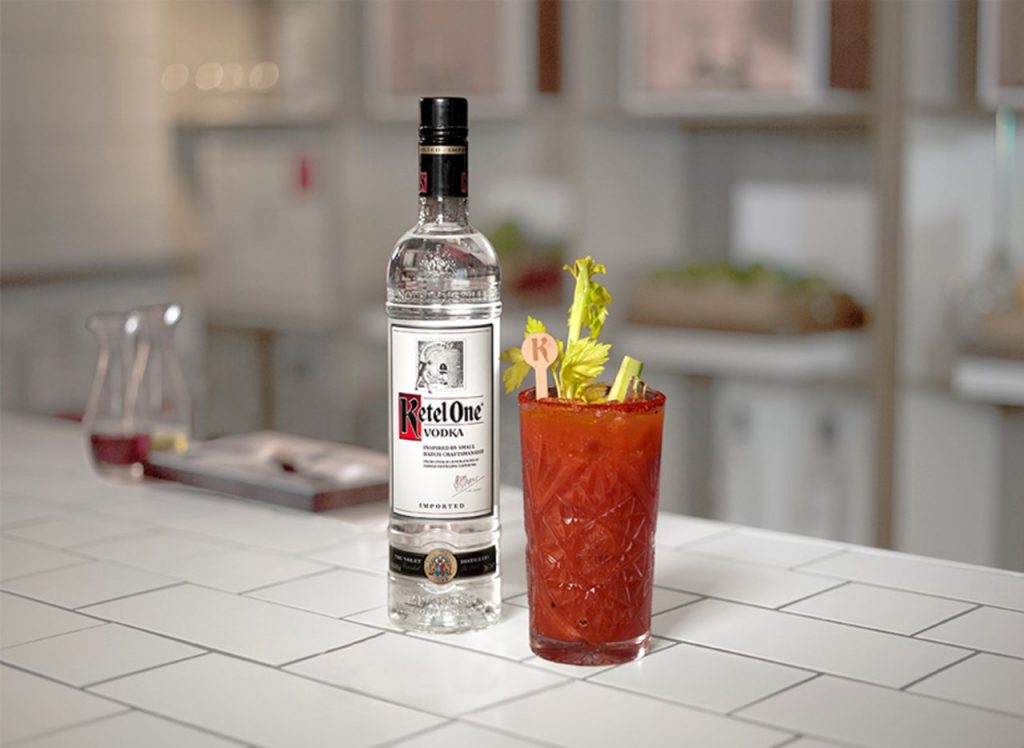 All Spice Mary
Ingredients: 50ml Ketel One Vodka, 120ml freshly pressed tomato juice, 1 teaspoon horseradish, 1 pinch salt, ground pepper and allspice, 1 teaspoon olive oil
Method: Rim your glass with smoked paprika and salt before adding all the ingredients to your glass, stir vigorously and fill with ice. Garnish with a celery stalk, long cucumber slice and a float of sherry.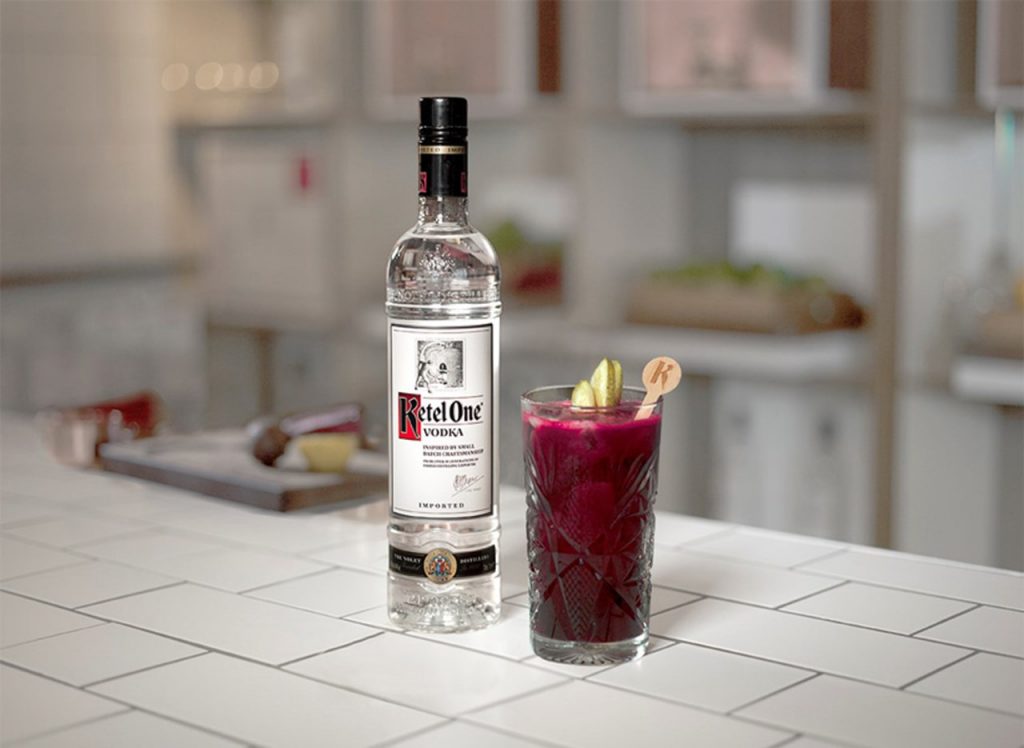 Beetroot Banger Mary
Ingredients: 50ml Ketel One Vodka, 10ml Lemon Juice, 90ml beetroot and tomato juice, pinch of ground cinnamon, pinch of nutmeg, small pile of smashed cloves
Method: Take a whole beetroot and two ripe tomatoes, and cut into quarters, then put them through a juicer. Add all the ingredients to your glass, stir vigorously and fill with ice. Garnish with a pickled cucumber and beetroot.
*Perhaps in honour of Queen Mary I of England , known as Bloody Mary because of all the Protestants she had burned at the stake during her short reign (1553-58).