This week we take a trip to the 19th century for a macabre cocktail created in honour of royalty. Don your most elegant finery, and say hello to the Black Velvet.
"I'll take you to Scott's and we'll have some of their dressed crab and a pint of Black Velvet." Words which, frankly, make my knees buckle. They are uttered by the world's most famous secret agent, James Bond, in Ian Fleming's novel Diamonds Are Forever, the invitation being for chief of staff Tanner. At the time Scott's, which was a favourite of both Bond and Flemings, resided at 18-20 Coventry Street – now, the legendary seafood restaurant sits on Mount Street and sadly it seems, didn't bring the Black Velvets with it.
The cocktail is simultaneously simple in its makeup and surprising in its ingredients: one part stout, one part Champagne or sparkling wine. It's a striking – and acquired – combination and is one of those cocktails that I'd feel rude not dressing up for. But if like me you like a cocktail that uses minimal, exceptional ingredients and presents them in a bold and no-nonsense manner, then the Black Velvet might just be one to add to the list. 
Even the Champagne should be mourning
It originated in another London institution back in 1861, Brooks's Club, and was created by a bartender to mark and mourn the death of Queen Victoria's Prince Consort, Prince Albert. As the story goes, it was said that "even the Champagne should be mourning", and so the Black Velvet was born.
Fast-forward 160 or so years and while the Black Velvet remains largely elusive, it can be found in what I believe to be its most successful guise at another Bond favourite, Rules in Covent Garden. It's no surprise with bartending legend Brian Silva at the helm. Listed as a house cocktail, it mixes Guinness and Champagne, and is served ice cold in silver tankards. It's a glorious thing. 
Other guises include one at Wilton's (although slightly disappointing and definitely less grand, being served in a hurricane glass) while seafood institution Sweetings (which opened in 1889 and looks like it has hardly changed since Victorian times) serves Black Velvets by the half and full pint, in pewter tankards. Seafood is the perfect pairing for this creamy yet crisp cocktail – I happily washed down a dozen oysters with my tankard at Rules.
Guinness is not the only beer
While Guinness is the preferred beer to use in a Black Velvet there are some legitimate variations of this historic cocktail. The use of cider or perry instead of stout is one (with it still being classified as a Black Velvet) while the Champagne Velvet, as mentioned in Jacob Grohusko's 1910 Jack's Manual cocktail book, calls for the use of porter: "For this drinks a bottle of Champagne and a bottle of porter (both cold) must be used. Fill the goblet half full of porter and balance with Champagne, stir with a spoon slowly and carefully and serve."
Indeed, the question of stirring or not stirring gives Black Velvet drinkers another variation to play with. While all of the versions I've tried have been mixed, the method of first pouring the Champagne and gently topping with stout, poured over the back of a spoon, gives the cocktail – when served in a glass – an aesthetically pleasing layered look.
For me, the perfect Black Velvet uses Guinness (draught, not bottled) and Perrier-Jouet Champagne, mixed and served in a chilled tankard with a side of oysters. It might not be served with dressed crab a la Bond, but my knees are officially weakened.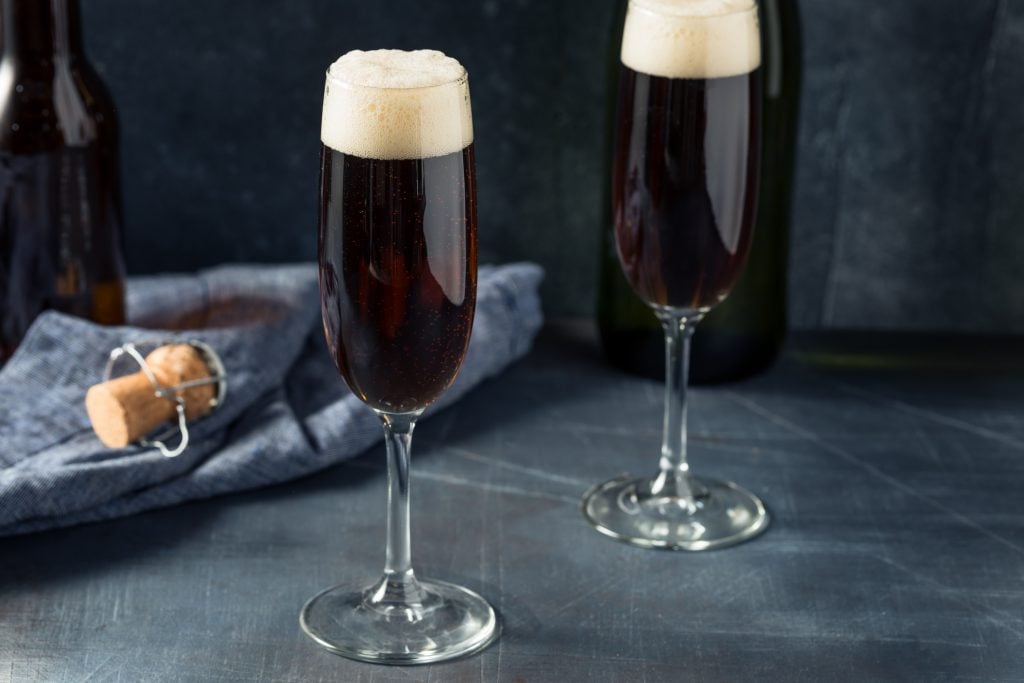 How to make a Black Velvet (as told by Dave Wondrich)
100ml Guinness
100ml Perrier-Jouët Grand Brut Champagne
Chill both ingredients. Half-fill a Collins glass or flute with stout and top up slowly with Champagne. Stir gently with glass or plastic rod.