As part of our classic bottlings series, we're taking a closer look at a cult classic: Basil Hayden's bourbon, a high-rye whiskey which was launched by Jim Beam in the early 1990s.
American whiskey can be a confusing thing. With many brands there's a great story about old Jethro Johnson, pioneer and noted moustache wearer, but because Prohibition destroyed so much of the country's whiskey heritage, there's often not much of a link between the legend and the modern whiskey.
So it is with Basil Hayden's bourbon. According to David Miles from Edrington-UK: "Basil Hayden was one of the first pioneer distiller farmers in Kentucky in the late 18th century, known for making good quality whiskey with a higher rye content than most." But he is candid that the original Basil Hayden "is an inspiration to the brand, and the brand a tribute to him, rather than any direct connection."
First of the premium bourbons
And yet, dating back as it does to the 1990s, Basil Hayden's bourbon has developed some proper history compared to most American whiskey brands. In fact, it's older than many Irish whiskey brands as well as the entire English whisky industry. 30 years is long enough for a brand to build a reputation and following. 
The early '90s was a very different time in drinks. Vodka was king, brown spirits were in decline, and nobody saw any reason why you would need more than two types of gin. In particular, rye whiskey was in the doldrums, perceived as a drink for old men. So launching a high-rye bourbon at the time was a brave move. As David Miles put it: "As one of the first small batch bourbons, it was one of the first 'premium' bourbons – so word got around that if you wanted great tasting, top shelf bourbon, this is one you should try. And the word spread."
It was created by American whiskey giant Jim Beam. The man behind it was Booker Noe, grandson of the original Jim Beam. The baton passed to his son Fred Noe in 2007 who was inducted into the Kentucky Bourbon Hall of Fame in 2013. His son Freddie Noe became a master distiller in 2022, continuing the family trade. 
Just to confuse things, Beam also produces an Old Grandad bourbon which features an image of Basil Hayden, though Basil Hayden's bourbon doesn't. As we said, nothing is ever straightforward in American whiskey. Instead it has an old timey label held in place by a band of real metal, for some reason.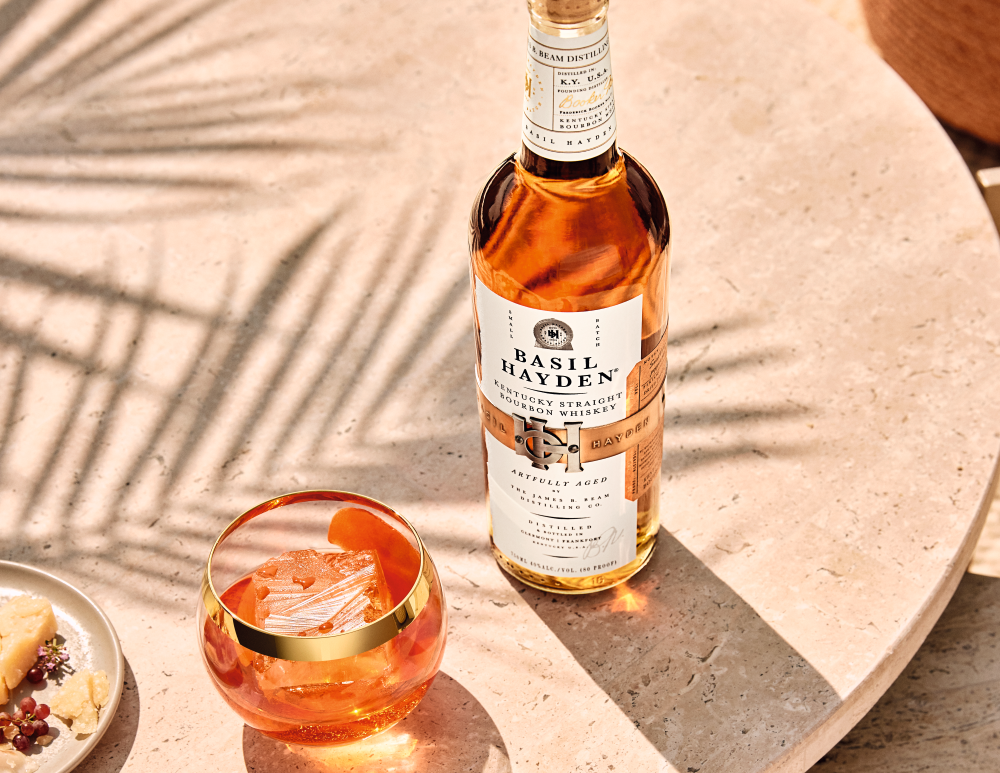 High rye mashbill
David Miles wouldn't say what the exact mashbill was, but did tell us that it is "approximately twice the rye content of the standard Jim Beam and small batch mash bill." He continued that they use "the same yeast strain that Jim Beam himself started using when he opened the distillery after Prohibition in the 1930s."
Basil Hayden's is produced at the James B Beam Distillery in Clermont, Kentucky. The first distillation in a column still, second distillation in a doubler. According to Whisky Advocate magazine a doubler is "a type of pot still used for the second round of distillation. A doubler receives spirit that has already been cooled into a liquid." So now you know. As usual with bourbon, it's aged in charred new American oak casks before bottling at 40% ABV.
Despite its high rye content, this is not a massive spice-laden whiskey. The spice is definitely there, but it's mellow and tempered by lots of sweet custard and popcorn notes. The big question is: how do you drink it? Miles said, "Any damn way you want to" – © Fred Noe. "It's great sipped on its own, but also as the base for cocktails." Miles recommend trying a Golden Hour (above):
40ml Basil Hayden's bourbon
30ml Aperol
30ml Lillet Blanc
Add ingredients to a rocks glass filled with ice, stir and garnish with a grapefruit twist. 
Basil Hayden's bourbon is available from Master of Malt. Click here to buy.