Say hello to our shiny new Classic Bars blog series! Here we'll be looking at… well, classic bars. What better time than now to shine a spotlight on these well-loved haunts, just as we're allowed to return to our favourite watering holes? (For now, anyway.) First up is Coupette over in Bethnal Green, which also just happens to have released its new cocktail menu.
Though Coupette only came onto the scene in the summer of 2017, it secured its place as a classic in no time. It's ranked number 23 in The World's 50 Best Bars, and while that may set some expectations, it doesn't really tell you anything else about the bar itself. We're here to do that.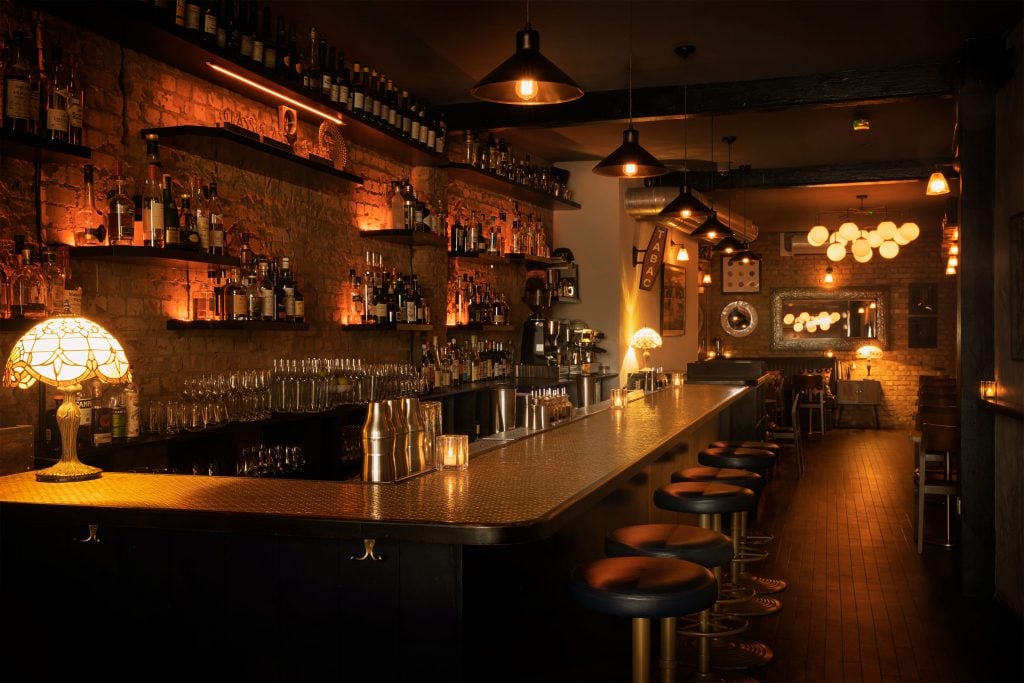 Coupette is the brainchild of bartender extraordinaire Chris Moore. Moore has been behind the bar since he was legally allowed, joining the Savoy's Beaufort Bar in 2010. There he stayed until 2015, when he left to start working on opening Coupette. You may have guessed from its name that the bar has French ties (Coupette translates as "cheeky one"), inspired by France's cocktail history. As such, it has an intense love affair with Calvados – well, Moore's Instagram handle is literally @mr.calvados, so this was to be expected. 
Its modest front means you could easily walk past it, though once you're inside, its charm is irresistible; the interior strikes the perfect balance between chic and rustic – an old 'tabac' neon sign sits between exposed brick walls above a luxurious leather armchair. Plus, you can even nibble on gratin dauphinoise or a croque monsieur while you sip. A whole new level of bar snack.
Anyway, let's talk about the cocktails! "Coupette has a main concept, which is a French 5* neighbourhood bar," bar manager Andrei Marcu explains. "Everything we do has to fall under that concept." Coupette boasts three award-winning serves that withstand any menu change. The first ensures there is always Calvados on the menu, and that's Apples, made with the brandy as well as pressed apples, carbonated on-site. There's also Boardroom, a smoky, Don Draper-esque blend of Hennessy and Dubonnet, with walnut, cherry and coffee. And finally, the snazziest twist on a classic to grace our palates, the famed Champagne Piña Colada, boasting coconut sorbet (rather than cream) and a luxurious splash of fizz. The rest of the cocktails come and go with each drastic menu change. (More on that later.)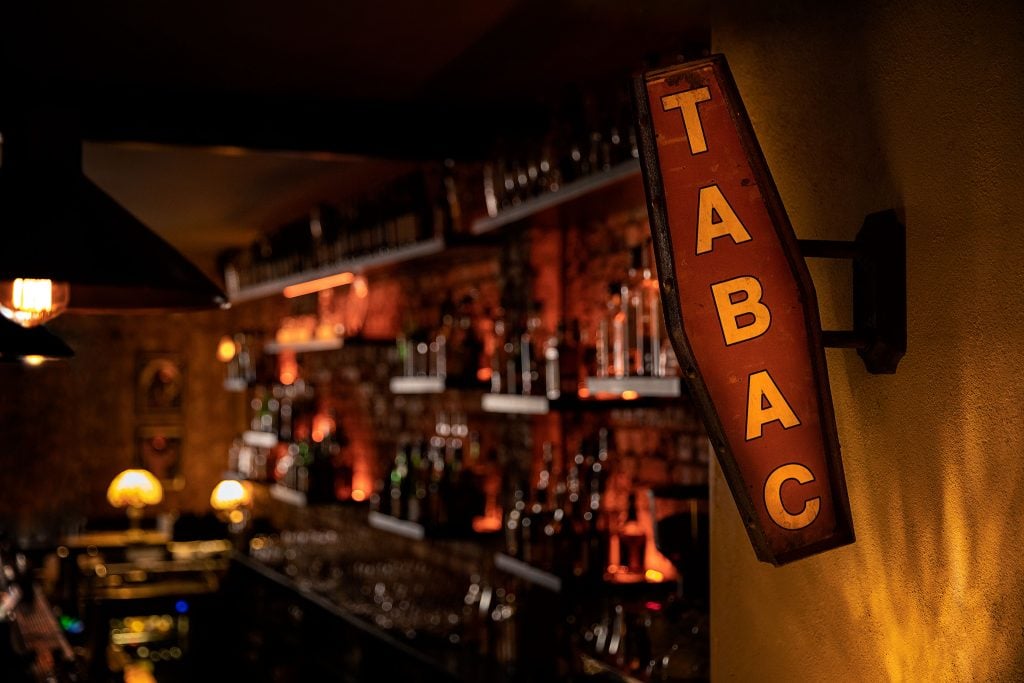 After a successful couple of years, Moore stepped away from his project in late 2019. So now Marcu is heading things up – and what a job he and the team have done throughout this crazy year. "We have a saying here at Coupette," says Marcu. "'Good is never good enough'." That sets the tone for every drink that they serve.
Obviously this year has posed more challenges than usual, but crafting an entirely new cocktail menu in lockdown was one of them. Usually, Coupette changes its menu every three to six months. "We always liked the idea of a seasonal menu and that is exactly what we did so far. Yet, with the new menu we decided to create more of a conceptual menu that will last for almost a year or less. This is a bit due to the pandemic that made us feel insecure about launching a new menu every three or six months."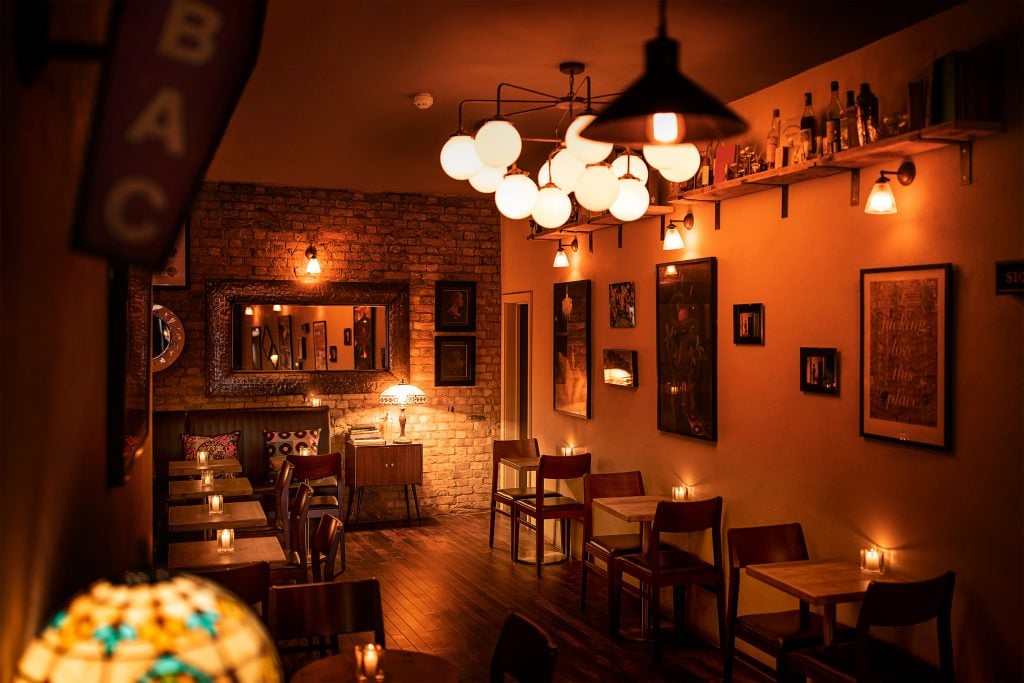 So, how was it coming out of lockdown? "It was very hard to be honest," Marcu tells me. "The fact that we went from five days a week work to nothing and back to five days a week after three months was very exhausting. But it is slowly getting better and we are happy to be able to open our door every single day and have guests visiting us." 
We're pretty happy about it too, because it meant we finally got to try the new menu! Dubbed Urban Legends & Their Uprising Tales, it launched on 10 September and explores  'the darker side of East London'. A jaw-dropping (and mouth-watering) 21 new serves have been created by the team, Marcu tells me it was over six months in the making. "We were meant to launch in April," he says, but obviously you-know-what rather got in the way of that. "So then we had to go back and reformulate." 
The six-chapter menu tells the (fictional) origin story of an East London gang through illicit rum deals, spirit smuggling and ingredient hustling. It's grittier and darker than previous menus. The physical menu is gorgeous – more of a hardback book – as the team enlisted the help of illustrator Molly Rose for each cocktail. When I ask Marcu what his favourite new drink is (which is probably his least favourite question) he ends up naming half the menu. 
You start drinking a cocktail with your eyes, so it's no surprise the presentation is always a delight – though never flamboyant. Dazzling glassware and simple garnishes showcase the liquid each serve, along with the most impressive ice cubes (or sometimes spheres) you've ever seen.
"Every single drink has to be its perfect version," Marcu says when I ask him if there were any new serves which were particularly challenging to get right. It was pretty much all of them, by the sound of it. "We have tried a tremendous amount of ingredients, recipes and drinks until we chose the one that we believe is perfect. For example, we have a drink called Chocolate & Red Wine for which we have tried 15 to 20 different recipes. But the hardest to get right was Ain't Easy Being Cheesy, a Parmigiano-inspired drink that we wanted to turn into a pleasant flavour to everyone. We were looking into getting out fruity notes from one of the strongest flavoured cheeses one can find and we definitely managed to do so. But that one was a hustle." 
No doubt the hard work has more than paid off. There is truly something for everyone, from Rhubarb Bellinis and insanely refreshing Watermelon Spritzes to twists on Negronis (with carrot as an ingredient) and Manhattans (made with ale vermouth), and everything in between. While I didn't get to try them all, there were two absolute stand-outs for me. First, was one Marcu has already mentioned, Chocolate & Red Wine. This short serve made with Flor de Caña 18 Year Old, chocolate wine and cacao manages to remain delicate and light, even though it packs a boozy, fruity, chocolatey punch. Second was the Corny Gimlet, with salted butter-distilled Plymouth Gin, home-made corn liqueur and sour popcorn tea, garnished with a charred baby corn. It was sweet, sour and slightly bitter, by far one of the strangest things I've ever tasted – and I loved every sip.
"We just launched Urban Legends & Their Uprising Tales but we already started thinking about the next one, and I have to tell you so far it sounds very exciting." Luckily this 24-cocktail menu will keep us busy until the next one!