We've reached day 23 of our 24 Drams of Christmas and we're diving into the Drinks by the Dram Vodka Advent Calendar, plucking out a delicious little bottle of Cîroc Vodka, and showing you how to make a Vodka Martini. Shaken, not stirred. 
We don't know about you but at this stage we've reached the panic stage of present buying. This is when you walk into the gift shop and pretty much grab things at random to give to people. Novelty socks, £5 a bar soap, amusingly-shaped candles, and golfing accessories are the order of the day. Don't worry about who the gifts are for, just buy, buy, buy! Then pour yourself a drink and console yourself by remembering that it's the thought that counts. 
Cîroc Vodka
For our penultimate dram of Christmas, we've plucked something delicious from the Drinks by the Dram Vodka Advent Calendar: Cîroc Vodka. This comes from France, a country you probably wouldn't associate immediately with vodka, and being French it's a little bit different. Most vodka is made from grain or potato but that wouldn't be very French so Cîroc is made from grapes. Naturellement!
Cîroc is a Diageo brand with an interesting pedigree. It was created by an ex-Hennessy Cognac employee Jean-Sébastien Robicquet, who was originally from Bordeaux. With that kind of background, what else was he going to use to make his vodka than grapes? Incidentally, the name comes from a portmanteau of cime meaning peak and roche. Peak rock! Cîroc was launched in 2003. It wasn't an immediate hit until the brand teamed up with Sean Combs aka Puff Daddy, P Diddy, Diddy, Puffy, Dad Puffy, Papa Duffy etc. Rather than just being the face of the brand, he has a joint-venture with Diageo where they split the profits.
Which have been sizeable since then. In 2021, Cîroc sold more than 26 million bottles worldwide making it one of the biggest vodka brands in the world. You can buy Cîroc in all kinds of flavours but this Christmas we're sticking with the original. It's made from mauzac blanc and ugni blanc, the latter being the principal grape of Cognac. Following fermentation, Cîroc distils them five times to produce a vodka that's fruity, fresh, and creamy.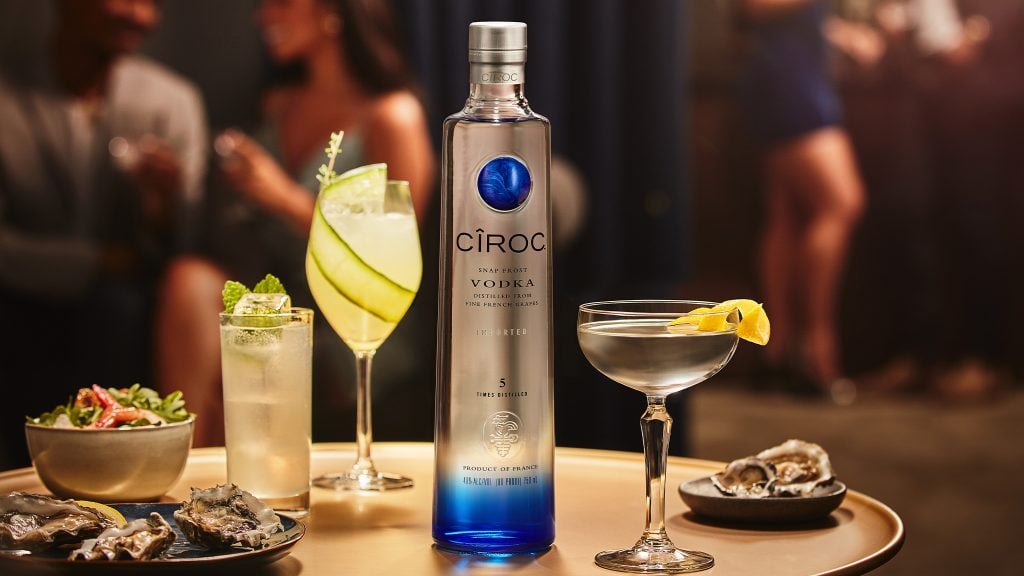 How to make a Vodka Martini 
There's no better cocktail for showing off a high quality vodka than a Vodka Martini. As a grape-based vodka, Cîroc has a massive affinity with vermouth so I'd make this quite wet: one part vermouth to five parts vodka. It's hard to go wrong with the refreshing, slightly herbal flavour of Dolin but Noilly Prat would also be excellent here.
Then should it be shaken or stirred? For a long time, I would insist on stirred not shaken, repeating the line I was told that James Bond had it all wrong. But then I tried shaking and I have to say, the results are delicious. You do end up with something a little cloudy and if you're not careful you can make it too dilute but you do also get something quite insanely cold and drinkable, especially if you keep your vodka in the freezer. Try it!
50cl Cîroc Vodka
10cl Dolin Dry Vermouth
Put your Martini glass in the freezer. Fill your shaker with ice straight out of the freezer, add frozen vodka and chilled vermouth. Shake very hard and fast, then strain into the glass. Express a piece of lemon over the top but don't drop it in or it will overpower everything.
Right, that's day 23. Tune in tomorrow for our final Advent dram. It's something quite special.