There are few whiskies that you could truly describe as mould-breaking, but one such single malt is Signet from Glenmorangie. To celebrate the chocolate malt-based expression's 10th anniversary, Dr Bill Lumsden, director of distilling, whisky creation and whisky stocks at Glenmorangie and Ardbeg, invited a select few for an in-depth look at how this unique single malt is made.
From the moment I arrived at the Glenmorangie distillery it was clear that something unusual was going on; the air was alive with the aroma of roasting coffee and chocolate. I half expected to turn the corner and see a gang of Oompa Loompas lugging sacks of malt.
We were here to deconstruct Signet, a single malt that has garnered something of a cult status. Launched back in 2008, the expression has raised eyebrows and piqued palates for its unconventional raw material use and distinct flavour profile. It is made using chocolate malt, a highly roasted malted barley like that used to make stout, and it's all about those chocolate and coffee notes. It's also delicious, award-winning, and as popular now as it was way back when it launched.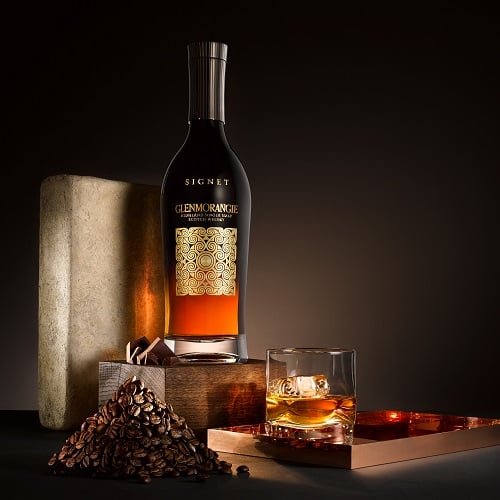 Signet in all its glory
According to Lumsden, he had the idea for Signet a long time before he worked in whisky. "It came from coffee, where the beans always smelled better than the coffee tasted, and I wondered if there was some way of getting that flavour into the liquid." The idea lingered in his mind until he was working at Distillers Company Ltd, the precursor to Diageo, and he had a revelation about Scotch whisky. "Roast coffee beans, malt whisky… and I thought wow! Maybe there's something in there. But I had to leave my first company and join Glenmorangie before I could do it."
The Signet inception: A brush with the law
But, Lumsden says, the SWA (Scotch Whisky Association) wasn't so keen. "They almost banned me from launching the product. And I blew a complete gasket and I said 'we'll take you to court over this'. And we would have won our case. It was only when Glen Barclay (the SWA's director of legal affairs) realised that the high-roast chocolate malt was only a certain proportion of the mash bill that he thought 'well OK, it still tastes like malt whisky so we're going to let you off with it'."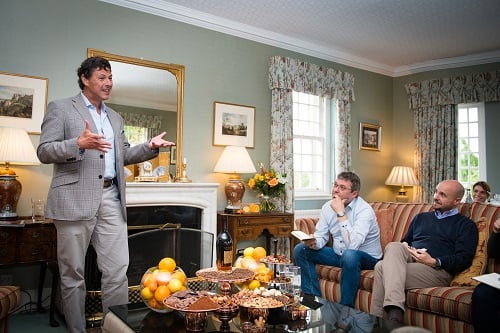 Bill Lumsden chats us through Signet's make-up. Image: Charné Hawkes
"You would not do 100% chocolate malt because there's not enough sugar, so we use probably around 20% in the mash bill," Bill told me. The less efficient chocolate malt produces a wash of only 5-6% ABV, ABV compared with 8% ABV for ordinary malted barley. "It's very expensive and the alcohol yield is very low, so from an accountancy perspective it's not going to look good! Not that that really bothers me."
It's tricky stuff to work with, too: "Processing it through the distillery, grinding it and doing it in the mash tun is very, very tricky." It's worth it though.: "Get this stage right and that's where the flavour is," according to Lumsden. And I could only agree; we were given some of the wash to try and it was delicious, like a sweet strong porter.
Bring on the giraffes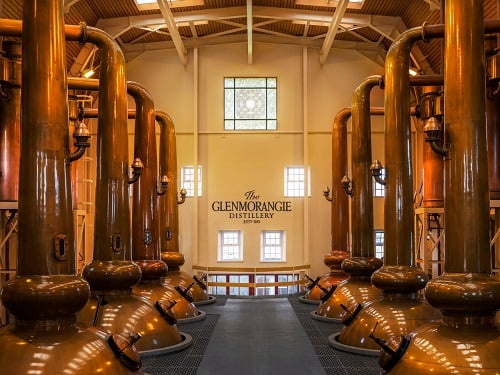 The lofty heights of the Glenmorangie stills
The special chocolate wash is distilled as normal in Glenmorangie's twelve pot stills (six wash and six spirit). They are the tallest in Scotland, as tall as an adult giraffe. The shape means there's a great deal of reflux, removing sulphurous compounds for a very fruity spirit- but that wasn't entirely the case when I visited, because the chocolate malt spirit is startlingly different to the standard new make. We tried it straight off the stills and all that amazing aroma I smelled as I came in and had been transferred into the spirit: an abundance of chocolatey, coffee notes in with the fruit. Job done!
Don't call it a blend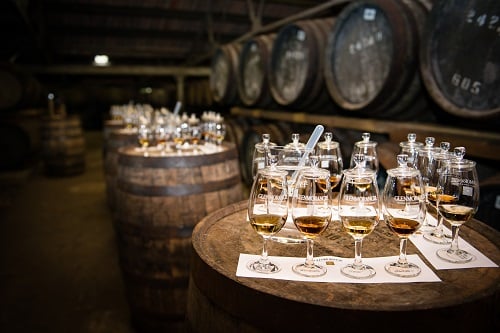 Tasting Signet's component parts. Image: Charné Hawkes
But it's actually quite a bit more complicated than that. Lumsden told me that they tried to make a whisky using only this spirit but it didn't quite work. Instead he produces what he calls an assemblage, as in wine. "Don't call it a blend," he warned. He let me try the four constituents parts:
Chocolate malt spirit aged in ex-bourbon casks:
This is the heart of Signet. It has a very strong chocolate and coffee character on the nose but with a fruity note like dark cherries. It's a real beastie on the palate: spicy with chilli notes, milk chocolate and vanilla but with great freshness.
Traditional spirit aged in oloroso sherry casks:
No prizes for guessing the wood used on this one, it's all about fruit cake, marmalade, tobacco and dried apricot on the nose. On the palate it's big, bold and long with prominent tannins, dark chocolate and ginger notes.
Traditional spirit aged in designer casks:
These are casks made from specially grown oak in the Ozarks and then filled to Glenmorangie's specifications with bourbon. This whisky is the basis of the distillery's Astar expression but here, according to Lumsden, "it adds cream to the espresso". There are layers of honey, custard, coconut with a rye-like spiciness too.
Traditional spirit, aged in ex-bourbon and finished in sherry casks, extremely old:
This is the final component used in small quantities. It is very mellow, smelling of tobacco and tea, and then on the palate there's a touch of tannin and flavours of honey, red fruit and leather.
At last, the finished product
The blend – sorry, assemblage – is based on the chocolate spirit with the other ingredients added in quantities that are a closely guarded secret. Brendan McCarron, Lumsden's right hand man and protégé, said: "It's a bit like cooking. You taste and then add a bit of something."
Lumsden in a Glenmorangie warehouse
Signet has no age statement but the average age is roughly 21 years old. "I violently disagree that old is better," Bill told me. "I like 8-12 year old whiskies, I don't like wood to do all the work." After trying the component parts, Bill kept us in suspense for an entire day until we finally tried Signet. Of course it was gorgeous: beautifully married with that magical chocolate malt taking centre stage
Codename: God is Good
"There's huge pressure from LVMH to innovate," Bill told me, referencing Glenmorangie and Ardbeg's parent company. Glenmorangie is building a new distillery on-site so that Lumsden and McCarron can experiment more easily. It's due to open next year. There are also some exciting new expressions on the horizon which we got to tentatively explore…
I tried an extraordinarily rich sherry cask-aged chocolate malt which Bill may release at some point as a limited edition Signet. He then told me a little about next year's Private Edition, the 10th release, which is codenamed 'God is Good'. He wouldn't explain further, choosing simply to describe it as a "very innovative thing which has never before been done in the Scotch whisky industry". Intriguing!
Lumsden then he went on to tell me about something called Project Victory which uses what he calls "fancy oak." "These barrels I'm using, [it costs] many thousands of pounds each to get these made. Now why would that be? Why would it be so expensive? It's oak, it has to be oak by law. What would make it so expensive? You won't out work the answer to this; it's bizarre and unique but over the next few years I'm going to be releasing this." Tantalising!
And he isn't just experimenting with malt and casks. "I've been experimenting with yeast for many, many years, and the time is just about right for me to start releasing products," Lumsden says. Very tantalising indeed!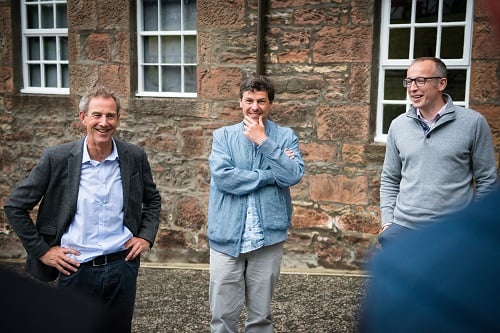 Andy MacDonald, Glenmorangie distillery manager, with Lumsden and McCarron. Image: Charné Hawkes
Son of Bill
But undoubtedly Lumsden's biggest project is Brendan McCarron. "The project was called 'The Son of Bill', Lumsden opened. "Brendan has been recruited to take over from me, basically. The three big things: firstly his experience and technical ability as a distiller – I mean he's had an uncannily similar career path to me. The second thing was his ability to nose and taste whisky; he had to have a good nose and palate. And the third thing was his personality. And, as you will have picked up, Brendan is a big personality." That's something of an understatement. It looks like Glenmorangie is in safe hand for the foreseeable future – and it looks to be a delicious future, too.