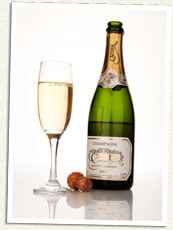 One day we went on an expedition into our warehouse, looking to see what wonders and secrets it might hold. It's a dark, ominous place, with towering piles of boxes, creaking noises all around, and a creature known only as "the thing" – it lives on malt and the occasional placement student…
Kitted out in leather jackets and fedora hats, we'd reached the farthest corner of the building (we'd only been this far once – when scaling the north face of Mount Talisker, a leaning tower of Island malt). Pushing a curtain of cobwebs aside with a bullwhip, our jaws dropped. Before us there stood a good-sized pile of our house champagne, Cattier Brut, covered in dust.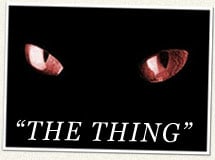 We checked our records and, using complicated carbon-dating and a receipt, ascertained that our bottles of crisp, fruity champers had been cellared for around 7 to 8 years old.
We quickly removed the bottles (replacing them with sandbags of equal weight) and legged it, followed by arrows, a boulder and furious tribesmen.
"Aged on the lees for 36 months (twice the necessary minimum) and then cellared for between 7 and 8 years," we hear you say, "why, with Cattier's finesse and stunning delivery, these are going to be gorgeous`…" We hear you add.
Well, being the meticulous professionals that we are, we cracked open a couple of bottles and set about tasting them.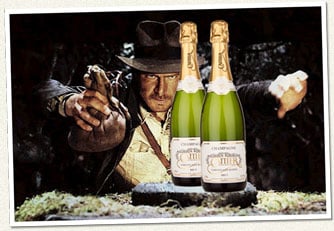 We've had Cattier as our house champagne for years. It's a superb wine, and nothing comes close to it in its price range. In fact, very little is comparable at five times the price. It's so good that not only was it served on First Class British Airways, American Airlines, and even Air France, it was also house champagne at The Ritz! The only other non-vintage made by Cattier is the world-famous Armand de Brignac. With its recognizable pewter ace of spades on the bottle, it is the world's most expensive NV champagne!

Extended ageing sur lie (on the lees) usually proffers an ample base for longer cellaring. It affords the wine more complexity, and allows it to develop incredibly well.
This particular wine is a blend of Chardonnay, Pinot Noir and Pinot Meunier and its characteristics include distinctive pastry/brioche-like notes, and a nose of orchard fruits.
Appearance: Straw gold. Fine and persistent mouse.
Nose: Surprisingly earthy and rich; warm pastries. A little green apple note in the background. Almost a hint of soy sauce. This is a very distinctive champagne indeed!
Palate: Fruity yet quite savoury. Bready and yeasty, with notes tangy apples. A strong whack of lemon sherbet, elderflower. Meaty, full-bodied, Hoi Sin.
Finish: Fades on those hoi sin, umami-rich notes, a little fruit lingers too.
Overall: We're speechless. This is just fantastic stuff!
Thanks to this recent find we've now got an incredible offer. For a limited time only, buy one bottle of Cattier Brut for just £24.95 a bottle and get another half price!
– The Chaps at Master of Malt –