We've been getting a lot of calls recently from people who would like to be able to choose which carrier we use to send their order with. Often there's a particular carrier who does a good job in their neighbourhood (or more often one they want to avoid!)
Well, good news – you can now let us know which carrier you'd like us to use in the checkout!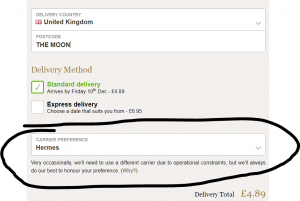 Now, there's a reason it says "Carrier preference" rather than "Carrier we'll definitely for sure use, and you can take that to the bank 100% guaranteed", and that's because (very occasionally) we'll actually need to send your order with a different carrier than the one you asked for due to operational constraints, however we'll always do our absolute best to accommodate your preference if we possibly can.
What are these "operational constraints" I hear you ask? Well, there are quite a few, but here are the most common reasons:
Carriers have different collection times, so it might be that there isn't enough time to pick and pack your order before that carrier leaves.
Sometimes a particular carrier doesn't have any more space on their vehicle or capacity in their network.
Sometimes a particular carrier can't deliver next day to specific post codes
In general, we assume that you'd rather have your order delivered on time by a non-preferred carrier than late with a preferred carrier, so we'll always prioritise that.
Thoughts / ideas / suggestions? Let us know what you think!
Cheers,
Justin
Founder, CEO, sweeper-upper