We thought it was high time we ran another caption competition (maybe we just felt like giving away some whisky), although this time with a bit of a twist… Where we found the original of this particular image however, I really don't know.
Personally, I find it even more perturbing than C.M. Coolidge's paintings of dogs playing poker. ("They're dogs… and they're playing poker…!")
The prize for the best caption will be a bottle of the frankly excellent Single Malt Scotch Whisky Clynelish – Batch 2 from That Boutique-y Whisky Company, which, appropriately enough, features a bunch of grammatically-challenged cats best known for their captioned images!
(A couple of samples will also be up for grabs for honourable mentions that didn't quite scoop the main prize.)
So… what you need to do to receive full-marks is to create your own internet meme using the image above! (You can click on it for a larger version.) Your finished results should then be posted on our Facebook page.
There are various meme generators online that Google will kindly fetch for you, (you can of course use Photoshop or other image software if you so wish*).
To get the ball rolling, we have created a couple of said memes as examples (see below). Think you can do better? Cogs already turning? There could be some whisky in it for you…
Would this face lie to you?
I should probably point out at this stage that I didn't make these examples…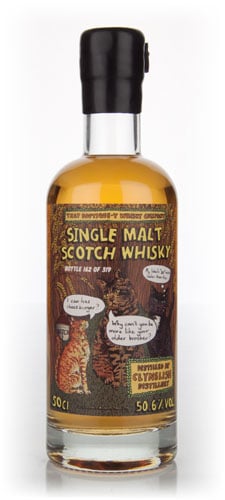 The Prize! Clynelish Batch 2 (That Boutique-y Whisky Company) – 50cl, 50.60% – £56.95
Jake
*Just don't use Paint, or we'll place your name on 'The List'**
**at least use the text tool…