Fans of Bushmills and rough sleeping may want to head over to the brand's Facebook page where you can bag a ticket to an exclusive whiskey-orientated music festival.
Bushmills Live, as the name implies, will be based around watching live music while drinking Bushmills; there are definitely worse ways to spend a June weekend.
Held at the Bushmills distillery in Northern Ireland, bands will perform in the distillery buildings themselves, which is a good thing as being Ireland in June it will almost definitely rain.
This will be the first festival ever held at an Irish distillery, although the Islay contingent has been doing this sort of thing for ages. The press release promises bands "both known and loved around the world". So, no Bono then.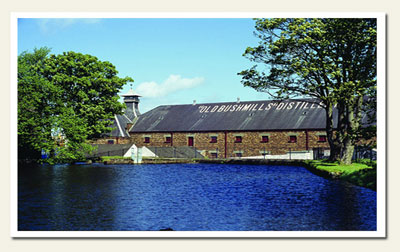 Bushmills Distillery: Bono may or may not be in attendance
In fact, details on who will actually perform are sketchy at present with acts to be announced in the coming weeks. But, as you can see from this video, the microphone seems to be working which is something at least.
And given Diageo's high profile advertising love-in with artists such as Bon Iver, Chromeo, Theophilus London, Foy Vance and Iain Archer, it's possible to take a mad stab in the dark as to who may be appearing. If Bono does in fact appear despite fulfilling only half the aforementioned criteria, a mad stab in the dark is also appropriate.
So, how do you get tickets? Well, this is a "money can't buy experience" according to Bushmills. In other words, you have to convince Bushmills you deserve tickets. You have to seduce them with a masterfully crafted facebook missive explaining why your life and the lives of those you love depend on acquiring tickets to Bushmill's Live. Plus they want a picture, presumably of you looking desperate and like you might do something they'd regret if they don't give you tickets.
Writing "I really, really like Bushmills" next to an old school photograph will probably not cut it, but then that depends on the competition. Personally, I've threatened to drown a puppy unless they fork over tickets sharpish, and Mike has photographed himself in a risqué pose with a bottle of Bushmills and a simple kiss. 
We are quietly confident.
The competition runs until April 27 and the festival will be held on June 20 and 21. Good luck all.
Gareth