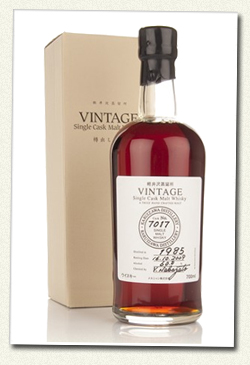 We've just received this press release from the Number One Drinks Company. This is literally the biggest thing to happen to Japanese whisky in decades!
The entire remaining inventory of Mercian's Karuizawa Distillery has been acquired on behalf of Number One Drinks by an Asian-based company. International importer and distributor of Japanese malt whisky, Number One Drinks Company, has handled worldwide sales of Karuizawa single casks since 2006 and has helped raise the profile of Japanese single malts internationally, especially with the help of distributors in the key markets of Taiwan, France, UK and Sweden.
Of the 12 Gold Medals awarded by the Malt Maniacs in 2010, four were for whiskies sourced by Number One Drinks (including three Karuizawas) and the Best Japanese Whisky in Jim Murray's Whisky Bible 2011 was a 1967 single cask from Karuizawa.
Tokyo-based David Croll, Managing Director (Asia) of Number One Drinks, states: "The sherry-matured, rich and complex single malt of Karuizawa was an undiscovered jewel. We have taken great pleasure in introducing the whisky to enthusiasts throughout the world. This acquisition will give greater flexibility in terms of what we release when and the possibility of launching a private cask scheme."
As well as bottling the iconic Vintage Series at Karuizawa Distillery, the acquisition will see Number One Drinks working more closely with Ichiro Akuto as casks will be moved to a new warehouse at Chichibu Distillery. Number One Drinks is planning a global launch of the eagerly-awaited Chichibu three year old in September of this year, with attendance at Whisky Live Taipei, Whisky Live Paris, the Stockholm Beer & Whisky Festival and London's Whisky Show (The Whisky Exchange).
Marcin Miller, Managing Director (Europe) of Number One Drinks, observes: "As well as the release of Chichibu 'The First' and the on-going bottling of the Vintage Series single casks from Karuizawa, we are looking to release an 11-year-old single malt at 46% from Karuizawa. These are exciting times for fans of Japanese single malt whisky."
The Chaps at Master of Malt