After half a century maturing in one of the world's oldest Scotch whisky warehouses, Bowmore 1966 50 Years Old has been liberated from its ex-bourbon hogshead and decanted into bottles – just 74 bottles, to be precise.
Bowmore is the oldest licensed distillery on Islay, and it's got the stocks to show it. This particular cask, set down in the same year that Bowmore whisky was first officially bottled, clocked up a rather impressive 50-year stint in the distillery's No. 1 Vaults.
This latest release is the third edition in the Bowmore 50 Years Old Vault Legends Collection; a selection of single malts that were distilled and laid down in cask during the 1960s – now a highly collectable decade for Bowmore bottlings, as fans will know.
Incidentally, former distillery manager Eddie MacAffer (who retired in 2016) joined Bowmore in the very same year that this particular cask was laid down, and it remained in his care for almost all of its maturation span.
"To this day Eddie MacAffer is renowned at the Bowmore distillery for his passion and knowledge, which he so proudly showcased throughout his 50 years at the distillery," David Turner, current distillery manager, said in a statement.
"I am honoured to celebrate such a pivotal year in Bowmore's history and launch this incredible whisky, which was not only nurtured by Eddie himself but also created the very year Eddie joined us."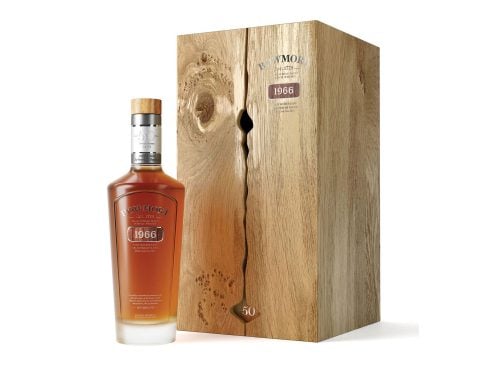 Looks pretty hefty, that
What's the deal, flavour-wise? On the nose there's given notes of lychee, pineapple, and watermelon, with light floral notes and a dry finish on the palate. It's described as "complex" and "perfectly balanced, with a silky whisper of smooth syrup".
This deliciousness is all wrapped up in a handmade crystal decanter with sterling silver accents, which itself is housed in a Scottish oak cabinet. They've gone heavy on the wood reference; inside the cabinet there are five silver 'tree rings'* to depict the five decades that the whisky was aged for.
As for whether we'll be getting this in – keep your eyes peeled. The recommended retail price is US$30,000 (around £25,000), so it's one for the Christmas wish list to say the least.
*The press release assures me that the tree rings were laid by hand, in case you're thinking about buying one and this information is a dealbreaker.