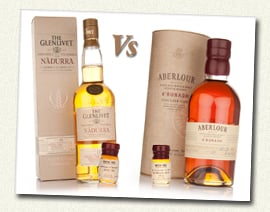 The two most popular choices for whisky ageing – sherry casks and bourbon barrels – offer a totally different style of single malt and here at Master of Malt, we love both in equal measure. Just like with children, it's wrong to have a favourite (unless one child is a maths-whiz-head-boy-sports-star-type, and the other is one of those miserable kids that dyes his hair black and combs it over his face, whilst complaining constantly about how "unfair it all is").
We wanted to promote how wonderful good sherry or good bourbon barrel ageing can be, so we selected two whiskies which prove the point perfectly… Both are cask strength, and both are absolutely delicious.
For sherry ageing, we chose Aberlour a'Bunadh (how could we not!), and to extol the virtues of the bourbon barrel, we opted for Glenlivet Nadurra.
The offer is this: For a limited time only, buy a bottle of one from our site, and receive a handsome 3cl dram of the other, absolutely free! What could be better!
So, let's have a look at both in a little more detail…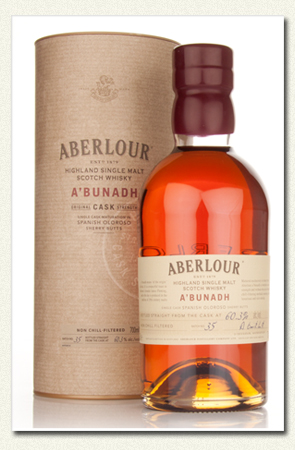 Put simply, a'Bunadh is one of the best value for money malts you'll ever find! It's released in batches (we're currently on batch 35), and each batch is bottled at natural cask strength, weighing in at around the 60% abv mark. The whisky gets its name from the Scottish Gaelic "a'bunadh" meaning "original", which is a reference to the old-fashioned style of the scotch whisky. You see, it was said to have been based on an old bottle that was found in 1975 when Aberlour added a second pair of stills. The whisky was found within a time capsule also contained a newspaper– both the bottle and the paper dated from 1898! The workmen who found the bottle drunk the vast majority of it during their lunch break and sent the rest off for analysis. A'Bunadh is a recreation of that whisky, and everything from its heavy use of fresh Oloroso sherry casks, to its old-style dumpy bottle harkens back to another era.
As far as flavour goes, it's a knockout; not unlike an intensely spicy mince pie, covered in melting brandy butter.
Nadurra is a sweet, muscular bourbon-aged Speyside whisky, matured in first fill American oak casks. It's an homage to the whisky that Glenlivet used to make, many moons ago, thus the name "Nadurra", which is Gaelic for "natural", a reference also to fact the whisky is both cask strength and non chill-filtered. The thought process behind it was to recreate the kind of whisky that Glenlivet's founder, George Smith, would have made back in the early part of the 19th century!
Aged for 16 years, Nadura is intense and very fruity indeed. We get a lot of earthiness too, as well as nutmeg, hazelnut, cinnamon and rose petal jelly. Not to mention an injection of utterly astounding vanilla cream! All in all, a hard-hitting, take-no-prisoners single malt, just like the Aberlour – it's also the creamiest whisky we've ever tried!
So, don't forget folks, for a limited time only, buy a bottle of either the a'Bunadh Batch 35 (for £34.37) or Glenlivet Nadurra 16 year old (for £39.95) from our site, and we'll throw in a free dram of the other!
We'd love to hear your preferences, as whisky maturation can often be a rather divisive subject. So, do you prefer a sherry-matured whisky, or a bourbon-aged one?
– The Chaps at Master of Malt –