Whisky writer extraordinaire Charles MacLean MBE has a new book out called 'Exploring Blended Scotch' written with American whisky amateur Stuart Leaf. But is it worth your hard-earned cash? Ian Buxton finds out.
Given my own very recent thoughts here on value in Scotch blends, I was pleased to note that renowned whisky writer Charles Maclean has not been idle in lockdown. His Stakhanovite literary labours have delivered a slim monograph Exploring Blended Scotch, jointly with Stuart Leaf for the International Wine & Food Society.
Blended Scotch 1.01
Slight though it may appear – a mere 150 pages, including illustrations – members of the IFWS and others will find much of interest and value within its covers. It could perhaps have been titled Introducing Blended Scotch or Blended Scotch 1.01 for this is in truth a primer, but one that will lead the curious or inquiring reader down many fruitful paths.
The authors attempt a broad-brush coverage of blended Scotch's history, the blending process, appreciation, leading brands, collecting, cocktails, pairing whisky with food, concluding with a modest assortment of recipes. Each has contributed around half of the text, with MacLean taking the introduction and parts I, II and III, and Leaf – a US-based hedge fund manager, part-owner of a Brooklyn bar and true amateur of whisky – responsible for the remaining chapters.
Where's the viscimetry?
As might be anticipated from MacLean's experienced hand, his opening 'History of Blended Scotch' is an admirably succinct account of major developments in the industry, condensing many hours of studying rather dryer texts into a brisk and readable synopsis. Similarly, parts II and III provide a useful summary of the blending process and the business of appreciation. Even knowledgeable readers will appreciate this handy refresher though I was disappointed to find no discussion of viscimetry, surely overdue for inclusion in the OED.
In the latter half the authors turn to discussing brands, collecting, cocktails, pairing whisky with food and offer some recipes – somewhat more contentious questions but worthy of our attention. However, the choice of brands appears quixotic, perhaps unduly influenced by a US perspective. Brands with substantial European sales, such as William Lawson's (approx. 3m cases) and important French labels such as William Peel, Label 5 and Clan Campbell (around 6.5 m cases in total) are ignored in favour of lesser Diageo blends.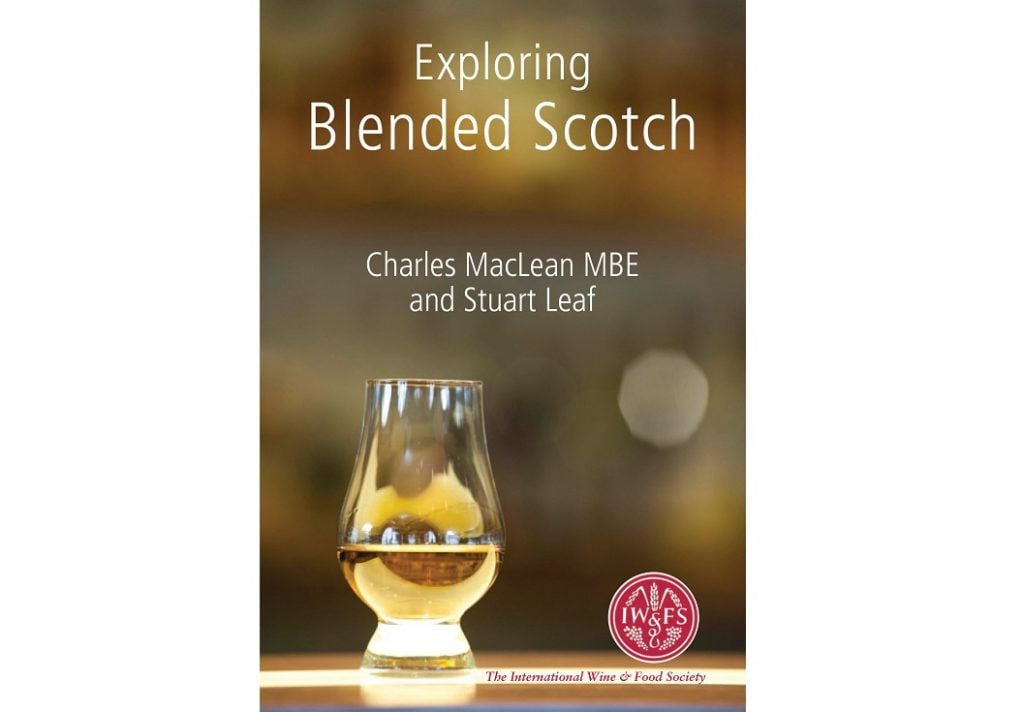 More whisky books, please publishers
The thoughts on collecting will provoke discussion, not least the suggestion that "profiting financially by acquiring blends inexpensively and reselling them is unlikely in the short run" but, refreshingly, readers are invited to taste and share their opinions on a range of older blends. Hallelujah! Whisky for drinking!
A selection of whisky cocktails follows, arguably somewhat redundant when the current plethora of cocktail books is considered, together with some thoughts on pairing whisky with various foods, a topic also widely covered in more authoritative titles.
However, the brief bibliography illustrates the relative paucity of in-depth writing on blended Scotch. Perhaps the greatest contribution then that this slender volume can make to whisky's literature is to encourage another publisher to commission the more detailed and exhaustive study that the subject demands.
Exploring Blended Scotch by Charles Maclean and Stuart Leaf is available here, price £9.99.