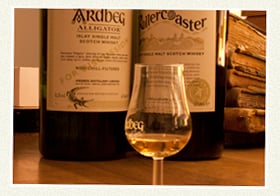 Well, as far as the world of whisky goes, it doesn't come much bigger than a new release from Ardbeg. We don't mind telling you that we've been absolutely fit to burst on this one for the last few days…
Whilst we were on Islay, we were offered a sneak preview of the New Ardbeg Committee bottling by distillery manager Mickey Heads on the strict understanding that we didn't go shooting our mouths off until the bottling was out. Well, the day has finally arrived – we can talk about it.
Not to ruin the suspense, but Ardbeg have very definitely done it again with this one.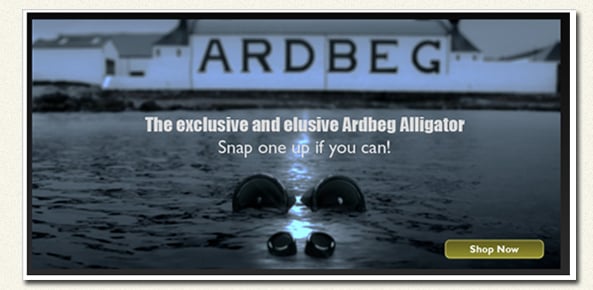 The name 'Alligator' refers to the rather unusual maturation casks employed in the development of the latest addition to the line-up. The Casks are American Oak, but rather than the standard first fill or refill bourbon approach familiar to fans of Ardbeg 10 Year Old, these casks have been re-charred to the highest possible level, the result of which is a finish on the inside of the casks referred to – by Glenmorangie's Wood Guru Bill Lumsden – as 'Alligator' Charring. Looking at pictures, it's easy to see where the name comes from…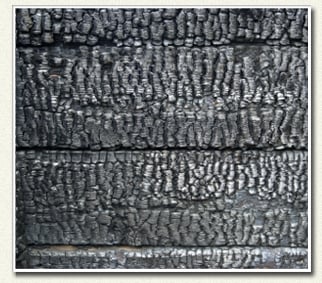 We weren't really sure what to expect as we sat down to taste the Alligator. We knew that last year's Rollercoaster release had left a number of people within the industry slightly nonplussed (not us – we bloomin' loved the stuff just for reference), so were slightly fearful in case it turned out not to pass muster. All fears however were knocked swiftly aside once we put our noses to the (very heftily filled by virtue of the fact we'd had a pour from a 4.5l bottle!) glass: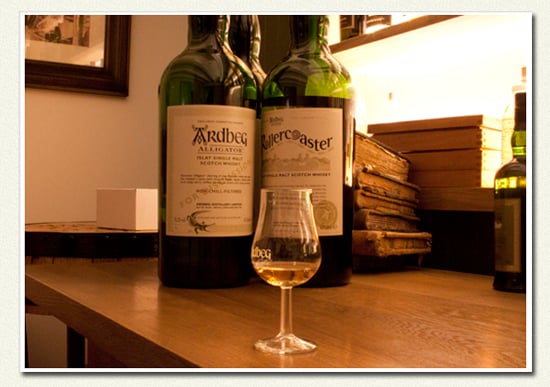 Ardbeg Alligator Committee Release 51.2%
Nose: Quite lemony against the obvious peat on the nose, and very, very sweet. It's soooooo creamy and buttery; we get lemon curd, then peach, particularly peach skins, then a little bit of red currant and some latte coffee with just a sprinkling of ginger, black pepper and mace. On the back-end of the nose, there's a decent hit of Barbecued goodness that put us in mind of a really, really good rack of ribs (can you guess where the inspiration for last week's feast came from?).
Palate: Big creamy sweetness, the expected hit of vanilla comes later. We get peaches in syrup, maple syrup, and then onto citrus, with zest, pith and fruit. Blood oranges, and grapefruit late palate. This has a huge maltiness, with ginger, fivespice and Crêpes Suzette.
Finish: Confectioners' sugar, lemon meringue pie and vanilla cream. Subtle smoke integrates very well.
Overall: Wowser. Not at all what we were expecting from a cask that's received such aggressive treatment. This is by far and away the sweetest, most approachable and most drinkable Ardbeg we've had in years. At the same time though, the sweetness hides a BBQ-y, Chocolatey complexity the likes of which we've not experienced for quite a while. Go and buy your bottle from the Ardbeg Shop now. Just wait for us to get ours first!
Tune back in tomorrow for a full round-up of the our final day on Islay – including an exclusive interview with (drum-roll please) Ardbeg's Distillery Manager – Mickey Heads.
– The Chaps at Master of Malt –