We try Ardbeg's core range with Brendan McCarron while he tells us about making raw, rugged whisky, the similarities between Bill Lumsden and Gordon Ramsay, and whether there are any plans to make a blend.
The team at Master of Malt were invited to Moët Hennessy's swanky headquarters in London to try the core Ardbeg range with Brendan McCarron, head of maturing whisky stocks at the Glenmorangie Company. Lucky us. Ardbeg inspires fierce loyalty among whisky fans. Not least because it very nearly didn't survive. The distillery was only working sporadically for most of the '80s and '90s, and by 1996, according to McCarron, "the bulldozers were at the gates". But happily, in 1998 Ardbeg was saved when it was bought and refurbished by the Glenmorangie Company (who are now part of LVMH).
Back to the situation at hand. McCarron joined the team in 2014. He was a chemical engineering graduate who, after a stint making penicillin, joined Diageo. He had various jobs including blending at Johnnie Walker before, at 28 years old, he became the youngest distillery manager in Scotland at Oban. From there he moved to Islay to run Caol Ila, Lagavulin and the Port Ellen Maltings. Enough intro, let's get the interview out of the way so that we can try some whisky!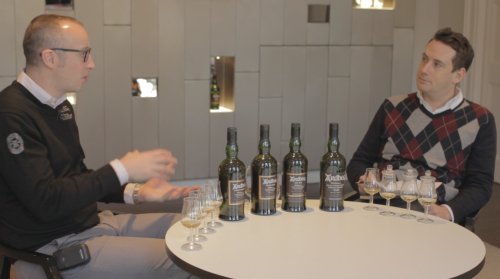 Our features editor Henry Jeffreys joined Brendan McCarron to talk Ardbeg whisky!
Master of Malt: How did you make the jump to Ardbeg?
Brendan McCarron: I was the manager of Caol Ila, Lagavulin and Port Ellen Maltings. So I used to sell batches of heavily peated barley to Ardbeg. After three years of doing that, I really didn't think I would ever leave Diageo; there's only one or two jobs in the world that would tempt you away. But when Dr Bill Lumsden comes calling and says 'how do you want to come and work for me' as his potential successor, you know. I've been almost five years now working on Glenmorangie and Ardbeg.
MoM: How would you define the Ardbeg style?
B McC: I think it really is raw, smoky, medicinal. I think its style is all about being spirit-led, or like you sometimes have a distillery character. So Glenmorangie absolutely is wood-led. The wood makes the whisky, if you like. But for Ardbeg it's all about maturing the spirit but really keeping the phenols that are on the malt, the fermentation characteristics, keeping them alive in it so it's like this really spirituous, raw, rugged, whisky.
Mom: Do you have to be quite careful when you're choosing casks, like with sherry casks, that you don't mask that or clash with it?
B McC: Yes and no. You need to be much more careful with Glenmorangie. Because sometimes we'll get great sherry casks and a two-year finish tends to be the right time. But sometimes, after a year and a half, you'll notice that the Glenmorangie already is getting smothered. Because it is so elegant and soft. And there's other times where we get sherry casks in to make, say, Uigeadail, and after ten years we're saying 'where the hell's the sherry?! Why hasn't it come in yet?'. So I always say with Glenmorangie it's like you're painting very lightly with a brush and things come through, and with Ardbeg you've got to hit it with a sledgehammer. So consuming and hiding Ardbeg is the least of my worries. It does happen from time to time, but it's actually much more the 'what on earth do I need to do to you to make you change?!'. That's the bigger challenge!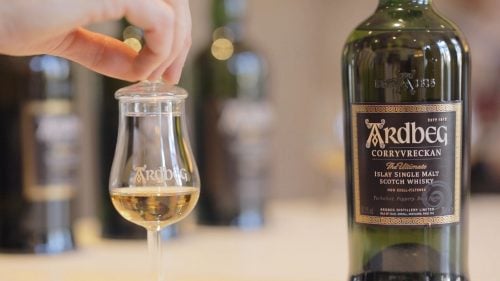 Delicious Ardbeg whisky – a welcome sight
MoM: How does the character of Ardbeg change with time? Does the smoke recede?
B McC: Yes. That's exactly what happens. So the smokiest Ardbeg that you will ever get is the Ardbeg that's just ran off the still – the new make spirit. From that point on there is absolutely no way to make the physical number of smoky flavours go up. It falls away year on year. It's not consistent; for the first ten years it falls a little bit. I would say really anecdotally, just from nosing, after about 15 years you start to have a noticeable fall in the smoke, it really starts to leave a little quicker. The other thing that's happening when you mature Ardbeg for a longer time is the fruity esters and fatty acids: they grow over time. So you have these two things happening at the same time and you almost hit a tipping point. So once you go over that 15/16 year threshold, the smoke is still there but it's secondary. It plays a secondary contribution and what really comes through are these gummy wine gum notes and pastels and fruits. So it's quite a common misconception – people put two and two together and get five; when they drink and older Ardbeg they go 'ah this is from the time when Ardbeg used less peat' because they're tasting less peat and so they try and work it backwards. It's a fair assumption but they get to the wrong answer. Actually, with older Ardbegs, it's the fact that the smoke just continually drops, drops, drops and the fruit goes up.
MoM: Is there a sweet spot for you in terms of age?
B McC: Yes. I think the sweet spot is between ten and 12 years, and around about 18 years. And, less consistently, there's also a sweet spot around about 25 years. Those are the three big ones for me. And then – because I always like to complicate things! – with smoke, it's almost like take those sweet spots minus two years, again, because the smoke starts to drop down. So for me Ardbeg between eight and ten, it's like a magical thing. Ardbeg was eight years old for forever and a day, and then when all of the big boys moved from ten to 12, Ardbeg went from eight to ten.
MoM: How much freedom do you have to experiment, to play with things that might never see the light of day?
B McC: Oh, all the freedom in the world. Genuinely. I still kind of annoy Bill [Lumsden] and also Pete [Nelson], who's the operations director, when I draw up a trial for cut points, say, or I want to trial a new barley. I will go to them, write up a report and say, 'who do I need to get…', and they're like, 'can you just crack on and do it, just do it! Test it, make sure you look at it, if it's a success then let's grow on it, if it's not a success make sure you can put the distillery back the way it was before!'. It's very free in that way. The other way it's not so free, and I agree with this. It's not a complaint; I always, always have to put it in front of Bill. And it's also great to put it in front of him as a work-in-progress, and he'll say 'have you thought about this?'. So yeah, there's lots of freedom, and then at the same time there, it's a bit like a chef going up to the pass and it's got to get by Gordon Ramsay, which is Dr Bill Lumsden!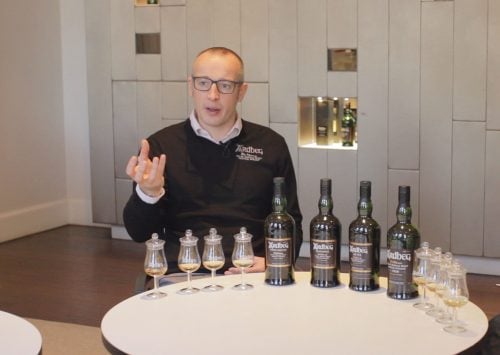 Brendan McCarron in his element
MoM: And what sort of things are you playing around with? Yeasts, fermentation times…?
B McC: I can't give away the secrets, but you're onto the right kind of stuff. Most of my experience is in malting. I really, really love malting barley and distilling. So that's where my strengths are, so working for Bill, he's teaching me so much about casks, about sensory, about maturation, but I also have quite a lot of stuff I can bring from the various different distilleries I've worked at. If it's super-cold or let's just theoretically say you might have had the hottest summer in your entire life, that might have happened this year, possibly! Is there something that we can do differently there? Can we take advantage of the fact that it is ten degrees hotter in the stillhouse than it's ever been before? So let's adjust other things and in ten years' time, I think it will make something spectacular.
MoM: Do you think Ardbeg would ever make something as experimental as, say, Signet? Or is that just too much?
B McC: I think it's possible. I love both these whiskies dearly but I must say that I think Glenmorangie lends itself more to these big, bold experiments. You have that key stone fruit floral character of Glenmorangie but you can add lots of flavour to it quite quickly, you can add it quite readily, you can understand what journey it's gone on, even if it's a ten-year journey or an 18-year journey. After a few months you can kind of plot out where it's going to go. With Ardbeg, it's so tough to overpower that raw, rugged spirit. But never say never.
MoM: How do you divide your time between Ardbeg and Glenmorangie?
B McC: Trying to plot out a standard week for me is a nightmare! But what I'm meant to do is go and visit Ardbeg distillery every quarter, and I'm meant to go to Glenmorangie once a month. I'm going to go to Glenmorangie next week and that will be my 25th visit this year, so it's clearly not once a month! I've been to Ardbeg five times this year, so I've not got the balance right yet. But I'd say I spend more time on Glenmorangie because it's bigger. Part of my job is looking after our stock, so it's the less sexy stuff of literally looking in warehouses and saying 'what are we going to put in here?'.
MoM: There's a new distillery at Glenmorangie isn't there? Is that finished yet?
B McC: It's not finished, so that's been one of my biggest projects since I've been with the company. We're adding capacity; we're adding a couple of little bells and whistles in there as well, so we can do some exciting stuff. We're adding a little bit of fermentation and mashing – so a little bit of extra brewing capacity. This will supplement our production, which is important because in order to innovate or make Signet, you need to stop your standard production and do something else. If you're running at full capacity, you can't stop. So we're putting in another set of stills which gives us a capacity higher than we actually need. So what that means is, say, 40 weeks into the year, we've made what we have to make in terms of traditional Glenmorangie product and that gives us some time to think and play. But as well as that, we are also adding in some different stuff so that we can really, really play.
The beautiful Ardbeg distillery on a calm Islay night
MoM: Do you have any plans to make a blended whisky?
B McC: It's a decision that involves a lot of people. I know that Bill is very keen because we used to have Bailie Nicol Jarvie, which is a stunning blend. I love blended whisky, so it's nothing to do with that, but I really do love the fact that we just make single malts. I love the fact that every single litre, every drop of spirit that comes out of Glenmorangie, ends up in a Glenmorangie bottle, made by us. We don't sell any of our casks. And we do the same for Ardbeg. And I love that, I really think that's a great thing. I know that Bill probably would answer that the other way and that's OK, and guess what, he's in charge. So if it comes down to one of us to make the decision then…
MoM: That brings us on to my next question. You've been named as Bill Lumsden's successor. Are you happy to wait until he retires or are you actively plotting to overthrow him!?
B McC: Yeah, we joke about it all the time. There are times when it's quite tense because there will be one decision I want to go one way, Bill will want to go the other, but we have a very similar sense of humour and he just jokes about stuff like how long he's going to live and how he's exercising and looking healthy and how he's never felt better! And I joke as well about how I'm going to kill him off. I always say, 'if Bill retires or goes mysteriously missing', or that 'toasters fall into people's baths all the time'! And I'll handily be somewhere else, in public when it happens, with an alibi! But in all seriousness, the longer Bill stays, the more likely I'll be a success. And it's not guaranteed. Bill leaving is a big deal. He is, I would say, the most famous person in whisky and I accept that no matter how good a job I do, there are some people that will just not like it that Bill has left. The longer he is in role the more I can learn. You need almost something to go wrong, or something to go really right that wasn't expected, and it's in those quick moments and Bill goes 'we're onto something here, let's do this…', and that's when you learn. And unfortunately, they don't pop up every week. I have a very strong background but it's those last few percentages are the hardest ones to learn and they take the longest. So I am perfectly happy to wait until the time is right.
Thank you, Brendan! Right, let's try some Ardbegs: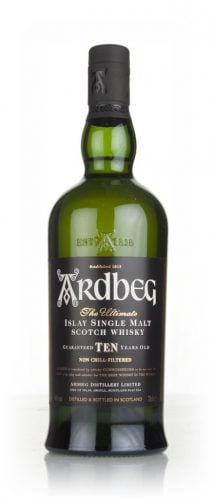 Ardbeg Ten Year Old 46.6%
Ardbeg Ten Year Old 46.6%
The only age statement whisky in the core range, and bottled without chill-filtration. There's lots of smoke as you'd expect, but underneath it all there's a limey fruitiness and just a little sweetness from ex-bourbon barrels. A stone-cold classic.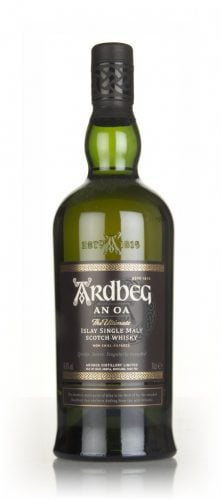 Ardbeg An Oa 46.6%
Ardbeg An Oa 46.6%
The spirit is fully matured in a mixture of PX casks, ex-bourbon and charred virgin oak, and then married together for three months. It's darker, smokier and sweeter than the ten year old. There's wood smoke mixed with floral and peachy notes, and then gingerbread and chocolate.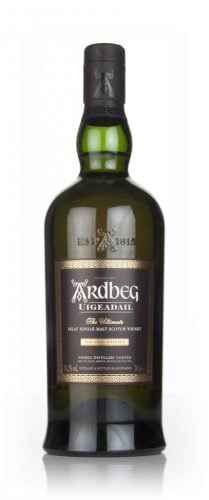 Ardbeg Uigeadail 54.2%
Ardbeg Uigeadail 54.2%
According to McCarron, this is a "big sherried Ardbeg". Half matured in ex-bourbon cask and half in ex-oloroso sherry. On the nose there are fruitcake notes, vanilla and something like smoked meat. On the palate there's a full sweet texture, dark chocolate, with smoke present, but very much in the background.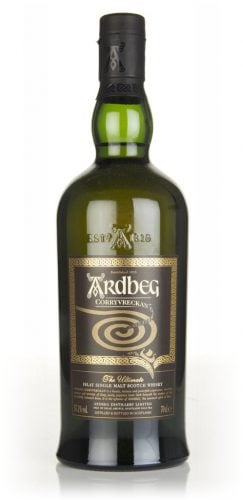 Ardbeg Corryvreckan 57.1%
Ardbeg Corryvreckan 57.1%
Named after a whirlpool off Islay, McCarron described this as a "cult Ardbeg". 30% is matured in new French oak barriques. "You need to be careful with tannin and scotch," McCarron told us. It's ultra-spicy with aniseed being the strongest note with pepper, wood smoke and bacon. Super intense.