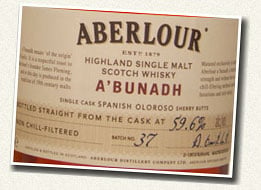 Today I have the supreme pleasure of tasting the latest batch of Aberlour a'Bunadh.
Of all the on-going cask strength whiskies, a'Bunadh is steadfastly in the top three of our "best value for money" malts, because it's just such an awesome, enveloping dram.
It's actually a recreation of whisky from the days of yore (from 1898 to be precise), and it all started in 1975, when a team of distillery workmen were installing the second pair of stills at Aberlour. As they worked, they discovered a time capsule which contained a newspaper from 1898, wrapped around a bottle of Aberlour whisky.
They dutifully necked most of the bottle on their lunch break (boys will be boys), though rather thoughtfully they did send the remaining few ml off to the laboratories in Keith for "technical analysis". The sample was recreated, and thus a'Bunadh was born!
The whisky is at natural cask strength, made with neither chill-filtration nor caramel colouring, and is even packaged in a distinctive squat, wax-dipped bottle. The style of whisky sits firmly in the "ultra-sherried" camp, thanks to its maturation in top quality, fresh Oloroso sherry casks. The result is a very spicy, robust whisky with more than a hint of sweetness.
So far, our favourite batches have included 14 and pretty near every batch in the 20s. Let's see how Batch 37 fares…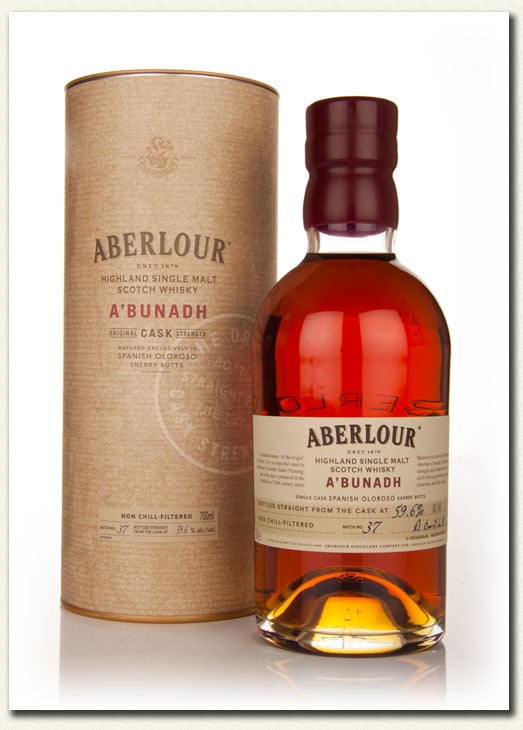 Aberlour a'Bunadh Batch 37 59.6%
Nose: Rum and toffee brittle lead the way, with banana, flambéed in butter and sugar, served on a hot pancake. Chocolate-coated raisins and soft, juicy prunes develop with just a dash of mace. It's one of the most incredibly evocative aromas, and is about as close to "winter fireside" as you're ever likely to get…
Palate: An explosion of jaw-tingling spice. Sweet, juicy cinnamon soaked in bourbon (something we know well thanks to our Cinnamon Bitters!), Spotted Dick with a good dollop of Chantilly cream, nutmeg and cedarwood. If you've ever cut a cigar and accidentally chewed on a little offcut of tobacco leaf, it's not unlike that, with that same incredibly spicy, peppery heat to it.
Finish: Rum and Raisin-flavoured items, boiled sweets and flat Coca Cola on the tail. So much vanilla, this is one of the most creamy whiskies I've had in a good long while, it's also big on black cracked black pepper.
Overall: One of the sweeter batches, this a very, very interesting whisky, which continues to open up in the glass. Even though it's only mid-September, here in Tunbridge Wells we can already feel the crispness of winter in the air and I can tell already this will be on my drinks shelf this Christmas!
You can buy a bottle of Aberlour a'Bunadh Batch 37 for £35.95.
Mike.