Back in July, news broke that Chivas Brothers had sold the Glenallachie distillery to a consortium of investors led by Billy Walker, former managing director of The BenRiach Distillery Company. While the multi-million pound deal came as a surprise to some, for Walker it was written in the stars.
"The concept was always on the radar," he confirms, after I ask whether he'd anticipated embarking on such a momentous project this year. After all, up until relatively recently he was still involved with BenRiach; the company he built up and sold to Brown-Forman in April 2016. "The reality [of it happening] was unlikely, but, as it was, the planets aligned themselves."
And as the planets came together, so too did The Glenallachie Distillers Company. "We're like-minded people," says Walker of his colleagues – long-time business partner, Trisha Savage, and Inver House Distillers' former managing director, Graham Stevenson. Combined, they have almost 100 years' experience in the Scotch whisky industry. "I knew we shared the same kind of vision for the next journey – whatever that journey was going to be."
As the ink dried on the paperwork, the question on everyone's lips was: why Glenallachie? Well, transforming a little-known single malt whisky into an established brand is Walker's modus operandi after all – just look at the success of BenRiach, GlenDronach, and Glenglassaugh.
"It falls in to the formula that we best work with," he explains. "It's an opportunity to take a relatively unexposed single malt into the route to market that we are familiar with and slowly jog it along and get the reputation established."
Glenallachie is relatively young by Speyside standards. Designed by William Delmé-Evans – the architect behind Jura, Macduff and Tullibardine – the distillery was built in 1967, and is located within a 20-acre estate in Aberlour. That said, its inventory dates back to the 1970s and is hardly meagre; Walker says rifling through it has so far been "unquestionably" exciting.
Equipment-wise, the distillery has four stills and, unusually, two spirit safes (one for each set of stills). Not much will be added – just a few vats "to make sure that we can do the kind of re-racking activity that is very important to wood management". Operations will be headed up by distillery manager Richard Beatty, who Walker has "known and respected for a long time".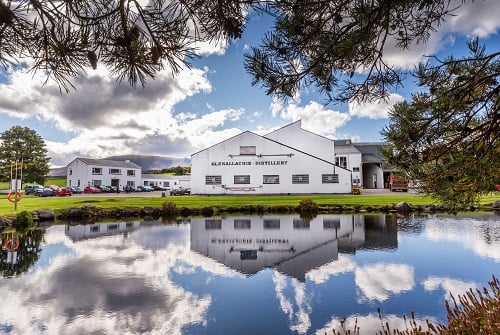 Ain't she a beauty
The core range is slated for launch in February, and will consist of a 25 year old, an 18 year old, a 12 year old and a cask-strength expression, with a range of single cask bottlings and special editions to follow in the coming years.
Ultimately, the whisky will be "Speyside in character" but Walker is quick to add that there will be "additional wood contribution, let's say, along the way". Lovely stuff.
The distillery deal also included blended Scotch whiskies MacNair's and White Heather, which Walker and co plan to reinvigorate with a series of age statement releases. MacNair's will re-emerge around the same time as the core line is released as a peated blended malt, starting with a 10 year old variant and "a younger one".
The team are "really excited" about White Heather, which will launch "probably with a 21 year old" mid-next year with plans to "graduate it down to a 12 year old over time". Its flavour profile is set for a shake up too, and will be "a little bit more peated" than it has been historically.
While getting Glenallachie up and running is undoubtedly Walker's key focus, I can't help but wonder if there's more to come from the consortium. Do they have any plans to buy another distillery, I ask? I'm taken aback by his candid response.
"If we were appropriately-resourced we would definitely buy another distillery," asserts Walker. "Do we have our eye on anything? There are some wonderful distilleries out there that are way beyond our reach for sure, but if something came up we'd be interested."