It's one of the biggest dates in the Scotch whisky lovers' calendars, the arrival of the latest batch of Special Releases from Diageo. Well, nearly. They should be with MoM soon but you can pre-order bottles now. It's Diageo Special Releases 2021!
Back in May we got a sneak preview of the labels for Diageo Special Releases 2021, the theme being 'Legends Untold'. This is what we wrote: "someone's been on the fantasy novels over lockdown and had a 'brilliant idea'. Lagavulin has a flaming lion and Talisker is being marauded by a sea monster, while there's all kinds of new age woo woo going on at the Singleton of Glendullan. They are wild."
A portal into strange worlds
Well, now the whiskies are here so the big question is, are they as wild as the artwork? Before we dive in: a bit about those labels, they're the work of digital artist Ken Taylor and inspired by real and imagined stories around each distillery hence the name Legends Untold. It seems that Diageo took one look at the success of the Game of Thrones-themed whiskies and thought, "we'll have some more of that."
But that's not all. Each label has a QR code which with the aid of a portable telephone can take you into a strange world of augmented reality. We're a bit sceptical of AR here at MoM. In a recent post, Adam wondered how many people actually use them but these are stylishly done with dramatic voiceovers by some pretty heavyweight Scottish acting talent in the form of Siobhan Redmond and Lorne Macfadyen.
According to brand ambassador Ewan Gunn: "They are a way of bringing distilleries to life". As well as "whisky lovers and spirits enthusiasts" they should appeal to "fantasy lovers and perhaps people who haven't tried Scotch before," he continued. So very much in keeping with current whisky marketing orthodoxy though it is hard to imagine someone who isn't already a whisky fan blowing over £1.5k on a bottle of sherry-cask Lagavulin or enjoying a fiery 8 year old Talisker. These are very much whiskies for converts.
Diageo Special Releases 2021
As usual they have been chosen by master blender Dr Craig Wilson who explained:
"We have delved into the core characteristics of several classic distilleries, exploring the elements and reimagining the liquids for the Legends Untold collection. The mythical creatures of this year's collection represent the true expressions of the distilleries. Taking inspiration from them, we have revealed new depths of flavour and embraced the essence of each of the whiskies' unique flavour profiles revealing the legend it brings to life."
There have been mutterings among the Scotch whisky community that the Special Releases are no longer quite so exciting what with the extra-special Prima and Ultima series. And the mutterers would have a point, because there's no Convalmore, Brora or Port Ellen here. But we have to work with what we've got and happily what we've got is pretty good indeed.
So without further ado, here are the 2021 Diageo Special Releases Legends Untold!
Mortlach 13 Year-Old
ABV: 55.9%
Cask: Virgin and refill American oak casks
RRP £135
Nose: Toffee, red berries with aromatic woody and sweet BBQ notes.
Palate: Thick texture, here's a whisky you can chew. The big bold flavours are almost overwhelming.
Finish: Aromatic and minty.
Overall: Very unusual Mortlach. Not a sherry monster but still an absolute beast. Wasn't so keen on this initially but it is growing on me.
Click here to pre-order.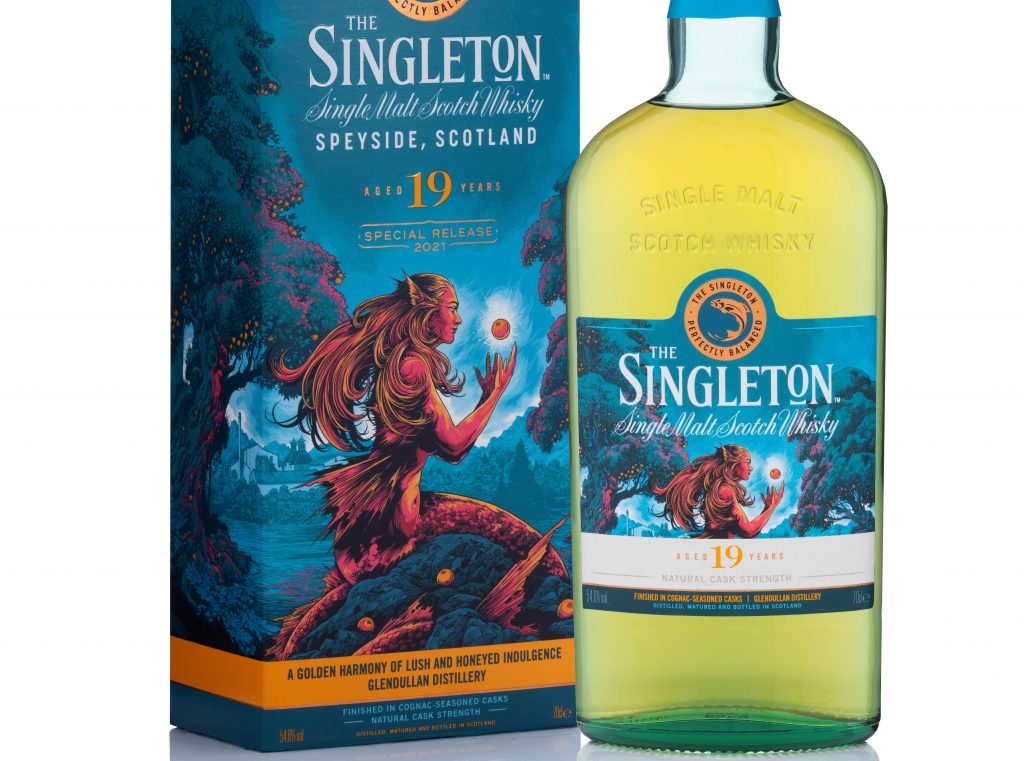 All kinds of new age woo woo
Singleton of Glendullan 19 Year-Old
ABV: 54.6%
Cask: Refill American oak casks, finished in Cognac casks
RRP £140
Nose: You'd think sherry cask because of the dried fruits, then toffee, pastry, and a waxy, almost cheese rind note.
Palate: Spicy, black pepper and cinnamon, and aromatic with a gorgeous texture. Super creamy and waxy.
Finish: Very long with a lift of orange peel and a little dark chocolate. 
Overall: Delicious, one of the stand-outs. The Cognac doesn't overwhelm, it just provides a little seasoning.
Click here to pre-order.
Talisker 8 Year Old 
ABV: 59.7%
Cask: Heavily peated refill casks – casks chosen with high PPM
RRP £90
Nose: Sweet notes initially, vanilla and spongecake and then bonfires on the beach with salty seaweed notes. There's stone fruit fruitiness here too.
Palate: Lots of black pepper with smoke, heather and honey notes and a peaches.
Finish: Black pepper and chilli with a little caramel. Long and fiery.
Overall: When Talisker is this good young, why wait? Another standout whisky for me. 
Click here to pre-order
Lagavulin 26 Year Old
ABV: 44.2%
Cask: Entirely aged in PX/Oloroso-seasoned first fill casks
RRP £1,650
Nose: Dried fruit, pungent smoke, cured meats and  touch of varnish. A truly mighty nose.
Palate: Sweet toffee, and Jamaica cake notes, layered with wood fires and coal dust. Quite prominent mouth-gripping tannins like a really old Cognac. 
Finish: Thick with salted caramel and cigar ash.
Overall: Massive whisky, hugely impressive. It's amazing how the Lagavulin character shines through after 26 years in sherry wood.
Click here to pre-order.
Lagavulin 12 Year Old
ABV: 56.5%
Cask: Refill American Oak casks
RRP £130
Nose: The smoke is quite restrained, maritime with distant bonfires and lime. Just a little hint of bacon Frazzles.
Palate: Black pepper, saline and wood smoke, a little wood tannin and then some sweeter toffee notes.
Finish: Black pepper, smoke and salt with that citrus note coming back in.
Overall: Very untypical Lagavulin. It's certainly interesting trying a stripped back Lag, especially next to the sherry bonanza that is the 26 year old. Ewan Gunn thought it tasted more like Caol Ila which is just right.
Click here to pre-order.
Cardhu 14 Year Old
ABV: 55.5%
Casks: Refill American oak casks, finished in red wine casks
RRP £120
Nose: There are floral grassy notes, apples, honey, and sweet barley. A drop of water brings out the creaminess. 
Palate: Floral, orange blossom, peaches, cinnamon and honey with black pepper. Very elegant and harmonious. 
Finish: Sweet vanilla, and stone fruit. Long.
Overall: The red wine cask influence is very subtle, a good thing, as this is a gorgeous, subtle and fragrant drop.
Click here to pre-order.
Oban 12 Year Old
ABV: 56.2%
Cask: Freshly-charred American Oak casks
RRP £105
Nose: Quite restrained, subtly maritime with distant smoke, seaweed and iodine.
Palate: Spicy as hell initially: really gets up your nose with Szechuan pepper and cloves, but then the spice fades and fruit and subtle vanilla notes come through.
Finish: Long and creamy with a note of custard.
Overall: A dram that deserves a quiet moment to let the spice fade and then you can  really appreciate it. 
Click here to pre-order.
Royal Lochnagar 16 Year Old
ABV: 57.5%
Cask: American Oak and European Oak refill casks
RRP £200
Nose: Creamy nose, touch of toffee, touch of brioche, touch of vanilla and some apple.
Palate: A little chilli and then warm baking spices, cooked apple like a tart tatin, creamy texture.
Finish: Some spice on finish, creaminess persists. Quite short.
Overall: Definitely the least startling whisky in the line-up. No fireworks here but it's tasty and finely-balanced.
Click here to pre-order.
You can see the full range here. Estimated despatch from 25 October