This is the story of how a legendary whiskey maker came out of retirement to pioneer cask-finished bourbon with his son and, in the process, create one of the standout bourbon brands of the last decade: Angel's Envy.
If you're not familiar with Lincoln Henderson, you've certainly tasted his whiskey. An inaugural member of the Bourbon Hall of Fame, for nearly 40 years he was master distiller for Brown-Forman, helping to develop brands like Woodford Reserve, Gentleman Jack, and Jack Daniel's Single Barrel. After retiring in 2004, nobody would have begrudged him if he just put his feet up and enjoyed his secured legacy.
Family values and the value of family
Instead, he decided to create his own whiskey with his son. Wes Henderson felt they could explore their shared interest in cask-finishing together in a new independent brand. The method of transferring already mature whiskey into a different style of cask to bring alternate flavours to the spirit is commonplace in Scotch and Irish whiskey. In the recent bourbon boom, plenty of new distilleries have used the technique too. But this was 2006 when the American whiskey landscape was very different and there simply wasn't a distiller creating a continuous supply of barrel-finished bourbon.
Lincoln could have used his knowledge, experience, and connections to phone it in and make a quick buck bottling a bog-standard whiskey called Lincoln's Legacy or Reserve. Instead, he put his reputation on the line in the name of family and innovation, and he and Wes set about sourcing whiskey and experimenting with different fortified wine finishes. They finally decided on ruby Port for their signature expression and in 2010 the father-son project launched Angel's Envy, a name that references the angel's share. Sadly, Lincoln died in 2013, just two months after the brand broke ground on its own distillery.
"While he was often described professionally as a malcontent, constantly tinkering to improve his whiskeys, personally Lincoln was a warm and gracious man," says Angel's Envy UK whiskey guardian (a fancy term for brand ambassador) Sophia Rosser. "He was a loving and devoted husband, father, and grandfather who treasured his family above his career and accomplishments".
Of the many contributions to whiskey he made, a family business might be the one he would be most proud of. Wes was involved in the business until this year when he retired from his role as chief innovation officer, and now the third generation flies the Henderson flag. Four of Wes' sons are involved: Kyle is the distillery production manager, Andrew is the lead distillery operator, Connor is the lead aging warehouse and processing operator, and Spencer is the warehouse and processing operator.
How Angel's Envy whiskey is made
Together the brothers maintain the seven-step process their grandfather and father established to make Angel's Envy whiskey. It all starts with a mashbill of 72% corn, 18% rye, and 10% malted barley (the same as Woodford Reserve: if it ain't broke, don't fix it). This is milled and cooked with water and setback (water and grain fines from the previous day's distillation run). The mash is then cooled and yeast added to ferment for 65-70 hours, with chilled water running through coils inside the fermenter to control temperature.
The distiller's beer that comes out of the fermenter at 10% ABV is then pumped through a 35ft continuous column still where it's distilled to 64%, before being redistilled in a pot still doubler to concentrate the ABV up to 69%. This gives you Angel's Envy new make spirit, which is diluted with water purified with reverse osmosis to 62.4% and popped into 200-litre toasted and new charred oak barrels. Around 100 are filled per day at the distillery, which is then sent to the brand's warehouses to age anywhere from 4–10 years.
Then comes the really fun part: finishing. After the initial blending, the bourbon is popped into 225-litre French oak ruby Port wine casks, sourced through a broker in Portugal, for an additional 3-6 months. There's no exact set time for this final finishing process, it's only Angel's Envy when the blenders say it is. The casks are then emptied and the whiskey blended in small batches (about 8–12 barrels) one last time to ensure a consistent flavour profile is met before it's diluted to the brand's bottling strength of 43.3%.
A lot to toast to
That creation has led to widespread acclaim (and plenty of shiny awards), and it was presumably that and the Henderson legacy that convinced Bacardi to acquire Angel's Envy in 2015. A year and a half later, it opened a $27 million distillery, the first and only full-production whiskey distillery in downtown Louisville, Kentucky. "Since opening, we've seen an incredible demand from visitors, and we're pleased to have recently completed an $8.2m expansion to the brand home, doubling our annual guest capacity and adding more than 13,000 square feet to the existing building (which previously stood at over 90,000 square feet)," Rosser says.
This is a properly modern distillery with all the trimmings. It's on the Kentucky Bourbon Trail and has a retail area, five tasting rooms housing educational bourbon tastings, a 'bottle your own" experience room, bar spaces where an on-site team creates cocktails for guests, and event space with a fully-catered kitchen. There's also the Angel's Envy Meta Distillery, a virtual reality distillery that invites guests on educational production tours, bourbon-making experiences, interactive cocktail challenges, and to plant virtual white oak trees around the distillery, linking to the brand's Toast the Trees initiative.
Yes, that buzzword sustainability hasn't been forgotten about by Angel's Envy, which has concentrated its efforts to raise awareness of the increased need for a healthy and secure white oak tree population. Don't forget that bourbon must legally be aged in new oak barrels, and the white oak tree is the most common type. "Each white oak tree yields between one and three barrels and takes about 70 years to mature," Rosser explains. "Angel's Envy has planted nearly 200,000 trees since the program's inception and plans to increase the percentage of tree plantings that will specifically support a sustainable barrel production cycle".
Not finished yet
But above all else, what Angel's Envy is truly about is pioneering cask finishing in American whiskey, showing a level of foresight and courage that's worth acknowledging. That also means it has had to keep moving because creating bolder finishes is an easy way for rival brands to take the flag Angel's Envy planted and run with it. Hence why a number of creatively finished expressions have followed.
This includes a 95% rye whiskey finished in Caribbean rum casks, a bourbon matured for an additional year in ice cider casks, and a straight bourbon whiskey finished in Japanese mizunara oak casks to commemorate the 10th anniversary of the first Port barrel fill. The brand has also previously released an Oloroso-finished bourbon and a tawny Port-finished bourbon. Some interesting choices in there (particularly ice cider), and hopefully they become more widely available outside of the US.
"Finishing is at the heart of Angel's Envy, and our team is constantly exploring new ways to innovate and push boundaries," Rosser summarises. "The future holds much more of this as we revere tradition and embrace progress in the American Whiskey category". It's not an easy balancing act. So far, however, the brand has landed on the side of the angels. It's very popular, the price is reasonable, the branding is distinctive, and it's a dram that has changed the landscape around it. I would like to see the wider range become more easily accessible and you would think Bacardi could assist with that.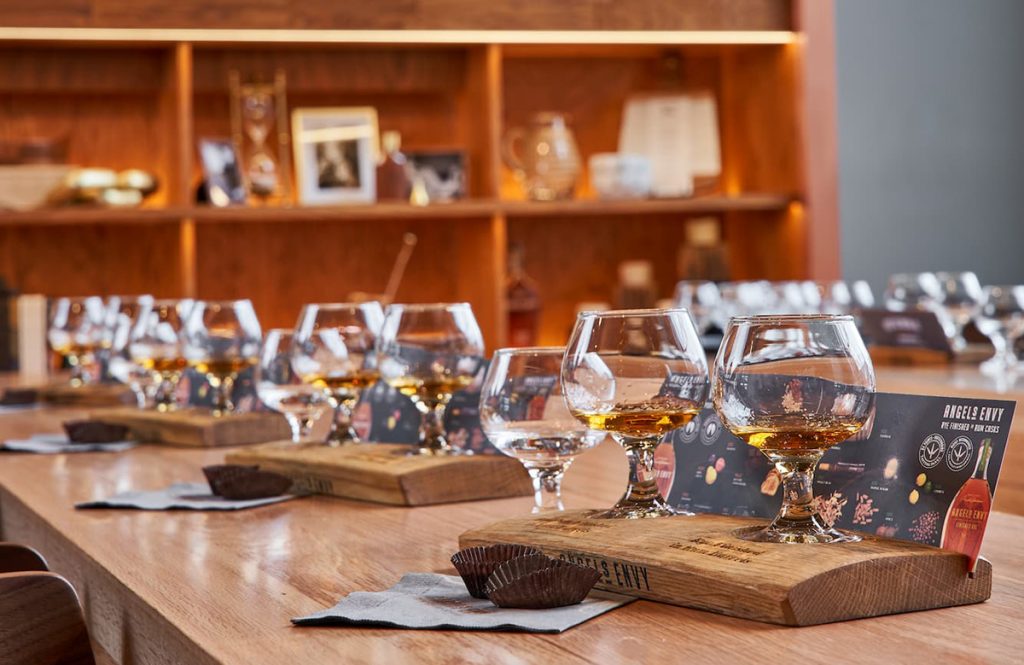 Tasting Angel's Envy
For all the ground-breaking process and family tradition, however, what I like most about Angel's Envy is simply how it tastes. It's got all the hallmarks of a whiskey made by somebody with vast experience, as a young distiller could have fallen into the trap of over-seasoning the spirit with Port-barrel influence.
Instead, this is a comfortable, lazy Sunday evening of a dram. The aromas are rich and inviting, with notes like cherry, orange peel, cinnamon, chocolate, damson, butterscotch, tomato stem, vanilla, and Port-soaked oak. The texture is soft and supple, a true Kentucky hug, and carries more dried fruit, dark chocolate, and creamy vanilla, but this time with more earthy spice (like chilli pepper), grape tannins, oaky warmth, and red berry sweetness. Throughout there are hints of aromatic herbs (I get tarragon mostly). This is unmistakably a bourbon, just with a graceful finish of Port influence. I think it's a lovely sip, and I don't blame the angels for wanting more of it.