We were invited to the recently-reopened Brora distillery, virtually, to taste the second batch of Diageo Prima & Ultima whisky releases including rare malts from Linkwood, Mortlach, Convalmore and Brora itself. The collection will set you back north of £20k. So is it worth the money?
We reported earlier this month that Diageo was releasing another super swanky Prima & Ultima collection of rare malts. It will set you back a cool £23,500 for the collection, because of course it will. This rare and old Diageo stock, people. Every drop makes a sound like a cash register opening. Ka-ching!
But you can't simply order a set online. Only 376 have been produced so you have to register online for a chance, just a chance, to buy; Monday 23 August is the last day you can do this (there's more info here). Furthermore, set #1 signed by master blender Maureen Robinson will be auctioned at Sotheby's in Hong Kong from 15-24 September.
Robinson and brand ambassador Ewan Gunn hosted a tasting last week of these rare whiskies from Brora, and Master of Malt was lucky enough to get an invite to taste, virtually. The big question is, can any collection that expensive be worth the money?
The last shall be first, and the first last
The collection gets its name because it includes some of the first and last casks from each distillery, or from a period in that distillery's history. For example the Auchroisk is literally the very first cask filled when it opened in 1974, whereas the collection contains some of the last casks of Brora 1980 in existence. All were bottled earlier this year. 
Robinson commented: "This is a selection of very special single malts – some that have never before seen the light of day and others that are the fleeting and final examples of their kind. Each bottling shares a glimpse into the history of Scotch and one that I am honoured to have witnessed in person. Some of these casks I helped to lay down, and have taken great pleasure in tending to them since, so I chose them with rich memories in mind." 
She recalls, for example, choosing to hold back the cask filled at Auchroisk knowing it would be special for the future, while revealing that maturation trials undertaken with Linkwood and The Singleton have now been realised in these releases. It's all very exciting. And yet, it was a lesser known name that really stood out.
Convalmore shines
Full details and some tasting notes below, but for this taster the standout whisky by a country mile was the Convalmore (read about the distillery's history here). This is the last of the 34 year old stock and was bottled just before the Speyside distillery closed for good. It has the most amazing waxy texture with gorgeous appley fruit. Whereas a couple of the whiskies in the collection were very cask-led, the Convalmore really just tasted of itself.
Compared with the other Diageo ghost distilleries like Port Ellen or Brora (a  Lazarus distillery now?), it's very much under the radar. You can pick up bottles for £600 and £1300 which looks like a bit of a bargain when you see what Port Ellen is going for these days. Sadly, according to Ewan Gunn, Diageo has no plans to bring this one back from the dead.
So our big tip is buy Convalmore, buy Convalmore and then go back and buy more Convalmore before prices catch up with the quality. 
Right without further ado let's look at the rest of those whiskies. But before we do, would we pay £22,500 for the lot? Hell, no, but then they're not aimed at us. We just hope whoever gets their hands on a set, drinks them, because there are some phenomenal whiskies here. 
Tasting Prima & Ultima
Prima
Auchroisk 1974 
ABV: 48.7% ABV 
Casks: single refill European oak butt 
Nose: Sweetly fruity nose, apples, cinnamon and nutmeg, custard with touch of vinegar on here too, like an oxidative wine wine.
Palate: Sweet notes of fudge and honey, with black pepper and lots of orchard fruit, bruised apples and cider.
Finish: Toffee apples
Overall: Another stand out whisky. Really delicious and fruity.  
Lagavulin 1992 
ABV: 47.7% ABV 
Casks: Taken from five freshly-charred American oak hogsheads. First of a small experimental batch matured in such casks. 
Nose: Wood fire and sweetness, toffee, peppery, cloves, honey, very distinctly Lagavulin. 
Palate: Tangy and salty, lovely almondy nutty texture, gentle caramel sweetness, vanilla, creamy, then wood smoke comes in with a twist of black pepper.
Finish: Creamy and wood smoke mingle. 
Overall: Another gorgeous textured whisky, loved the mixture of creaminess and smoke.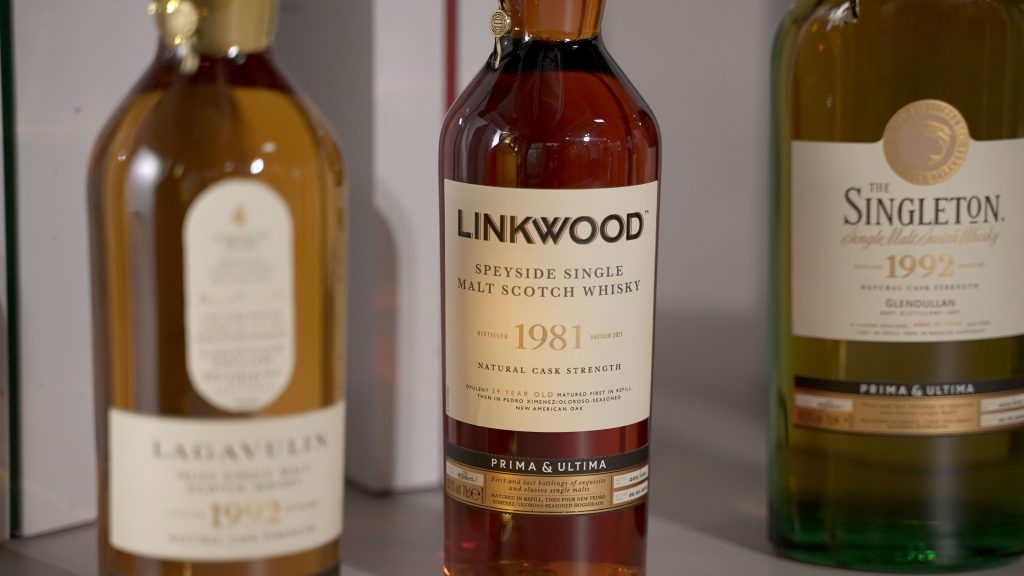 Linkwood 1981 
ABV: 52.9% 
Casks: 12 years in refill casks followed by 24 years in PX and Oloroso-seasoned new American oak.
Nose: Raisins and dates with a spicy aromatic quality, a touch of varnish, and a strong floral note like lavender. 
Taste: Maraschino cherries and blackcurrants, chocolate and raisin, with an aromatic quality running through it plus a floral violet note. Water brings out a woody tannic side, and dries it out a bit
Finish: Long and very fruity
Overall: Sherry bombers will love this one. Drink it at full strength as water rather spoils it. 
The Singleton of Glendullan 1992 
ABV: 60.1% ABV 
Casks: first kept in refill wood before being double matured in two Madeira casks for 14 years. Robinson described it as "leap into the unknown."
Nose: Grassy fruity notes, honey, peaches, orange and then a huge hit of toffee. 
Palate: Lots of toffee and dark chocolate, some light orangey fruit, with baking spices, Water really brings out the spice turning those warm notes into hot chilli and pepper.
Finish: Brown sugar and sticky sweet wine notes plus chilli peppers. 
Overall: Massive Madeira influence but it stays on the right side of too much and doesn't overpower it. 
Ultima:
Convalmore 1984 
ABV: 48.6% ABV 
Casks: taken from three refill American oak hogsheads 
Nose: Waxy with a touch of cheese rind, almonds and fresh green apples.
Palate: Creamy texture, touch of pepper, waxy, almond texture, pears, fresh apple,and a little cinnamon. With time sweeter notes like brown sugar and coconut come out. Just a hint of cheese rind too. 
Finish: Long and waxy, gets sweeter with each sip.
Overall: Totally irresistible.
Brora 1980 
ABV: 49.4% 
Casks: three refill American oak hogsheads
The last of the 1980 casks which were distilled during the 'golden age' of heavily-peated Brora.
Nose: Some maritime and wood fire notes, but smoke is quite reticent. It's a little mucky on the nose with a touch of cider and old leather boots plus citrus fruit. 
Palate: Toffee and salted caramel with a strong saline note, herbal and mint with smoked meat and black pepper. Texture is waxy and then deeply savoury. 
Finish: Long finish with that gorgeous waxy note persisting. 
Overall: Totally distinctive and on great form. They don't make whisky like this anymore (or maybe they do).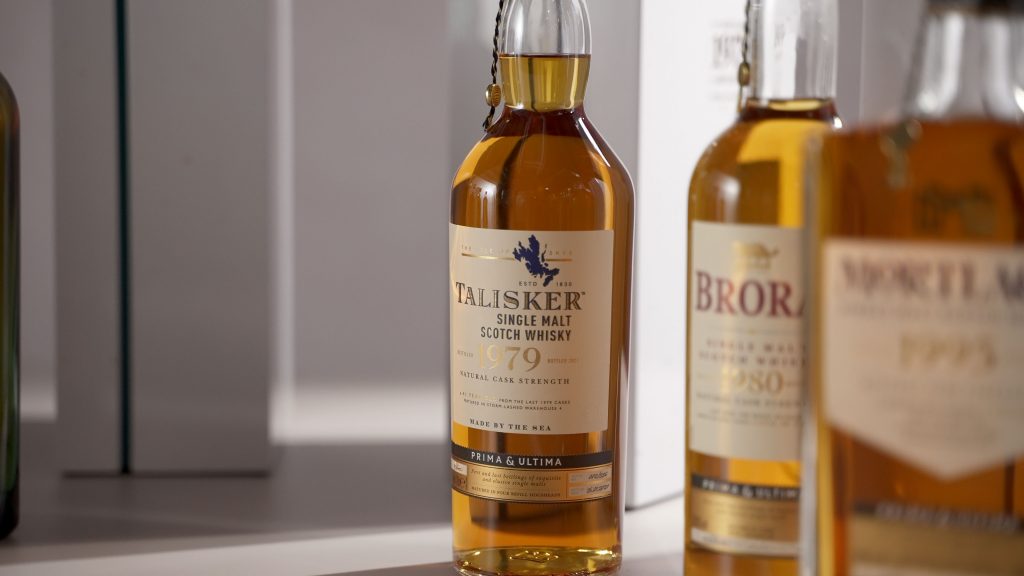 Talisker 1979 
ABV: 47.5%ABV 
Casks: Taken from four refill American oak hogsheads, the last 1979 American oak hogsheads fully matured in Talisker's Warehouse no. 4, right by the Atlantic ocean.
Nose: Warm and spicy, almond, cinnamon and nutmeg, smoked meat notes, sea air, plus some richer notes of toffee and apple. 
Palate: Very spicy, chilli peppers and black pepper, quite fierce, then the bonfires come in, with a splash of sea air and citrus notes. A little toffee in the background.
Finish: Spicy, with a little sweetness coming through. 
Overall: Lovely balance between fierce spice and smoke, and sweeter fruity notes. Very nice.
Mortlach 1995 
ABV: 52.4%  
Casks: taken from a single PX/Oloroso-seasoned European oak butt
Nose: Dried fruit, raisins, burnt caramel, toffee, orange peel, touch of sulphur
Palate: Peppery spice, cloves, liquorice, tangy fruit, deep sweet flavours of fudge and dark chocolate, brandy-soaked cherries, plus some wood tannin. 
Finish: That spicy liquorice note just goes on and on, with notes of walnuts. 
Overall: This really needs time to open up to reveal its charms. Straight out of the bottle, it's a bit monolithic, but reveals complexity after half an hour in the glass.