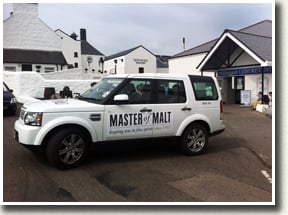 The clouds have rolled in. I blame the boys from Cask Strength who arrived yesterday and surely brought the cold and fog with them.
After last night's pass out fest on the sofa, we were all up early (relatively) in order to arrive on time (relatively) to TWO (count them) two tastings: Bowmore at 11.30 and Kilchoman at high noon. After prepping another massive breakfast, Chef de mission Ben fired up the Malt Mobile for another high-speed tour through farm fields and past stretching coast line.
As the oldest distillery in Islay, Bowmore is keen on legends – the Legend of Loch Indaal, the Legend of The Peat Faeries, The Legend of Zelda. They simply love them.
So it was no surprise that legends featured prominently on Bowmore day, the fifth of our sojourn on Islay.
Ben and Cat dropped Justin and I off at Bowmore before heading to the Kilchoman distillery. We were just in time for our distillery tour, which was lead by a slightly embarrassed girl with fluorescent green wings – a peat faerie if you must know.
Legend has it that peat faeries drag men off the moors and into the moss, from whence they return years later with no memory of their time away. No one knows what they actually do in the moss, but to me it sounds like a spur of the moment excuse offered to an irate spouse by a distillery worker who fancied a few years on the mainland.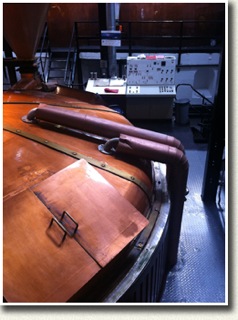 Bowmore is running low on water, vital for the mash tuns
We started with some new-make spirit by the water overflow, a small waterfall used for piping away excess H2o. This was followed by a dram of Cask Strength Bowmore, a no age statement whisky bottled at 53% abv.
There was no excess water today however. Due to the exceedingly bright, sunny, cloudless weather, the distillery was running dangerously low on water. In fact, the worried Peat Faerie told us that if the skies didn't open in the next two days the distillery would have to stop producing until it rained. Shocking news indeed.
The Cask Strength Bowmore was nothing to write home about, but as I'm here…
Bowmore Cask Strength  – 56% abv
Nose: Toffee caramel and black treacle sweetness, tiniest tinge of wood smoke with a bit of nutmeg.
Palate: Quite round and rolling, with chewy toffee and lemon citrus, mild aniseed notes, and wood smoke.
Finish: Short, with dark chocolate.
Overall: Nothing too exciting but and easy drinking dram nonetheless.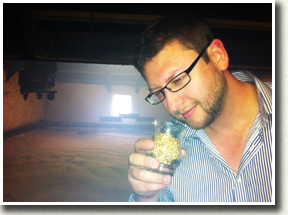 Justin sniffs some smoky barley
We visited the malting floor, a smoky enclave with a soft, springy floor of malted barley. No one in our group took up the offer to make a barley angel, but at least we saw where Bowmore gets its mildly smoky flavour – it's peated to about 26ppm which places it in the middle of the peat spectrum.
At the mill we had another dram, this time Bowmore Enigma, a 12-year-old Bowmore with a higher proportion of sherry matured whisky than the standard expression.
Bottled for the travel retail market, this wasn't particularly enigmatic but was quite drinkable.
Bowmore Enigma 12 Year Old – 40% abv
Nose: Sherry, malty toffee, biscuit oats, roast spicy pork.
Palate: Heavily sherried with a wisp of wood smoke. Lots of pepper and spice with black treacle sweetness and a hint of dark chocolate.
Finish: Short with a white pepper sweetness.
Overall: Another easy-drinking Bowmore.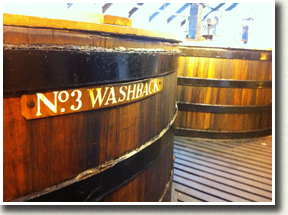 Bowmore's wooden wasbacks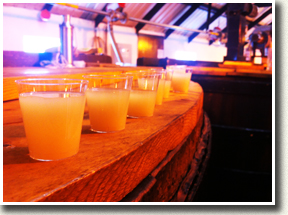 And the horrible concoction they produce
We walked through the long room containing the wash backs and tasted Bowmore's wash which was, in a word, revolting, like slurping the backwash from Dot Cotton's last pint. The quicker they stick it in a barrel the better.
Then it was on to the stills where we were told The Legend of Loch Indaal. Basically, there was a Loch Indaal Monster, no doubt related to the creature that definitely lives in Loch Ness.
A warrior turned up and threw a rock at the monster, angering it sufficiently to attack, whereupon he slew said monster and the trade in novelty Loch Indaal Monster T-shirts in one fell swoop. The marketing people were not pleased.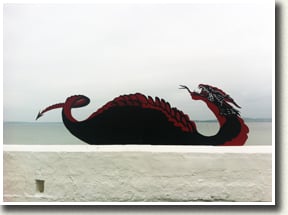 "I'm a dragon, hear me roar!"
Bowmore employs a gentle distillation that encourages reflux and plenty of copper contact, producing a light smooth spirit.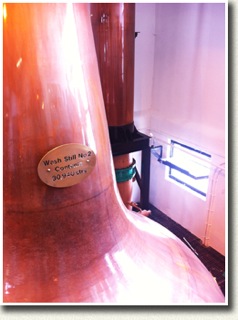 The stills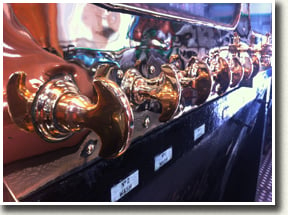 The spirit safe
We ended the tour in the warehouse, with a quick talk about Bowmore's maturation process. The distillery uses mainly bourbon casks but also keeps sherry and various other barrels about for some expressions.
The distillery does not finish as such, preferring a double wood approach whereby the whisky spends a considerable time in each cask if destined for a particular bottling. The 18 year old, for example, is blended from both sherry and bourbon casks and marries in a vat for six months before bottling.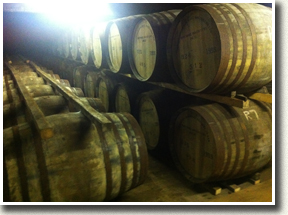 The casks
Here we tried our last dram, a 15-year-old expression, again for travel retail, called Mariner. Justin and I both thought it was rather good, a very different Bowmore with a maritime twist.
Bowmore Mariner 15 Year Old – 43% abv
Nose: Sweet seaweed, palma violet, sea salt, caramelised orange sweetness, sugared peel.
Palate: that Palma violet is very pronounced on the palate, and it segues into the sugared peel. There's not a lot of smoke, but a there is a nice salty tang at the back of the throat.
Finish: Bright and almost effervescent. Lemon sherbet.
Overall: A veritable seaside sweetshop of a whisky, this is and engaging and well-structured dram, very different from the standard expression.
After the tour we searched out some seafood with the characteristic intensity of a Bull Shark off an Australia beach. Scallops with garlic butter was my choice while Justin opted for prawns.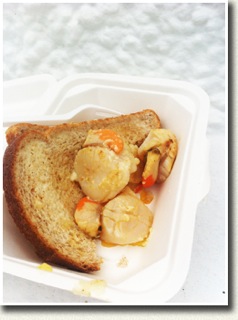 Garlic scallops have featured heavily in our diet this week
We then watched a mesmerizing display of coopering, as it used to be done before the advent of heavy machinery; that is, a lot of hammering. Justin and I were so impressed we spent another 20 minutes with the cooper who told us more about the trade, and the five-year apprenticeship one has to go through to qualify.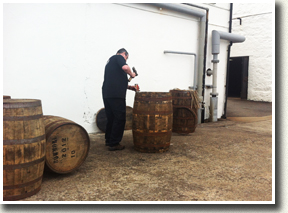 It was hypnotic. I might be still there
Shortly afterwards it was time to head back home to prepare for the fabled Lagavulin dinner, a seven-course extravaganza of food matching with fine whisky. But meanwhile, Cat and Ben had travelled to Kilchoman. This is what Cat says they did:
After our group split in two leaving Gareth and Justin at Bowmore, myself and Ben got back in the Malt Mobile and travelled onward to Kilchoman.
Bit of background on Kilchoman for those of you who are wondering: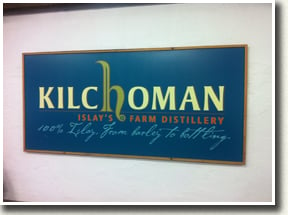 100% Islay
Kilchoman was built in 2005—the first distillery to be established on Islay in 124 years—and produced its first new make that same year. They tend to produce very small batches as they are one of the smallest distilleries in Scotland, and the whisky is quite young—they've only been in production 7 years. The name means 'church of St Comgan' and is derived from the chapel that once stood on Islay, 'Cill a' Chobhain'. It manages to produce malts that are '100% Islay' meaning the barley is grown, malted, distilled, and matured on Islay.
Kilchoman is indeed tiny, but it has produced some lovely whiskies, some of which Ben and I sampled during a masterclass hosted by Anthony Wills, the founder and owner of Kilchoman distillery.
Kilchoman Feis Ile 2012 – 58.2% abv
Nose: sweet and sugary, a lovely crème brulée with floral notes. Buttery with light smoke coming through the sweetness.
Palate: Very round. Smooth and easy drinking with a bit of cooked orange.
Finish: Here the smoke comes through and reveals that this is indeed an Islay dram. Warming spices add to this smooth and long finish.
Overall: A really solid whisky and the best of the bunch, in my opinion. Worth queuing up for. Not so much a sherry lion as a sherry lamb.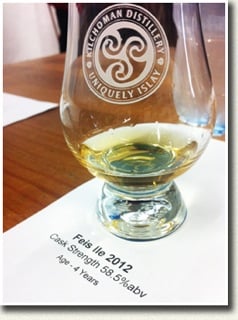 A dram of the Feis Ile bottling
Kilchoman Sherry Cask – 60% abv
Nose: Oloroso hogshead gives this a heavy Christmas cake aroma.
Palate: Rich and full mouthfeel leading to that peat so typical of Islay malts.
Finish: Drying and with continued smoke. A real winner.
Overall: Utterly magical.
Kilchoman Sauternes Cask Matured – 62% abv
Nose: Quite vegetal like the water left from a bouquet of flowers. Tobacco smoke and fresh rubber.
Palate: Smoke continues on the palate and leads to pepper—very light and chalky.
Finish: Tobacco smoke and pepper continue towards an astringent finish.
Overall: At 1.5 years this is a young one, but watch this space. Will be interesting to see what it becomes in 2 and a bit years.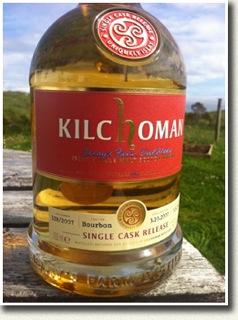 Kilchoman Bourbon Matured Single Cask Release
Kilchoman Bourbon Matured Single Cask Release – 61.7%
Nose: Heavy vanilla with a creaminess lent from the exclusive use of Buffalo Trace barrels.
Palate: Lemon curd with a tiny bit of smoke on the back—full and rich
Finish: Crème brulée with an apparent burnt sugar coming through.
Overall: This one is available in the distillery shop only—well worth the trip!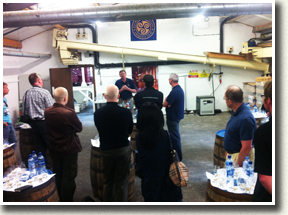 Kilchoman is indeed tiny, but it has produced some lovely whiskies, some of which Ben and I sampled during a masterclass hosted by Anthony Wills, the founder and owner of Kilchoman distillery
Kilchoman bottlings are released in limited numbers with many expressions available only through the distillery shop. Anthony maintained that they are not trying to make their product scarce, they simply cannot produce more, and they are currently running the distillery at full steam.
Ben and I managed to snap up a few distillery only bottlings, including the Single Cask Release (mentioned above) and the limited edition MacBeatha single cask bottling.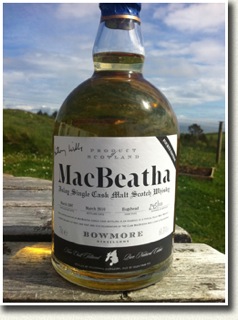 McBeatha 4th Edition
MacBeatha 4th Edition
Nose: Quite heavily peated for a Bowmore. Dried grass and heather. Biscuity and warm with a refreshing lightness.
Palate: White pepper on the forepalate revels a smoky bonfire and saltiness toward the back. Still quite light and uplifting.
Finish: Smoke continues on the finish but doesn't overwhelm. This one stays light and bright to the end.
Overall: Very interesting and quite easy drinking. Definitely worth a try for anyone looking for something different.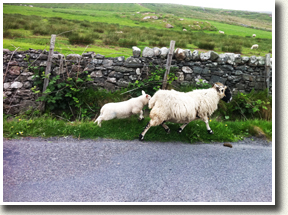 Spring lambs spring out of the way of the Malt Mobile
The Kilchoman farm also is home to a pony trekking service, where visitors can experience Islay by horseback (or Highland pony-back) before tucking into a smoky Islay whisky. Truly a grand day out.
Ben and I then high-tailed it back to Bowmore to pick up the other lads and a few more bottles.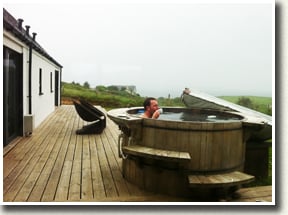 A proper cuppa served the old-fashioned way
Lagavulin Feis Ile Whisky Dinner
This bit of the day deserves its very own section in this post as it was an absolutely epic evening with spectacular food, drink, company, and entertainment. The Malt team dressed for dinner (and Ben prepared the world's largest pile of ribs) in advance of the next evening's dinner with the rakish lads from Cask Strength (Jeil, or Noel, as they have now been collectively dubbed).
Our chariot awaited us at the end of the drive, and it was, in fact, a coach. This led us all to wonder how many people were attending the dinner. We then travelled across the (wavy? bumpy? vomit-inducing?) road of Islay, picking up party-goers along the way and wondering if these were, in fact, the true attendees of the shindig. Thankfully, they were.
We arrived at the now closed Malt Mill distillery, which had been styled with a fabulously enormous banqueting table. Our first mission was Old Fashioned cocktails on the mezzanine overlooking the dinner hall.
After being greeted by an ebullient Colin Dunn and ravishing Georgie Crawford, distillery manager of Lagavulin, we were joined by the lads from Cask Strength and Donald Colville, global brand ambassador for Diageo.  We cuddled up to a delightful cocktail handmade by a chap who had been transported from London especially for the Feis.
Then it was on to dinner where the menu featured seven courses each paired with Lagavulin, Caol Ila, or Port Ellen dram. The servings (champagne flutes, martini glasses) and pairings (some intentionally contrasting, others complementary) varied throughout the evening, as did our hosts. Colin, Georgie, Donald, Ruth, and Marjorie played a bit of a round robin sitting at different places and allowing us all a chance to have a proper catch up with each of them.
Gareth has added the food notes, I've done the whiskies.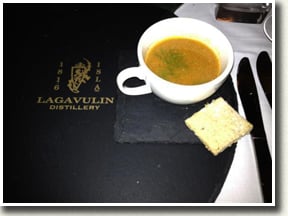 We started with a well-seasoned bouillabaisse with a rich shellfish depth, and a subtle minestrone-like spice with fennel bringing up the rear for tail-end freshness. It was complimented by the sweet bannock made with grist from the distillery.
I hope they sell these in the gift shop because it really is delicious. To me at least the Feis Ile 2012 bottling has some similar elements… The nutmeg spice is there on the palate and the finish has a distinct aniseed note.
Accompanied by Lagavulin Feis Ile 2012 Release
Nose: Faint and light smoke with hints of vanilla pod and a smattering of citrus peel. A waxiness that brings to mind crayons.
Palate: A smooth and creamy mouthfeel—the smokes creeps through the creaminess and brings with it a bit of white pepper.
Finish: Pleasantly drying with long warmth.
Overall: Incredibly smooth for a cask strength bottling. Very easy drinking, balanced, and not overwhelmed by the smoke.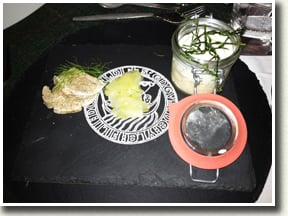 This was followed by a salmon mousse that was airy and fluffy and delicately smoked, floating over the palate. It was cut, but not viciously, by the lightly pickled cucumber, and crisped samphire served to set off and anchor the entire dish with a salty, snappy depth that contrasted both texture and flavour. Very well constructed.
Accompanied by Caol Ila Feis Ile 2012 in a martini glass.
Nose: Warm hot cross buns and butterscotch blended with freshly open running shoes. Toffee orange and hints of dark chocolate.
Palate: Huge sherbet lemons with a lovely rich and creamy texture.
Finish: Long a lovely. A real winner.
Overall: Pairs beautifully with a rather icy palate-cleanser of Greek yogurt and citrus. It tasted of said ingredients and did the job, but I found the texture a bit rough, as if the sorbet wasn't frozen quickly enough.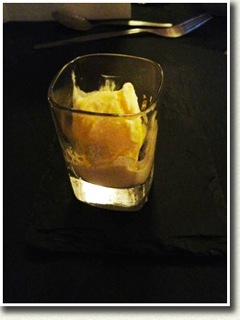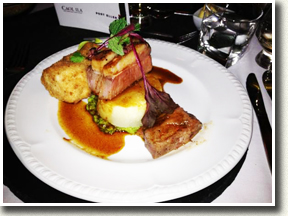 There was a slight delay with the lamb; obviously it was a particularly feisty specimen, but we eventually were reassured by our hosts that the lamb had been caught, killed and was "no longer with its mother." On that note we tucked in.
There were lots of flavours, all complimentary; a well considered dish to be sure. The textures were almost arranged in descending order, from the succulent, exactly cooked medium-rare lamb to the pea and mint purée. The potatoes croquettes were particularly impressive, the subtle smoke mirroring the Lagavulin 12 that accompanied the course. Well worth the wait.
Accompanied by Lagavulin 12 years 2011 Release
Nose: Very light and airy sweetness and smoke intertwined. Demerara, sage, and dried herbs pave the way for salt and seawater.
Palate: Bright and spirity with a hint of spent popsicle sticks. Sweet and light citrus pull away to reveal smoky and floral notes.
Finish: Long and sweet. Brown sugar melting on the tongue.
Overall: A stellar dram. Inspiring and moreish.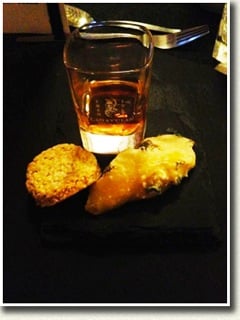 A sandwich of a course, the cheese experience delivered. The salty creaminess of the Dunsyre was set perfectly between the sweet grist bannock we met beforeand the smoked toffee power of the Lagavulin Distiller's Edition 1995. 
'Big monster of the Lagavulin family' – Donald Colville
Nose: salt water taffy blended with a ocean breeze in the morning, soft smoke
Palate: rich syrup and a bit of orange cooked with cloves, nutmeg, and cinnamon
Finish: Insanely smooth and long.
Overall: This is brown sugar by the sea. An excellent dram which I'd go back to every day.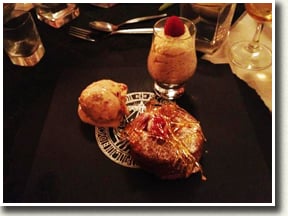 We finished with the famous Scottish cranachan pudding presented as ice cream, oat flake cake and the standard raspberry trifle creation. All itineraries were delicious, particularly the ice cream which benefitted from the texture the oats added and felt dangerously good for you. The oatcake was pleasingly robust and added heft to the dish, while the traditional cranachan was light and pleasantly tart. Perhaps it's worth adding oats to everything?
Accompanied by Caol Ila 25 Years Old
Nose: Tinned pears, syrupy sweetness with cooked green fruits and a metallic mintiness in the distance.
Palate: Light and fruity with a syrupy sweetness.
Finish: Warm spices come through: cinnamon and nutmeg emerge.
Overall: Extremely easy drinking and very delightful. A lovely dessert dram.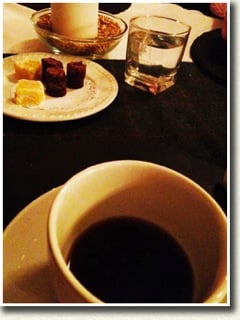 The end of the meal
Donald invited us to enjoy our last dram—the very herbal Port Ellen—on the mezzanine, and we all leapt at the chance. On our way back upstairs, he extended another invitation to walk to the end of the pier at the Lagavulin distillery to enjoy the dram overlooking the water. This is truly what whisky is all about: style, person, and occasion. The company could not have been more entertaining, the dram, no more divine. And the view does not even bear description, as it was so incredibly fine.
Port Ellen 2011 Release
Nose: Very herbal, coriander, parsley, prune-juice.
Palate: Very rich at the back of the palate, light and soft at the front, and a nice hit of hazlenut praline in the middle of the palate.
Finish: Not as impressive as some of the earlier releases, but still an absolutely epic dram.
Overall: Very nice, and we all agreed that it was the perfect end to a stunning meal.
No wind on the water disturbed the softness of the evening (for the rain had lifted though the clouds remained), and just as soon as we had arrived, it was time to say our goodbyes and head on the long journey back to Portnahaven, the hot tub, and bed.