Earlier this month, Speyside Scotch whisky distillery GlenAllachie announced it was releasing its first expressions since Billy Walker (formerly of BenRiach, GlenDronach and Glenglassaugh) took over at the helm in July 2017. What better excuse to check in with him and catch up on distillery developments?
First things first: the first GlenAllachie expressions released under Billy Walker's stewardship are here! There are six in total: A 1978 ex-sherry butt bottled at 55.9% ABV; a 1989 ex-sherry butt at 57.7%; a 1989 hogshead at 45.4%; a 1990 ex-sherry butt at 44.9%; another 1990 ex-sherry butt at 54.6%; and a 1991 hogshead at 55%. It's a pretty tasty line-up coinciding with the distillery's 50th anniversary, and the collection represents an exciting statement of intent from a producer which up until recently was predominantly focused on producing stocks for blends.
We've followed the GlenAllachie purchase and refurb pretty closely from MoM Towers, and spoke with Walker as recently as October to explore his plans for the distillery. But now actual liquid is here, it's time to revisit. We got him on the phone shortly after his team issued the new products' press release and chatted cask selection, production tweaks, the importance of blended whisky, and even the introduction of peated malt…

MoM: So you've just released six single casks. How did you choose them?
Billy Walker: Well there's quite an interesting story behind that. But we spent a lot of time-, I particularly spent a lot of time, becoming much more intimate with the inventory. And clearly we wanted to bring out some vintage casks to recognise the importance of the anniversary. But, some many years ago, [the distillery] released a similar bottling in a similar style of bottle with a similar style of label. So we decided it would be nice to kind of replicate that experience on the 50th anniversary. But selecting the casks wasn't difficult, you know; there's some wonderful vintage inventory and we wanted to pick some of the best that would represent the importance of the date.
But there must have been so many! How did you narrow it down to an initial six casks?
Depending on the style of the wood, over 30 to 40 years the development of the flavour profile can go in a whole variety of directions. So we made sure that what we released was not six of the same. It had to have its own DNA and footprint, just to mark the occasion. And to demonstrate, in many ways, how whisky can develop in the various types of casks.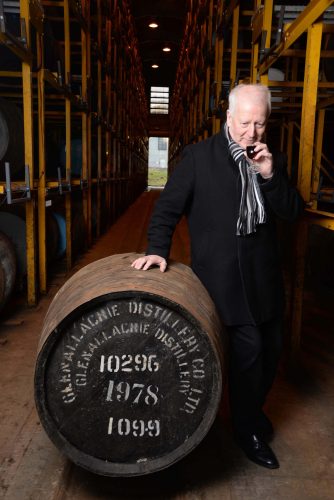 Billy and his booze
I'm assuming that to come up with those six you must have nosed and taken samples from most casks? How did that work? That's a lot of whisky admin!
Yeah, I mean I spend a lot of time doing it. Virtually from day one we have been intimate with the inventory that we own. I think I've probably already tasted and had a look at something like 5,000 – 6,000 casks, and we continue the process.
How has the cask sourcing and the general wood programme changed at Glenallachie now that you guys are in charge?
That's a good question. And the first thing to say is that the previous owners [Pernod Ricard] had a particularly good wood management process, but it was probably quite narrow. I think, and it does sound maybe a wee bit conceited but I don't intend it to be, that we've got lots of experience of different styles of wood and the direction of travel that it will take the whisky in. And I can tell you that we are very much in the process of doing that just now with all ages of our whiskies. And we've [had activity] with PX, oloroso, marsala, Madeira, Moscatel, and we kind of know the outcomes of these. But it's always nice to buy a ticket for the journey and just see what the destination is.
Sure. How different is the new-make at Glenallachie compared to the three distilleries that you had before [BenRiach, GlenDronach and Glenglassaugh]? And are you expecting huge differences in the interaction between that spirit and the oak?
Interestingly, Glenallachie is not a light Speyside. Glenallachie is quite a full-bodied Speyside. We know that the new spirit can take a lot of wood. And that's giving us quite a lot of options. In the process we're also moving to substantially longer fermentation than perhaps the previous owner did. A long fermentation of somewhere between ninety and 100 hours. So we can expect, and already we're seeing the evidence of, some wonderfully full-bodied, clean, new-make spirit – we've been making since October. We also had to introduce a filling system. The previous owners had a central filling area which was off-site. So we're filling on-site. Next week [now last week! – Ed] we will mash a fairly substantially peated malted barley. We'll produce about 80,000 litres of richly peated spirit and we'll see where that journey goes!
That's really exciting. In terms of whisky it's not huge volumes, but it's significant enough!
Yeah, and it's day one through to wherever the journey takes it. It's very exciting. And we know, from our previous experience with BenRiach, the kind of wood that will offer the right kind of balance for that kind of heavily peated, quite sweet, new spirit.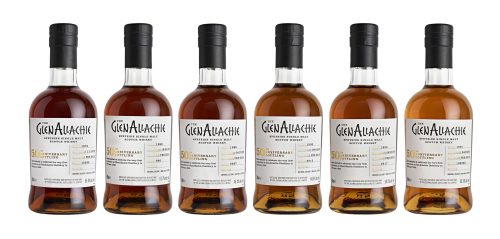 The six first releases from GlenAllachie
Amazing. And when you say 'substantially peated' can you give an indication of the PPM?
The PPM of the malted barley will be north of 65. So that should give you, in the final spirit, about 45 to 50 PPM.
That's a whole new flavour adventure! So is this part of perhaps a ten-to-15-year plan or will we see it quicker than that?
You'll see it quicker than that, but it will depend on how it is behaving in the cask. I mean the covenant to ourselves, and indeed to the consumer, is we will not put anything in the bottle that doesn't come up to standard. The quality has got to be excellent or it will continue to remain in wood until such times as it is.
And along those lines, how often are you planning on releasing batches of single cask expressions?
Our intention would be to release a batch at least once a year. But we're still looking, still understanding, all the inventory. But there will certainly be batch releases once a year.
And then in June you're planning on setting out the core collection. Can tell us in advance what we can expect to see?
We will be releasing a 25-year-old, an 18-year-old, a 12-year-old and a ten-year-old cask strength. The whole team is focused on getting the core range out and following that up with the release of the MacNair's peated range. And this is a big issue for me that it's really important: that the industry generally doesn't take its eye off the ball with blended whisky, because there are some wonderful products.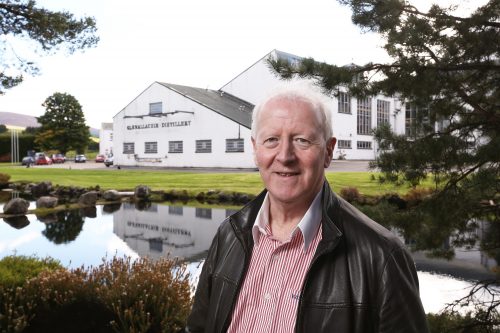 Billy and the GlenAllachie distillery!
How frustrating is it that blended whisky seems to have this reputation of being substandard compared to single malts?
In my opinion it's not, it's just a different sector. I think it is the case that there are moments in time where one part of the [offer is more sexy] than the other, and right now it's single malts. But we can't forget, blended whisky represents something like 92% of sales of Scotch whisky. And within that there are some staggeringly brilliant blended Scotch whisky brands. And I think, given some informal conversations that I've had on the touchline, there's going to be a big push on blends. And, you know, blended whisky, if put together properly, is a fantastic product.
And going to Glenallachie, it's 50 years since the distillery was founded. What does it mean to you to be leading the distillery as it's approaching such a milestone moment?
I think it's important to appreciate that first of all, we're very lucky. We are 'owners', but really we're just custodians. But we're interesting custodians because for the first time – and I don't mean this in an ungenerous way to the previous owners, but – the distillery is being allowed to express itself in a whole variety of ways. It's finding its own personality, it's releasing its own personality on the market. And you know what? This is a terrific whisky and the world is just about to find out just how good. I think 2019 will be a very pivotal year.