Victor Yarbrough, the co-founder of Brough Brothers Bourbon joins us to talk about race, family, making a positive impact in the community and more. 
"Booze is a good old boy industry. It goes back 150-200 years in the US, to a time when African Americans weren't free. There was no way we could establish any ownership or legacy, and this is a legacy industry. A fair number of businesses, particularly in the Kentucky spirits industry, started off as family businesses and most of them are still owned by the family. That means that people work with people who look like them. And there aren't many people that look like me in this business. It's very difficult to get in."
Victor Yarbrough's experiences have fed his desire to make a mark on this industry. This year, he made his first big impression. As the CEO of Brough Brothers Bourbon, he co-founded the first African American-owned distillery in Kentucky with his brothers, Christain (CMO) and Bryson (COO). The fact that it has taken so long for there to be an African American-led brand in Kentucky demonstrates the challenge we face in our industry to combat institutional racism. The issue, which was violently brought back into public consciousness following the death of George Floyd in police custody in May, is one Yarbough is happy to speak openly about. 
His words above were a response to incidents raised in a recent article published in Esquire featuring Jackie Summers, the creator of the liqueur brand Sorel. He was speaking on his experience being the only Black person in America to hold a license to make liquor in 2011 and recalled many instances of racism that he experienced in the article, including regularly showing up at liquor events where he was a sponsor, only to be told, "Deliveries are in the back." Yarbrough chuckled wryly at this quote and revealed he had a similar experience in London recently. "I was attempting to sell our bourbon and the guy gave that same kind of 'Deliveries are in the back' attitude. I had a good conversation with him to let him know my stance on his thoughts". 
Such attitudes cannot be meaningfully challenged while there is still a lack of diverse voices represented at an ownership or management level without our industry, or indeed within any. If people of colour are to have any power when it comes to economic stability and self-determination, ownership is key. Summers concluded his interview in Esquire by saying "If you don't own it, it owns you. And in this country, where a lot of drink culture is owed to blackness, very little of it is owned by blackness. We are (and have been) ready to be owners." Yarbrough recognises the importance of what he and his family have achieved and is keen to use the brand's status as the first African American-owned distillery in Kentucky as a force for good.
"We feel that responsibility. We want to make it easier for people of colour to enter the industry. We see Brough Brothers Bourbon as a meaningful opportunity to make a positive and lasting impact on both local and global communities," he says. "We want to educate people. In our local area, we have major alcohol brands. But most of the people in the neighbourhoods around them don't really understand what they do. Our goal is to educate the community so we can create positive pathways for them. We can let them know what kind of training they need and what kind of jobs are available".
The family grew up in Louisville's West End in Kentucky and the brothers are passionate about their home. The brand's first bourbon bottle itself is a testament to that, picturing the Louisville skyline, Muhammed Ali's boxing gloves, bourbon barrels and more. "We're located in an area where there's an economically depressed community. Our goal is to create economic opportunity to revitalise the local community. Alcohol is such a huge part of Kentucky's economy. That means there are so many supplementary industries, from people making barrels or stills, to jobs in marketing, sales or insurance," explains Yarbrough. "If we can create those jobs within the community then we can bring more prosperity and self-reliance. On a global level, we plan to launch some nonprofits to provide a path into the industry, particularly for people of colour, who don't have that access".
Yarbrough's worldly view was in part informed by his experiences travelling and his time in the UK where he and his brothers ran an import/export company called Victory Global. They lived there for 10 years, becoming British citizens in the process, and their position provided them with the perfect opportunity to study which brands became successful and how they achieved this. "When we imported bourbon into the UK and other markets we saw there was a tremendous growth opportunity. We learned a great deal about the process of distribution and gained an understanding of retailers and pricing," says Yarbrough. "For example, we had some bourbons that were great but priced too high so they didn't sell too well." That explains the incredibly reasonable price point of Brough Brother's Bourbon. Considering it's easy to pay an awful lot of money for not a lot in the whiskey world today, there's something to be said about getting a bourbon for this price from an upstart craft distiller committed to doing things the right way. 
Speaking of which, the Yarbrough brothers will be doing their thing at a swanky new 850-square-foot microdistillery on Dixie Highway, Louisville, Kentucky. Even though it has only just opened, the brothers are an incredibly ambitious team and have already discussed plans to expand. Currently, the bourbon they bottle is sourced, but very soon it will be produced in a 190-litre column-still which will be joined by a dedicated 100-litre still for the purposes of producing gin and vodka. Yarbrough says he made contacts while in England that will offer their expertise to create London dry gin, a style that they developed a love for while living this side of the pond.
Brough Brothers' initial product is a Kentucky bourbon that has been matured for at least six months in new American white oak before being bottled at 41% ABV. The mash bill is 75% corn, 21% rye and 4% malted barley and the grain is sourced from both Indiana and Kentucky. The bourbon also goes through a proprietary filtration process that Yarbrough kept close to his chest, but he does reveal that they opted to make their bourbon using sweet mash, as opposed to the industry standard sour mash, so fermentations last from five to seven days. "It's a more complex process but we think it created a better product," said Yarbough of the decision. Currently, its whisky is matured in a couple of different locations in Kentucky and there are plans to buy more space imminently
Yarbrough says the brothers wanted to create a bourbon would accessible enough to lure people into the wonderful world of whiskey and also describes it as a "party bourbon" thanks to its mixable profile. "We wanted this to be a bourbon that was smooth and approachable enough that people who aren't fans of bourbon can enjoy. It's not just connoisseurs, our target was a wider demographic and we hoped to convert people who weren't bourbon drinkers and preferred gin or vodka," says Yarbrough. "Our goal was to be true to our Kentucky origins, but create a product that could be sold worldwide. It's versatile. You can use it in an Old Fashioned or Mint Julep, it's great with ginger ale and tonic water. Personally I like it with sweet tea or peach tea." 
The brothers are not resting on their laurels, however, and plan to follow the release of their signature product with another bourbon in the coming months, this one styled as a more serious sipper. "We'll release another range with a different profile that's aimed more at the connaisseurs. It's already in the barrel and we're looking at potentially releasing it as soon as November", says Yarbrough. "Right now with everything going on things are crazy, but we're comfortable being patient. We're hard-working people, we've come from humble origins and we've jumped a lot of hurdles to get to where we are. Everything is about ensuring we've put together the best plan to make sure longevity is going to be there for us. The future for Brough Brothers right now is about ensuring that our bourbon gets enough time in the spotlight." For my money, it deserves it.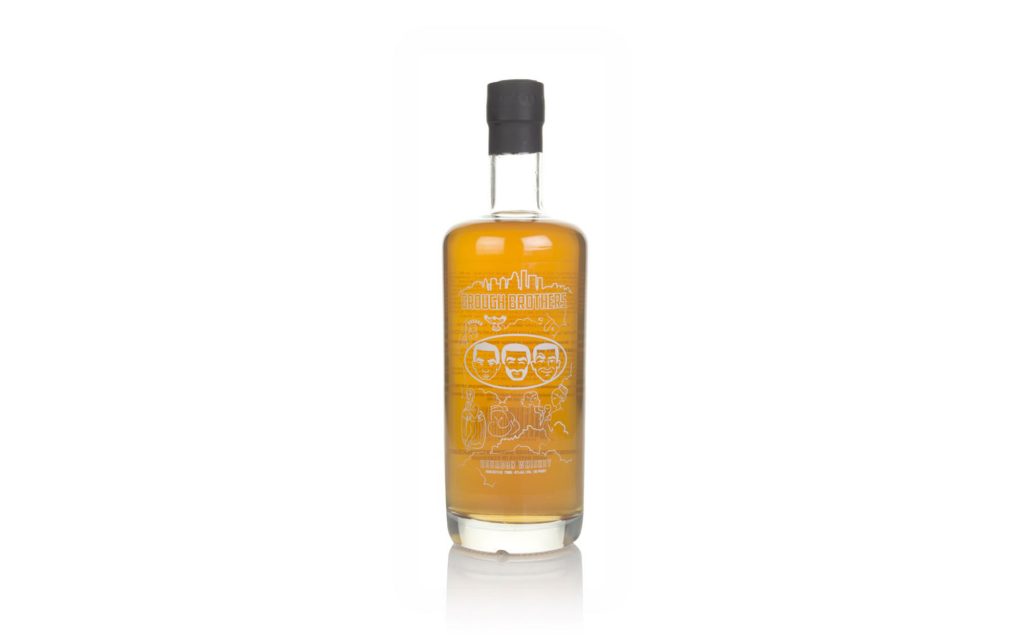 Brough Brothers Bourbon Tasting Note:
Nose: It's a fresh, clean and sweet nose. Top notes of vanilla fudge play against ripe Granny Smith Apples and ground nutmeg. A little peppermint, milk chocolate, cherry and just a drop of freshly-squeezed lemon juice are present in the backdrop.
Palate: Similar to the nose the palate is clean and pure and starts out with more sweet notes, this time maple syrup, vanilla and doughnut. More red fruit, some woody tannins, a touch of earthy chilli heat and a hint of black tea add depth.
Finish: Toffee apples and baking spice round things off.
Overall: There's lots to enjoy here. This is a crisp, light and lean expression that still has plenty of punch and complexity. An inaugural release is a foundation to build upon and this is a promising start. I'd recommend this for Mint Juleps as it's got some really lovely herbal and citrus notes that complement the bright, fresh mint flavour.
You can buy Brough Brothers Bourbon from Master of Malt now.