This week Dos Hombres Mezcal has found its way to MoM Towers. You might know the founders of the brand. It's the stars of Breaking Bad Bryan Cranston and Aaron Paul. No, really.
Back in 2016 two friends in a New York bar shared a conversation about life and what kind of project they should embark upon together. They decided to found a booze brand, settling on mezcal as their spirit of choice. Not an unusual story in our industry, only those two friends were Bryan Cranston and Aaron Paul, the stars of one of the finest pieces of television ever broadcast: Breaking Bad. 
Cranston explained in an Instagram post. "We had the time of our lives while shooting Breaking Bad and truly built a very special bond. Knowing that we couldn't share the screen for quite a while – our thoughts turned to a new project," he said. "The younger one looked at his drink and said, you know what we should do? A really special mezcal. The older one said, you mean the liquor with a worm at the bottom? Nah, that was just some bullshit gimmick, I mean real, artisanal mezcal made by hand in Mexico." 
The idea took hold and the duo started travelling to Oaxaca together to see if they could find the kind of spirit they had in mind. In a remote section of Oaxaca in a tiny village called San Luis del Rio they did just that and met its creator seventh-generation mezcalero Gregorio Velasco, who is most notable for making Piedre Almas. In another Instagram post, Cranston said that "Gregorio isn't just a beautiful human being, he's our maestro. Without Gregorio's artistry and passion for perfection, our mezcal doesn't exist. That's not hype. All we did was find him and his brilliant spirit in the hills of Oaxaca". Thus, Dos Hombres was born.
Velasco makes mezcal in a traditional way, harvesting his espadin agave after at least six years and cooking it in underground pit ovens for four days. Once the agave is transferred to an above-ground pit, it's milled by a donkey-drawn 'tahona' (essentially a big stone wheel which breaks down the agave into a mash). The mash is fermented in wooden tubs for 7-10 days with mountain spring water where it becomes 'tepache', which is then loaded into copper pot stills and double-distilled over the course of two days.  
The production process behind Dos Hombres isn't just in-keeping with the heritage of the spirit, but it's also made in a manner that prioritises sustainable agriculture, a pressing concern for the mezcal industry. Velasco only uses natural fertilizers available in the Oaxaca region, including the agave waste from distillation (bagazo). After harvest, the soil is maintained intact for three-to-four years before agave is planted again. Dos Hombres also plans to build a cooling system to exclusively treat water used to cool our copper stills so this may be repurposed. Nice work, fellas.
Now, it's understandable to take a sceptical view of celebrity-backed boozes; there are an awful lot of them. But to their credit, Cranston and Paul seem genuine about their passion and have gone about their business admirably so far. "We love all things mezcal. Love the process and the community behind this beautiful spirit," Paul explained when the brand launched in July 2019.
Plus, their status and social media reach has the potential to draw some deserved attention to this still underappreciated spirit. We've already seen the effect that charismatic, humorous and engaging characters can have thanks to the likes of Ryan Reynolds and George Clooney, who have both sold their brands (Aviation Gin and Casamigos, respectively) to Diageo for big bucks. 
Fame doesn't make the liquid inside the bottle taste any better, however, which is ultimately the most important thing. It would appear that Cranston and Paul have little to worry about in this regard, though. Dos Hombres stormed the awards circuit in this first year, being named Mezcal of the Year in New York International Spirits Competition 2020, taking home a gold medal in the London Spirits Competition 2020 and also receiving 96 points, the highest rating a Mezcal has ever received in Cigar & Spirits Magazine's nearly ten years of rating spirits. 
Awards are one thing, but the most important question remains: does it live up to our high standards? (stop laughing). M'colleague Henry had a try, and described it as such: "It's a delightfully easy-going Mezcal, great for sipping and mixing. It's really the perfect mezcal for people like me who don't like the whole burning tyre thing you get in some." Sounds wonderful. He also put together this terrific tasting note and we've included some suggested serves so you can really get stuck in and enjoy it. Right now the only Dos Hombres expression available is made with espadin agave, but a tobala mezcal is en route and expected to land in 2021, so be sure to keep an eye out for that.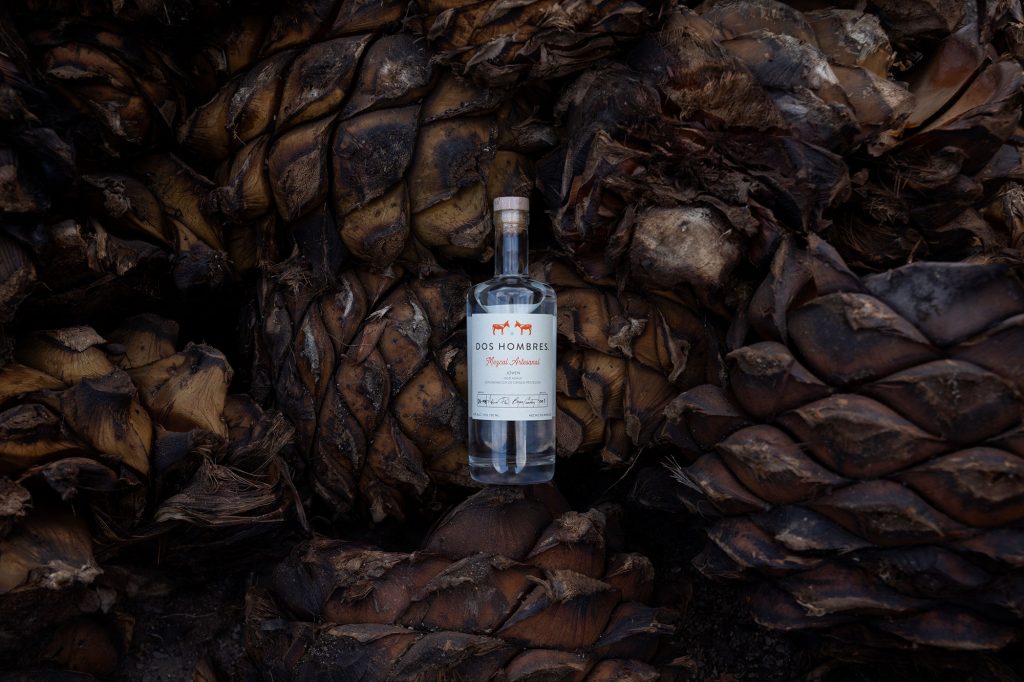 Dos Hombres Mezcal Tasting Note:
Nose: Toasty rather than pungently smoky, like a wood fire, vegetal green olive and lime notes.
Palate: Super smooth and creamy, lovely mouthfeel with tangy citrus notes, and lingering smoke and black pepper.
Finish: Subtle smoke with that creamy mouthfeel persisting.
Suggested Serve: The Dos Hombres recipe page has plenty of interestingly and wonderfully named cocktails, such as the Cranstonian, a combination of Dos Hombres Mezcal, cranberry juice, Aperol and fresh lime juice, or Naked & Famous which swaps the lime juice for lemon juice and the Aperol for Chartreuse Yellow and the Mango Jalapeño, which sounds right up my street and features the little spicy delights alongside lime juice and mango puree.