We've got a very fancy whisky on the tasting counter today. A Glenmorangie laid down in 1996 in special casks cut from oak trees growing in the Ozark mountains. Was it worth the wait? Read on…
When people get into whisky, they often go for the big flavours. Which is why Islay has such a cult appeal, with peatheads in search of bigger and bigger hits of smoke, measuring out their obsession in PPM. For me, however, it was all about sherry. If it didn't smell like old Cognac, then I wasn't interested. I wanted heavy oily new make, fruit cake and tannins from European oak. It was rich Speysiders like Glenfarclas, Macallan and Mortlach that got me all hot and bothered. 
Which is why it took me a long time to come round to Glenmorangie. My sherried palate didn't quite get the flavours, the sweet peachy fruit, the cream, the all-bourbon cask smoothness of the 10 year old Original. Initially it seemed a bit, well, vanilla. But slowly I came to appreciate what a superbly-made whisky it is: no rough edges, so creamy and fruity but with great depth of flavour. It's not shouty or showy, it's a grown-up dram.
The rest of the Glenmorangie range takes things in different directions adding Port or sherry, or, to my mind perfect marriage, Sauternes barrels. Then there's the 'and now for something completely different' Signet – that's a whisky with more than a touch of old Cognac about it. Now, however, there's an expression that takes all the elements of the Original, and lifts them into something sublime.
It's the sixth release from Bond House No. 1 Collection, a series of Glenmorangie's most prized whiskies: a limited edition 23 year old bourbon-cask whisky. The barrels have an interesting story. Rather than just buying used casks from American whiskey producers, each tree was especially by the team at Glenmorangie. They come from the Ozark mountains in Missouri, the oak trees grow slower here producing a tighter grain to the wood. These first chosen trees were made into casks to precise specifications, seasoned with bourbon and filled with new make in 1996.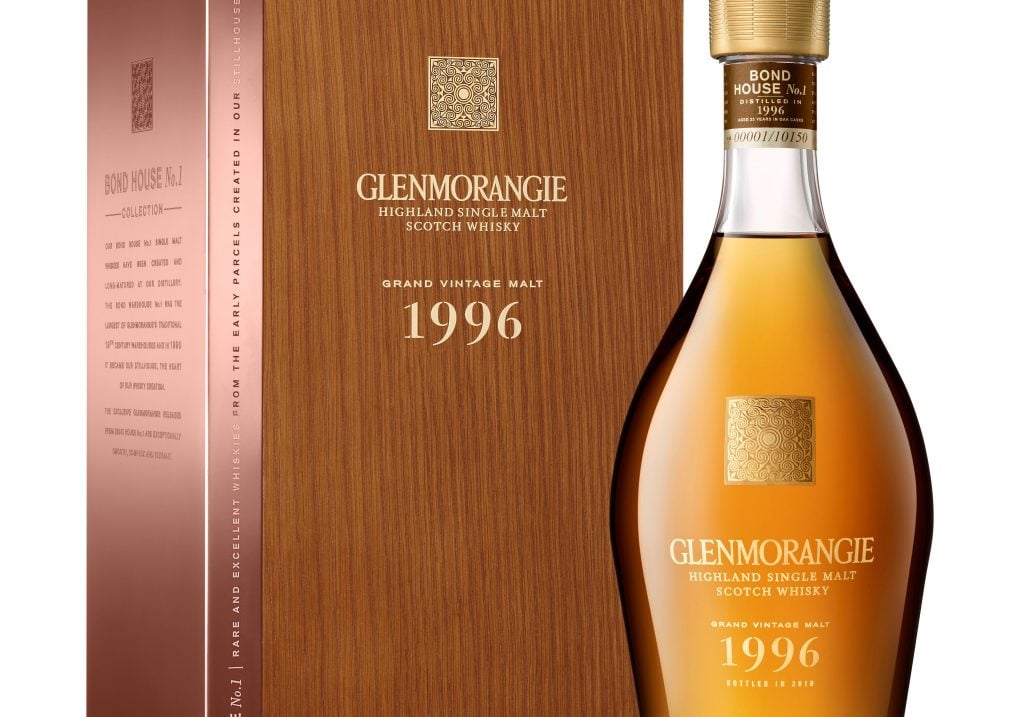 These casks are now made every year in small numbers; they are used to age the small batch Astar expression and form the heart of the 10 year old. The original casks were tasted every year by Dr Bill Lumsden until they were pronounced ready and bottled in 2019 at 43% ABV. He commented: "Glenmorangie Grand Vintage Malt 1996 wonderfully demonstrates how we can bring our most extraordinary dreams to life. The oldest whisky we have ever aged in our bespoke casks, its fresh, floral aromas and luxuriously creamy tastes are gloriously enhanced by age. A delicious step on from Glenmorangie Astar, this limited edition will be adored by whisky lovers old and new."
We can't argue with Dr Bill, we absolutely loved it. You can really taste the DNA running through from the 10 Year Old but it's so much richer, more intense and complex. The apotheosis of the Glenmorangie style with the classic fruity, creamy flavours joined by more aromatic notes like tobacco. Not cheap but it is absolutely stunning.
Tasting notes from the Chaps at Master of Malt:
Nose: Warm baking spices, cinnamon, custard, toffee, vanilla, so opulent. Custard tarts and a hint of espresso – it's like a Portuguese breakfast here. 
Palate: Super creamy, very smooth, dark chocolate, coffee, and salted caramel with fresh peach and pear fruit, it's like a super-charged Ten Year Old. But it's not all sweet and smooth, there's aromatic tobacco and menthol notes lurking in the background.  
Finish: It's back to custard, long and lingering with vanilla, cinnamon and almond plus that faint aromatic herbal note.  
Glenmorangie Bond House No.1 Grand Vintage 1996 is now available from Master of Malt.